Email this article
Halieis House 7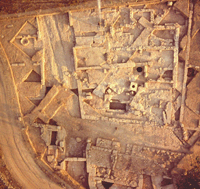 Aerial view of House 7 at Halieis, the model for the simulated excavation (Courtesy Bradley A. Ault)
Excavation in the Lower Town of Halieis revealed residential blocks that had been laid out on a regular plan in the fourth century. One of the houses to be fully excavated there was House 7, located near the city's southeastern gate.
House 7 affords an ideal opportunity to build a digital environment that can be used to teach both archaeological methods and ancient Greek culture. Roughly 16 by 13 m, the house consists of 11 rooms around a central courtyard. The excavators recovered artifacts (from pottery to metal objects and coins) and revealed features (from an andron to a hearth and well) that reflect life in a fourth-century B.C. town.
Plan of the remains of House 7 and architect's reconstruction of the building (Courtesy Bradley A. Ault)
Based on the real excavation and discoveries at the site, the online simulation will allow students--and members of the general public--to conduct their own excavation and interpret the results. The interpretations will lead to a greater knowledge and appreciation of ancient Greek culture. For example,
The types and distribution of pottery reflect food preparation, cuisine, and drinking;
Metal objects, including a spearhead, sickle blade, and mirror handle attest various aspects of life at Halieis;
Features such as the well, drains, and kopron are indicative of concerns about water and sanitation;
The andron, with space for seven klinai, is evidence of social life (a small channel in this room leading to a jar with black-glazed vessels may reflect religious beliefs if it is catch basin for libations; and
A semi-circle of white pebbles in the floor of one room may have been used for a game involving the tossing of knucklebones.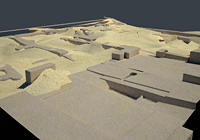 Because of this rich and well-documented archaeological record, the online excavation simulation of House 7 will be an effective introduction to both archaeology and ancient Greek culture. This learning experience will be complemented by online connections with the reconstruction of an Attic farmhouse at Vari, of roughly the same period as House 7, allowing comparison of life in urban and rural contexts. A lesson plan created to accompany the House 7 simulation will guide teachers and students in further explorations of both archaeology and Hellenic culture.