Residents of Metropolis Do Get to See Tut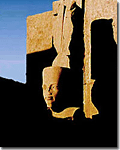 New Yorkers are fortunate in having two of the world's best Egyptian collections at hand, the Metropolitan Museum of Art and the Brooklyn Museum of Art (see "Egypt in Brooklyn"). But back in March 2005, it appeared Tut was going to be a no-show. Philippe de Montebello, the Met's chief back then, told NBC that, "It's not worth the cost, the hassle, the difficulty of setting up the whole infrastructure. The Metropolitan has a pay-as-you wish policy." Certainly the Brooklyn Museum was priced out of the market. So, no Tut. Meanwhile...a new venue for exhibitions opened in Manhattan, called Discovery Times Square Exposition. And Tut came to the city after all!
In remarks to the press, Zahi Hawass, secretary general of Egypt's Supreme Council of Antiquities, expressed his personal dislike of the fact that Tutankhamun ended up Times Square rather than at the Met. (He asked one of the organizers to explain what had happened--seven months of negotiations to no avail). I understand Hawass's point of view. Think Times Square and you think Madame Tussauds, Ripley's, etc. On the other hand, better there than not at all.

Once Tut leaves (the exhibition is up for nine months), I intend to patronize the Tutt Cafe in my Brooklyn neighborhood. It isn't quite the same as the exhibition, but it has Tut and Nefertiti decor, fine Middle Eastern food at reasonable prices, and a friendly staff. Who could ask for more?
For more on Tutankhamun and the exhibition, see TutWatch.
Share