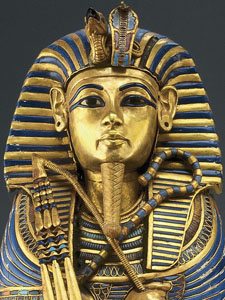 Tut Takes Manhattan
Final chance to see this exhibition about Egypt's most famous pharaoh
The Funeral of Tutankhamun
A Metropolitan Museum exhibition highlights remains from the burial of King Tut
To Bury a Pharaoh
Met curator Dorothea Arnold takes a fresh look at the leftover materials from Tutankhamun's mummification.
Commentary: Who's the Real Tut?
What DNA, CT scans, and archaeology tell us
Warrior Tut
Sculptures from Luxor prove the "Boy King" was the scourge of Egypt's foes
Tut: Disease and DNA News
A quick take of reports coming out about Tut, malaria, and more
Tutankhamun Returns
Egyptologist Aidan Dodson reports from Bonn on the exhibition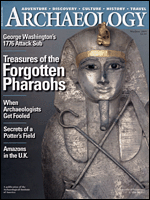 Scanning Tut or Murder! Well, maybe not...
A high-tech look at Tut generates more controversy than answers
Treasures of Tanis
Royal riches discovered during World War II rival those of Tutankhamun, but remain virtually unknown.
Tut Talk
Behind-the-scenes conversations about the Tutankhamun exhibition

Who was Tut?
The basics about the Boy King
Tut Discovery Timeline
The history of the greatest find of the 20th century
The Man Who Found Tut
The life of Howard Carter
Curses!
Was the tomb cursed? Of course not.
Tut's New Old Face and His New TV Show
Egypt's Supreme Council of Antiquities releases images of the young pharaoh's face, and we review "King Tut's Final Secrets"

Reading Tut
Overviews, the excavation, mystery, fringe, and fiction

Tut in Cyberspace
Online resources bring Tut to your desktop!
Not Now in New York!
Residents of Metropolis Do Get to See Tut