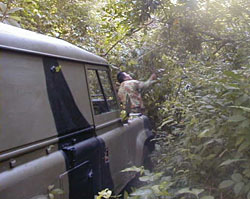 Trying to get into the jungle in one of the Land Rovers
The group set out early in two Land Rovers to the survey area. We reached the old, out-of-use road into the jungle and were faced with an unpleasant situation. As it was the beginning of wet season, the track was in a terrible condition because of the rains. Vehicles using the track previously had left deep tire marks that were expanded by the rains, making it nearly impossible for the military Land Rovers to maneuver. In addition, branches, vines, and trees had fallen across the track, some of which required a chain saw rather than machete.
At times it was necessary to use one vehicle to pull the other out of the mud. This process consumed quite a bit of time, and we eventually reached a point where it was impossible for the vehicles to continue. Taff volunteered to stay behind and watch them as the rest of us headed out into the jungle to conduct the reconnaissance.
Following old mahogany logging tracks and hunters' trails, our group proceeded through the jungle. We came across numerous alignments of limestone cobbles--straight walls ranging from one-half to two meters high, and up to 25 meters (82 feet) long. These formations are agricultural terraces left by the ancient Maya. There were so many terraces it seemed like every available square meter of this area must have been under agricultural production at some point.
We located a sinkhole (Sinkhole #1) with an entrance diameter of three meters by two meters and a depth of approximately 13 meters. This sinkhole was located at the junction of three sizeable logging tracks. We took GPS coordinates here for the DOA and for use in the remote-sensing investigations of the WBRCP. We noticed a BDF M-16 machine gun clip in the area, as well as some military hammock-string tied to one of the trees, indicating that the Belize Defence Force had been in this area at some point.
We then proceeded further into the jungle. We came across more terraces, some 40 meters (130 feet) to 50 meters (164 feet) in length and two to five meters in height. A few pyramid structures comprised of neatly placed, cut facing stones were also visible. One of these was relatively large, measuring roughly 40 meters (130 feet) long and 20 meters (65 feet) wide.
The diagram below shows a plan view of this structure, created by pace and compass and with an approximate scale.
Because we spent most of our day digging the vehicles out of the mud, reconnaissance was minimal. As daylight diminished, we hiked back to the Land Rovers, jump-started one of them, and headed back. In camp we used the satellite phone and called in a request for the climbing gear so we could drop into the sinkhole. We were informed that this material would be flown in by chopper the next afternoon. [Next...]
August 21 | Chiquibul Intro | August 23
Share