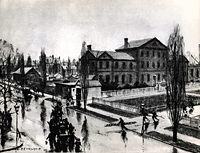 A nineteenth-century sketch of the Bridewell by Dunshee
The New Gaol, erected in 1759, was built in response to the city's growing crime problem. The three-story masonry building in the northeast of the Commons was originally intended to house convicted criminals, but served multiple functions throughout its history. The new building was soon used for debtors and prisoners-of-war during the French and Indian War. Its location next to the Almshouse and its growing use for debtors soon led to the appellation "the debtor's prison." A continuing rise in crime and the resultant overcrowding of the Gaol led the city to begin construction of the Bridewell in 1773, where some felons were moved two years later. During the Revolutionary War, the New Gaol was crowded with American prisoners. After the War, the building was returned to its earlier function of housing felons and debtors, the latter of whom paid for their own clothing, food, and fuel. The Gaol continued to house prisoners until 1824. It was slated for demolition, but was eventually refurbished and converted to a Hall of Records for the city in 1830. The building was torn down in 1903, at which time it was the oldest civic building in New York City.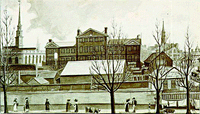 A nineteenth-century rendering of the Bridewell
Constructed in 1775 according to a design by Theophilus Hardenbrook, the Bridewell was meant to be a debtor's prison and workhouse. However, for the duration of their occupation during the Revolutionary War the British used the building as a prison for American prisoners-of-war. During the War of 1812, the occupying British again used the jail as a place to house prisoners-of-war. It was only after the War of 1812 that the Bridewell returned to it original intention as a general city jail.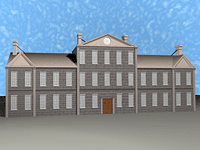 A computer-generated 3-D re-creation of the Bridewell
Intro | Excavation | Project | Artifacts | Almshouses | Bridewell & New Gaol | Revolution | Potters


© 2007 by the Archaeological Institute of America
archive.archaeology.org/online/features/cityhallpark/gaol.html
Share