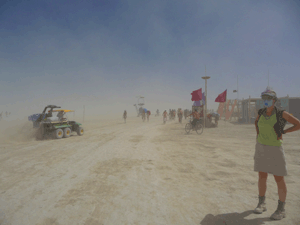 Archaeologist Carolyn White weathers a dust storm near the edge of the center camp at Nevada's Burning Man festival. (Courtesy Patrick Jackson)
Every September, thousands of people congregate in Nevada's Black Rock Desert for a week long festival of temporary community, desert survival, and "radical self-expression" called Burning Man. Participants, who must be completely self-reliant, fill the dusty, makeshift metropolis of Black Rock City with art and outlandish costumes. The event culminates in the burning of a huge wooden effigy called the Man.
Carolyn White, an anthropologist at the University of Nevada, Reno, has spent the past four years examining how "burners" interact and organize their space. She spoke with writer Julian Smith about how she uses archaeological methods to study a very modern event.
How did you become interested in Burning Man?
In 2006, I was studying a Depression-era mining community called Rabbithole Springs just east [of the festival site]. When Black Rock City began to be built in August, the dust carried over to our site. I was intrigued to see what the event was all about, and studying it meshed with some ideas I had about investigating contemporary society using archaeological methods.
How does working at Black Rock City compare to other sites you've studied?
I still use standard archaeological methods of survey, mapping, photography, and artifact collection. But Burning Man is a singularly challenging place, because it combines the business and population density of a city with the extraordinary isolation of a desert environment: searing hot temperatures during the day, very cold at night, no vegetation, radical weather changes, lots of dust.
Have you found anything surprising?
Much of my work so far has focused on mapping camps while they are being used. What's most surprising is that, despite the unconventional nature of the structures people create, there are still standard spaces that people make time and again. One camp that I have looked at over the last several seasons is called Suntrakker Camp. The private area consists of an RV with different zones for sleeping, food preparation, clothing storage, and personal items. This also serves as the most protected space in dust storms. The edges of this private space are used to store water, additional seating, refuse, and foodstuff. This private space is clearly separated from the public space by a screen of tarps.
Is there a sense of urgency in studying an event that is only a week long?
The ephemeral nature of the event is in some ways a nightmare for an archaeologist, but it's also what has pushed me to study it. Black Rock City is almost always in a state of flux and while the event is unfolding, I have an intense awareness of needing to record as much as possible. Sometimes the camps I've selected to study are standing only for a day or two.
Burning Man can seem hedonistic to outsiders, an excuse to go into the desert and act crazy for a week. What's the point of studying it?
When archaeologists think about mobile societies, whether prehistoric hunter-gatherers or more recent groups with impermanent settlements, it can be difficult to comprehend daily life. Studying a place such as Burning Man allows us to imagine the structures that made those cultures successful in terms of division of labor and human adaptation to the environment. Also, looking at a place that's active, you start thinking about all the things that are missing from [archaeological] sites. That can bring important insights into the spaces between the artifacts—what might be missing—and help us fill in those gaps a little more creatively or accurately.
Do you ever just put down your notepad and participate?
You can't really be there without participating. It's impossible to just observe. Even I have a dusty Burning Man outfit.
Share