For 5,000 years, Spain's mineral riches created cash economies and global pollution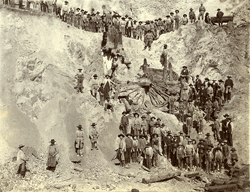 Miners at Spain's Riotinto mining complex uncovered a Roman-era water wheel during World War I, a clear reminder that the area provided metals that have supported kingdoms and empires for thousands of years. The mines were also one of the earliest man-made sources of global pollution. (Photo: Courtesy Riotinto Mining Museum)
Aquilino Delgado Domínguez unlocks the ornamental metal door and waves me inside the warehouse of the Riotinto Mining Museum in southwestern Spain. He makes a beeline to a cardboard box sitting on a waist-high table. Inside is a gray plastic bag containing pieces of a Roman water wheel used during the first or second century A.D. to pump water out of the nearby mines. For 5,000 years, the metals dug from these mines have provided the wealth that sustained civilizations.
Miners discovered the wooden wheel during World War I. Now, Delgado is preparing to analyze the fragments using radiocarbon and tree-ring dating. The archaeologist opens the bag, thrusts his nose inside, and breathes deeply. "Smell this," he says. The sulfur odor is not what I expected: a mixture of chocolate and licorice, sweet but not cloying. "That's the smell I remember from my childhood," he says.
In 1983, Delgado's maternal grandfather—a supervisor in Cerro Colorado, the second-largest mine in the Riotinto complex—invited his four oldest grandchildren to see how five generations of relatives had earned a living. Delgado, who was nine, was the only one to accept the offer. For the next two years, during school breaks, Delgado's grandfather dressed him in boots, a helmet, and an adult miner's uniform—he was a tall boy—and took him through the copper, gold, and silver mines. "What my grandfather did with me was very common," he says. "It was a way to dignify their labor." Eventually, he left home to study archaeology at the University of Huelva, 45 miles to the south. Now, at age 36, he directs the museum dedicated to the mines where both his grandfathers once worked.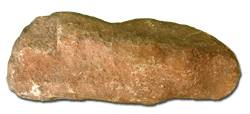 While it may look like an ordinary rock, this 5,000-year-old stone hammerhead was an essential mining tool during the Copper Age. (Photo: Courtesy Riotinto Mining Museum)
Riotinto is part of the Iberian Pyrite Belt, a mineral deposit that stretches from Spain into Portugal. It is one of the largest known mining complexes in the ancient world. Starting as a surface operation focused on copper minerals, it eventually became an industrial-scale enterprise until it finally closed in 2001 amid falling copper prices. "The name Riotinto has something of a magical connotation," wrote University of Sevilla archaeologists Antonio Blanco Freijeiro and José María Luzón Nogué in 1969. "It has been called the geologist's paradise because at almost no other place on the earth has nature exposed in one spot such richness and variety of minerals."
Now that the industry is gone (for the time being, at least), Delgado and other researchers are studying Riotinto and some neighboring sites to answer fundamental questions about how metals were extracted and processed in the ancient world. But they're also examining the nature of the work, the rise of international trade, and the legacy of environmental contamination.
Barry Yeoman is a freelance writer based in Durham, North Carolina.
Share