Volunteers and archaeologists team up to save a 17th-century ship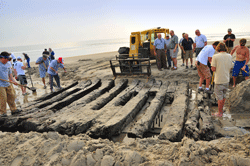 Archaeologists, emergency personnel, and volunteers helped to remove a mystery shipwreck from a beach in North Carolina's Outer Banks before it was swept out to sea or dashed against the coast. They used shovels, firehoses, and rescue equipment to dislodge the timber frame from the sand, and a sled attached to a piece of heavy machinery called a telescopic handler to haul it to safety at a nearby lighthouse. (Photo: Courtesy Roger Harris, Marion Blackburn)
For centuries, only the occasional waterlogged timber jutting from the sand gave it away. Once the tourists depart at the end of each summer, residents scour the shoreline at Corolla, a small village at the northern tip of North Carolina's Outer Banks. Only they saw evidence—musket balls, planks stuck fast in the sand, old coins—that something out of the ordinary lay below.
When nor'easters slammed the coast in December 2009, one of those beachcombers, Ray Midgett, watched spellbound as an enormous wooden ship frame slowly emerged from the sand—dark, spiny, and capped by the delicate curved apron of its bow stem. Midgett knew it had to be old; a French coin he found nearby dated from the early 17th century. Figuring the wreck was something special, he called the state's Underwater Archaeology Branch, the agency charged with protecting such archaeological sites. Director Richard Lawrence agreed to come out and take a look. It was immediately clear to him that Midgett was right—the wreck was important.
But the mysterious shipwreck seemed destined to slip away before it could give up its secrets. The same storms that exposed the frame had loosened it from the sand altogether. The waves carried the wreck away and threatened to dash it into driftwood, stripping its identity—and archaeological significance—forever.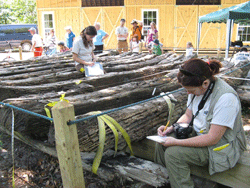 Students from East Carolina University carefully document the wreck. Ongoing study may help nail down its date and determine what kind of vessel it was. (Photo: Julep Gillman-Bryan)
Fortunately that wasn't the fate of the wreck, which consists of a wooden floor and framing timbers—like a ship's rib cage stuck in the sand. Luck and a strong southern wind brought it back to shore about a mile away. Midgett knew something had to be done. "The wreck was getting torn all to pieces," he remembers. "I said, 'Can we do anything to get that off the beach? We ought to save it.'" Taking on such a project was nothing unusual for Midgett. A native of nearby Manteo, the retired 30-year Internal Revenue Service veteran had made a habit of taking local leaders to task over budgets, roads, taxes, nesting sea turtles, Corolla's wild horses, and the environmental health of the beaches. While Lawrence agreed that the wreck was important and at risk, his agency, like so many in the state, had a tight budget with no room for lifting the massive wreck off the beach. When hope seemed lost, Midgett turned, as residents of the region often do, to their long-time champion, 12-term state senator Marc Basnight.
"Senator Basnight has known Ray for a long time. Ray's a fixture in the community," says Chris Dillon, director of special projects for the senator. "When he said he had a heck of a find, then we knew we had to save it."
So began a heroic, largely volunteer project to move the old wreck, and a research project that would begin to illuminate a key period in early English colonial history.
Marion Blackburn is a freelance writer based in Greenville, North Carolina.
Share