Celebrating the vision of our editor in chief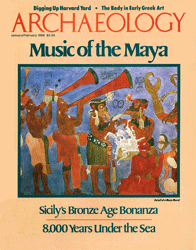 The 1988 January/February cover of ARCHAEOLOGY, Peter's inaugural issue.
This is the last issue of ARCHAEOLOGY to be published under the editorial guidance of Peter A. Young. In an interview with The New York Times a few years ago, Peter explained what he liked about heading up ARCHAEOLOGY: "It's the most fun I've ever had, because wherever you go, you're always learning something new." This enthusiasm for the subject and an eagerness to share the excitement with readers has marked his stewardship of the magazine for more than 20 years.
Peter has always believed that even though archaeology examines the past, its discoveries are almost always newsworthy—an editorial vision readers will recognize from issue to issue. "Archaeology can be a corrective to history," he has noted. "And some of the finds we've covered have really turned history on its head." For an example, see Neil Silberman's "Insider" on recent excavations throughout Europe that have transformed our understanding of medieval society and the complexity of Jewish life within it. "The past has barely been tapped," Peter wrote, when the magazine celebrated its 50th anniversary. "As long as there are scholars in the field and technicians in the laboratories, there will be an abundance of archaeological news." He has also maintained that people are interested not just in discoveries, but also in those who make them. He greatly admired the late Mayanist Linda Schele, who "was passionate about what she did, and could tell you tales that would make your head spin."
In a 1991 interview with ARCHAEOLOGY, Schele noted that "the job I seem to have now is to provide the public voice—to give people access to the things scholars learn from archaeology, combine it with the interpretations of the glyphs and imagery, the work of people who study the modern Maya, and the approaches of many disciplines, and say to the public, 'Listen folks, let me tell you a story about a great king...'"
In many ways, these sentiments echo Peter's own celebration of storytellers, in particular his staff writers, and the archaeologists and freelance contributors who have enriched the pages of this magazine for more than two decades. I know you'll join me in thanking him for his years of service, his vision, and above all his dedication to ARCHAEOLOGY. We wish Peter all the best.
C. Brian Rose is the president of the Archaeological Institute of America.
Share