If you're passing through the Four Corners region, the massive stone structures of New Mexico's Chaco Canyon are probably already on your itinerary. But archaeologist John Kantner of Santa Fe's School for Advanced Research says you shouldn't miss the seldom-visited site of Kin Ya'a.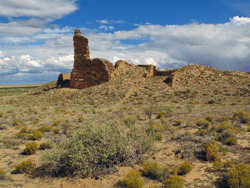 (Photo: Courtesy NPS, Joe Kennedy, photographer)
The site Dating to the early 11th century A.D., Kin Ya'a ("tall house" in Navajo) is 25 miles south of Chaco Canyon, just outside the modern town of Crownpoint. Of some 200 Chaco outliers, or smaller settlements, in a 150-mile radius of the famous site, it might be the most unusual. Most sites of the period feature circular ceremonial chambers known as kivas that are usually found underground, but Kin Ya'a is built around a stacked kiva about three or four stories tall. Known as a tower kiva, it might have been a signaling station, or perhaps had a ritual purpose, symbolizing a journey from past to present and into the next world.
If you're going "One of the pluses of visiting Kin Ya'a from Chaco Canyon is that it gives the visitor a sense of connection between Chaco and the other communities," says Kantner. "You get a sense of how large the Chaco world was." Most other outliers are privately owned by the Navajo tribe and not accessible to the public, but Kin Ya'a is on National Park Service land. Be sure to pick up a flyer from the main Chaco visitors' center with directions to Kin Ya'a before heading out—it's easy to get lost and relying on a GPS in the area is iffy.
Don't miss Kantner highly recommends you time a visit to Kin Ya'a with the Crownpoint Navajo Rug Auction. Check www.crownpointrugauction.com for details.
Share