Working to ensure the future of heritage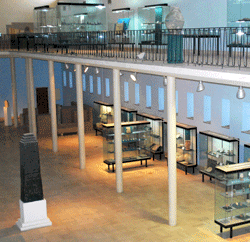 Newly refurbished halls in the National Museum in Baghdad (Photo: Courtesy Diane C. Siebrandt, Cultural Affairs Office, United States Embassy, Baghdad, Iraq)
Questions have been raised about the fate of Iraq's cultural heritage as the United States prepares to withdraw combat forces from the country. What training programs are in place, and what effect will they have on Iraq's museums and archaeological sites? A few new programs have been highlighted by the media, such as the World Monuments Fund's Site Management Plan for Babylon, but others have not received the attention they deserve.
One of these is the "Iraq Cultural Heritage Project," or ICHP, launched by the U.S. Embassy in Baghdad in January 2008 to support the Ministry of Culture and the Iraq State Board of Antiquities and Heritage.
The project has three tiers. The first provides infrastructure upgrades to the Iraq National Museum in Baghdad, and includes refurbishing eight exhibit halls, three floors of storage facilities, the roof, and the heating and air-conditioning system. "It's evident that the museum staff has made significant progress since returning to work in August 2007," says Diane Siebrandt, cultural heritage programs manager at the U.S. Embassy. "Exhibit halls have been cleaned and the physical upgrades our project provides will allow the artifacts to be showcased once again and eventually enjoyed by visitors."
The most prominent component of the second tier is a national conservation and preservation teaching center located in the northern Iraqi city of Erbil. Students from across Iraq are receiving training in artifact conservation and archaeological preservation from international experts. According to Jessica Johnson, who oversees the center's conservation program, the students there are passionate about their museums and sites. "Itís a great honor to help such dedicated people update their expertise and expand their professional collaborations both inside and outside the country," she says.
The third tier provides state-of-the-art conservation training at institutes in the United States, such as the Oriental Institute and the Field Museum of Natural History in Chicago.
All of these programs are intended to ensure that the resources needed to protect Iraq's cultural heritage are in place after so many years of armed conflict, and to provide international support for the Iraqi scholars entrusted with safeguarding it. "Iraqi heritage professionals have been effectively disconnected from their international peers for decades," says ICHP project coordinator Brian Lione. "One of our missions is to establish a global network of institutions, organizations, and professionals to collaborate with the Iraqis in years to come."
C. Brian Rose is the president of the Archaeological Institute of America.
Share