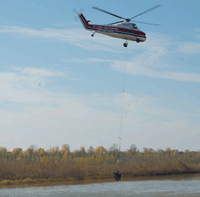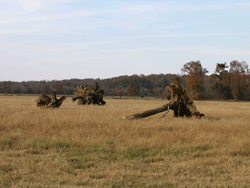 (Courtesy INA/Kevin Crisman)
Heroine
Swink, Oklahoma
Not many underwater archaeologists have to cross a cow pasture to get to their site. But Kevin Crisman of Texas A&M University is well acquainted with that nautically odd commute after four years exploring the Heroine in Oklahoma's Red River. The early steamship was bound for an army fort with supplies when it sank in 1838, after being hit by a "snag," or submerged log.
"The earliest steamship plans are from the 1850s," says Crisman. "So this is our first real look at one of these early ships, which revolutionized commerce in the American Midwest by making upstream travel feasible." Working in strong currents and with visibility never more than a foot, Crisman and his crew mapped and excavated the site largely by feel. "The wreck had its paddle wheels and much of its machinery intact," he says. "It was just a trove of information on early steam propulsion." The team eventually hired a helicopter to remove Heroine's machinery, which is now undergoing conservation.
Two barrels of well-preserved pork were also brought to the surface. "Our nation was built on pickled pork," says Crisman, but until now, no intact barrels have ever been recovered. Their contents give scholars direct evidence of meatpacking practices of the period. "It was the first time we'd seen anything like this," says University of Georgia zooarchaeologist Elizabeth Reitz, "and I don't think we'll see anything like it again."
Share