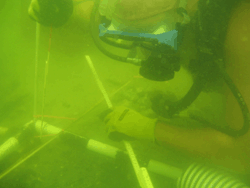 (Courtesy John Bratten)
Tristán de Luna's Ships
Pensacola Bay, Florida
In August of 1559, Spanish nobleman Don Tristán de Luna y Arellano anchored a fleet of 11 ships in Florida's Pensacola Bay. He intended to found the first European colony in the present-day southeastern United States. But in just a month, a storm grounded six of his vessels, destroying much of the doomed colony's supplies. Luna abandoned the effort shortly thereafter, leaving behind scant remains of the early Spanish presence.
Archaeologists identified one of Luna's ships, the so-called Emanuel Point wreck, in the 1990s. Now a team led by University of West Florida archaeologists John Bratten and Greg Cook has located a second, smaller Luna ship, dubbed "Emanuel Point II," just a quarter of a mile from the first wreck in Pensacola Bay. "During the last week of our 2006 field season, we found the ship's ballast stones," says Bratten. The crew then exposed intact hull timbers and recovered artifacts that were stored in the bow and stern, such as jars that once contained olive oil, wine, or water. "We also found rat bones and the remains of cockroaches," says Bratten.
The ships are the oldest known in Florida waters and provide nautical scholars with a new look at 16th-century shipbuilding practices in the New World. They also help give historians a complete picture of who accompanied Luna to Florida. "We recovered three pieces of Aztec pottery and a group of obsidian cutting blades," says Bratten. The artifacts would have belonged to Aztec warriors who accompanied the expedition.
Share