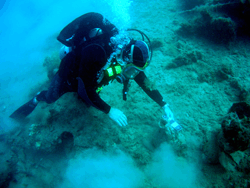 (Courtesy RPM Nautical Foundation)
Corinthian Shipwrecks
Adriatic Sea, Albania
Thanks to decades of political isolation under the reign of paranoid Communist dictator Enver Hoxha, Albania's coastline has long been off-limits to divers of all kinds. "Virtually nothing is known about the cultural resources in the waters off Albania," says Jeff Royal, archaeological director of the nonprofit RPM Nautical Foundation. Together with Adrian Anastasi of the Albanian Institute of Archaeology, Royal is now directing a survey of the area, one of the last unexplored coastlines of the Mediterranean world.
Though only two years into the project, the team has already made numerous finds. "There are all kinds of sites down there," says Royal, "from ancient Greek and Roman cargo ships to a modern ferry that sank just a few years ago with cars aboard."
So far, the most significant sites are artifact scatters from ships that sank while transporting cargo from the Greek city of Corinth to its colonies on the Adriatic coast. "We're finding a high concentration of Corinthian goods," says Royal, "including those from an amphorae carrier and a vessel that was shipping roof tiles to the colonies. Once we've analyzed these wrecks we'll know much more about how trade worked between Corinth and its colonies from the sixth to second century B.C."
The team is continuing to use sonar to survey the coast from Greece to Albania's northern neighbor of Montenegro. "We've got at least another decade of work, minimum," says Royal.
Share