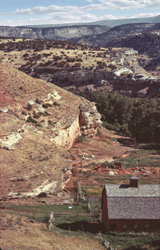 (Photo: Courtesy George C. Frison)
Visiting Yellowstone this summer? Wyoming state archaeologist Mark Miller says you need to take a short detour and visit the region's most impressive site--Medicine Lodge Creek.
Site report: Native Americans sought shelter at the base of an oval-shaped, 750-foot-long bluff along Medicine Lodge Creek for 10,000 years. Archaeologists have found that the site was occupied by as many as 60 different groups, from Paleoindians to the historical Crow people. Now a state park, the location is a hunter-gatherer's dream, since five vegetation zones, from desert basin to mountain meadows, are located within a 12-mile radius.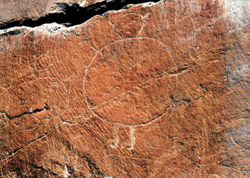 (Photo: Courtesy George C. Frison)
Don't miss: On the bluff, there are thousands of petroglyphs and pictographs that depict human figures--most dramatically, large, shield-bearing warriors--as well as bears, mountain sheep, and even horses. But don't leave until you've spotted Miller's favorite glyph, a vivid outline of an elk pierced by arrows. An interpretive trail runs along the base of the cliff, but be sure to bring binoculars--the ancient artists created some of the most compelling rock art high above ground level.
If you want to rough it: There are camping sites at the park equipped with grills, and Miller recommends you fish for trout in the creek.
If you don't: For some local fare, drive a couple of minutes south to the town of Hyattville and grab a steak at the Paintrock Inn run by Leslie and Terry Jeffers. Tell them ARCHAEOLOGY sent you.
Share