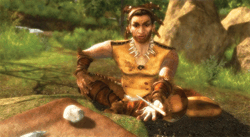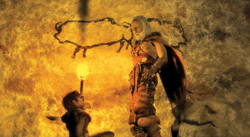 Cave boy, Arok, learns to make tools and cave paitings from the people he meets, as he tries to solve a series of Paleolithic puzzles.
The computer-based adventure game Secret of the Lost Cavern lets players explore Europe 17,000 years ago through the eyes of Arok, a teenage boy who leaves his tribe to discover the world beyond the valley where he grew up. Arok's journey is set up as a series of puzzles. First, he has to learn about cave painting and figure out how to make a spear-thrower before finding his way through a maze of caves. Each part of the journey includes lessons about Upper Paleolithic life that weave together archaeological research on artwork, stone-tool technology, environment, and social structure.
There are no action sequences to give players an adrenaline rush, and the game will frustrate those with short attention spans. Even the most patient players are likely to feel their blood boil at the unnecessarily tedious process of making tools and the lack of options for solving some of the dilemmas Arok faces. The quirky game controls also make it hard to discern how to complete certain tasks, but hopefully these flaws will be corrected in future versions. The game is available in Mac, PC, and iPhone formats. Complaints aside, it might be worth the $39.90 price tag for high-school students wanting an easy introduction to the basic concepts of Paleolithic archaeology. Secret of the Lost Cavern is available for download at www.coladiagames.com.
Share