The effort to preserve Albania's little-known Ottoman treasure
| | |
| --- | --- |
| | |
The archaeological sites throughout southern Albania's Drino Valley testify to the region's rich past, from the Stone Age to the Atomic Age. An industrial-sized stone quarry dating to 9000 B.C. lies three miles from the stunning remains of the fourth-century B.C. city of Antigoneia, founded by King Pyrrhus of Epirus, a coastal region of northwestern Greece and southern Albania. The valley also is home to the city of Hadrianopolis, built by the Roman emperor Hadrian around A.D. 125, and to rows of concrete bunkers constructed in the 1980s for defense against invaders imagined by Albania's xenophobic dictator, Enver Hoxha. But it is the town of Gjirokastra on the western slopes of the valley, about eight miles from both ancient cities, that has pulled me back to this part of the country for the past 15 years.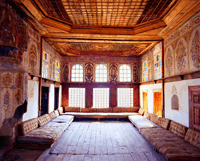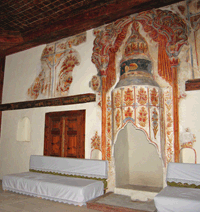 Brightly colored frescoes and Venetian glass adorn the early 19th-century Zekate House's living quarters. The Albanian Institute of Monuments' work to restore the paintings has been one of the conservation team's most successful efforts. (Courtesy Alket Islami, Chris Hassle & GCDO)
Without extensive and immediate efforts to save it, much of this historic city--whose past goes back to the pre-Roman era--will disappear. There has been little repair work here since the fall of Albania's Communist regime in 1992. An imposing 14th-century castle, which dominates the town, is dark and deserted. Despite the fact that UNESCO granted Gjirokastra World Heritage Site status in 2005, many of the great Ottoman mansions that once displayed the city's wealth are rapidly decaying. Some are past the point of no return.
I first came here on a day trip from the nearby ancient site of Butrint, where I have excavated for more than a decade ("Ages of Albania," March/April 2006). I was intrigued by Gjirokastra's appearance, and my initial impression in 1994 was that of a well-preserved 19th-century Ottoman town and an impressive fortified castle originally built in the 14th century. Today, there are some 30,000 inhabitants of Gjirokastra, most of whom live in apartments in the "New City" at the foot of the Gjerë Mountains. This area--a mix of Communist and capitalist concrete buildings--also contains markets, modern shops, and a university. Gjirokastra's historic center, the "Old City," winds up the ridges and slopes toward the mountains' high peaks.


Specially trained craftsmen restore the roof of the early-19th-century Gurgaj House by laying new limestone tiles, which are held in place only by their own weight. (Courtesy Alket Islami, Chris Hassle & GCDO)
I now return to Gjirokastra several times a year as an adviser to the Albanian-run Gjirokastra Conservation and Development Organization (GCDO), a citywide conservation initiative established in 2001, which is funded by and is collaborating with non-governmental agencies, including the Packard Humanities Institute and Cultural Heritage Without Borders. So far, GCDO and its partners have mapped Gjirokastra's historic structures and supported regional programs to train students in restoration and conservation techniques. The cash-strapped Albanian government has spent $1 million to repair, restore, and conserve the castle and 50 mansions out of the town's 400 traditional houses. But Gjirokastra's salvation is far from certain. Being an archaeologist who has directed excavations and trained hundreds of international students in field methods, my move from Butrint might seem unusual. But my work there served as a gateway to research at historic sites like Gjirokastra. My interest now is in the archaeological heritage and modern life of the entire region.
On my first trip to Gjirokastra, I marveled at the place. Ten years later, I felt the city was doomed and that only a fraction could be saved. Now I am more optimistic. Although the Gjirokastra of the 21st century will be different from the one I saw in 1994, it will be much more like the authentic one that existed for more than seven centuries before.
Oliver Gilkes of the University of East Anglia is an adviser to the Gjirokastra Conservation and Development Organization.
Share