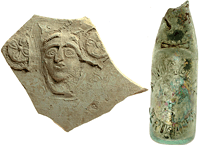 A fragment of a 3rd-century A.D. Roman bowl and a 19th-century beer bottle marked with the city's name (Klara Amit, Courtesy Israel Antiquities Authority)
Archaeologists in Jerusalem have unearthed remains of the city's southern wall that date to the Second Temple period (second century B.C.-A.D. 70). The fortifications were largely destroyed during the Jewish revolt against the Romans between A.D. 66 and 73. But a team led by Israel Antiquities Authority archaeologist Yehiel Zelinger found intact sections of the 10-foot-tall wall during excavations on Mount Zion, just outside the Old City of Jerusalem. First discovered in the late 19th century, the wall's location had been lost until now.
First-century Jewish historian Flavius Josephus described three walls that once surrounded Jerusalem in his book The Jewish War. "What Josephus calls 'the First Wall'--the earliest from the Second Temple period--is what we have found," says Zelinger.
According to him, the wall had been buried and plundered for building materials, probably to construct the nearby Roman colony of Aelia Capitolina in the second century A.D. Four centuries later the city's Byzantine rulers erected their own fortifications directly above the wall's remains.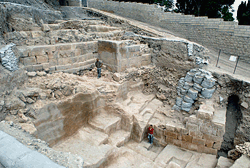 Excavation of a Second Temple period wall in Jerusalem (Tsilla Sagiv, Courtesy Israel Antiquities Authority)
"From a topographic standpoint, the city was most effectively defended at this point," says Zelinger, noting that Jerusalem's ancient rulers all constructed fortifications on Mount Zion--even during the Iron Age First Temple period (1000-586 B.C.). His team also uncovered a tower that was once integrated into the defensive system and Zelinger believes the remains of a First Temple period tower might also be nearby. He is planning future excavations to locate it.
The wall was first uncovered between 1894 and 1897 by British archaeologists Frederick Jones Bliss and Archibald Dickie, who dug a series of shafts and tunnels to reach the site, a common excavation method in the 19th century. Over the years, the tunnels and shafts filled up with soil and the wall once again disappeared. Zelinger found a number of artifacts left behind by the British explorers, including a shoe, part of a gas lamp, and beer and wine bottles.
Until the destruction of the Second Temple by the Romans in A.D. 70, the holy sanctuary was the center of Jewish life in Jerusalem and attracted pilgrims from across the ancient world. Remains dating to this period are exceedingly rare, so the rediscovered wall will become a highlight of Jerusalem's City of David National Park. The Israeli Antiquities Authority plans to build a promenade around the southern edge of Mount Zion so visitors can access the site.
Share