Mystery and controversy haunt a pre-Columbian ceremonial site in Puerto Rico.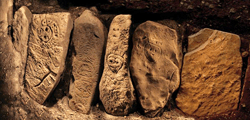 These images of Taíno gods, carved at least 500 years ago, have caused the U.S. Army Corps of Engineers to radically alter dam construction plans on Puerto Rico's Portugues River. (Courtesy David Diener)
Archaeologist Chris Espenshade's instructions were clear: excavate a marginally interesting settlement (designated only as PO 29) along Puerto Rico's Portugues River that had once been occupied by the Taíno people, recover artifacts, record useful data, and get out. The bulldozers were waiting. After more than 20 years of budget delays, escalating costs, and engineering challenges, the U.S. Army Corps of Engineers was finally ready to build the last phase of a $580-million flood-control project that would protect Ponce, the island's fifth-largest city, from the devastating floods that sweep down the valley after heavy rains.
Then Espenshade, a consulting archaeologist with New South Associates in Stone Mountain, Georgia, and his team began turning up evidence of one of the largest, best-preserved pre-Columbian ceremonial centers known in the Caribbean.
Last summer, they unearthed a huge four-sided ceremonial plaza, a batey or ball court, measuring 130 by 160 feet. Other finds included a 90-foot-long artifact-laden midden mound, the first of what could be as many as 400 prehistoric burials, patterns of post holes that delineate ancient dwellings, and a 60-foot-long row of intricately carved granite and sandstone petroglyphs that appear to date to shortly before the arrival of the Spanish in the fifteenth century.
"When I went to the site right after the wall of petroglyphs had been exposed, my jaw just dropped to the floor," recalls co-investigator Peter Siegel, a specialist in pre-Columbian Caribbean cultures from Montclair State University. "I am five-and-a-half-feet tall and I was looking at a wall of well-executed carvings as tall as I am."
Staring back at Siegel from the stone slabs was a matched pair of full-length human figures: a man and a woman wearing a headdress and ear spools, arms outstretched, legs splayed in a frog-like stance, sexual organs clearly visible. He says the regalia shows that these were high-status people.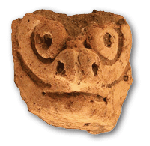 The face of a bat from a pottery sherd found at the site (Courtesy David Diener)
The discovery of the batey and other features prompted Espenshade to tell the Corps in June that the archaeologists would need more time and money to complete the work. Then he began finding burials in the midden mound and a west wall of the batey that suggested the plaza might be a lot larger than expected. The Corps agreed to another extension. And, as the summer wore on, another. Then, with the discovery of what Espenshade calls a "gallery of rock art" along the steeply sloping hillside at the site's northern boundary, it was clear a whole new strategy was needed.
"The north wall was just spectacular," says David McCullough a staff archaeologist with the Army Corps of Engineers Jacksonville district which includes Puerto Rico. "Once we realized that this was such an extraordinary site, I went to my engineer and told him we were going to have to shift from frantically trying to recover information to finding a way to preserve the site."
Future archaeology at the site is certain to have more direct Puerto Rican oversight. "Areas of the site that have not been excavated have a great research potential," says Tamara Gonzalez Vega, director of the Archaeological Council of Puerto Rico. "A more detailed archaeological investigation will proceed as soon as the dam's construction is finished."
But Espenshade is concerned about what remains in the ground. With only a small portion of the site excavated, reburial of the site is intended to assure that the artifacts, human remains, and petroglyphs stay in place for future study. For now the Corps has the site "heavily guarded," but the intense publicity generated by the discovery poses a new dilemma.
"I'm worried," he says. "We're only 15 to 20 minutes from downtown Ponce and everyone now knows what's here. Some of these glyphs would fetch tens of thousands of dollars on the antiquities market. If this site is not fenced and watched closely, somebody is going to come in with a backhoe some night and take everything."
Mike Toner is a freelance writer and former science writer for The Atlanta Journal-Constitution.


© 2008 by the Archaeological Institute of America
archive.archaeology.org/0803/abstracts/taino.html
Share