Lismullin Henge • Gabhra Valley, Ireland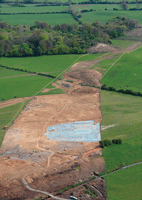 (Courtesy Paula Geraghty/Save Tara Campaign)
Early last year, archaeologists working on the route of a controversial highway near the village of Lismullin, Ireland, stumbled across a vast Iron Age ceremonial enclosure, or henge, surrounded by two concentric walls. The 2,000-year-old site is just over a mile from the Hill of Tara, traditional seat of the ancient Irish kings and site of St. Patrick's conversion of the Irish to Christianity in the fifth century A.D. The discovery of the massive henge, measuring more than 260 feet in diameter, confirms the long-held belief that the area around the hill contains a rich complex of monuments.
The extraordinary amount of archaeological remains on the Hill of Tara--burial mounds, religious enclosures, stone structures, and rock art dating from the third millennium b.c. to the twelfth century A.D.--makes it Ireland's most spiritually and archaeologically significant site. Construction of the new M3 highway, meant to ease traffic congestion around Dublin, threatens not only the Hill of Tara's timeless quality, but also newly discovered archaeological sites in the surrounding valley.
Lismullin, seen at right in an aerial shot taken during excavations, and other sites that stand in the way of the new road are now approved for destruction. Although archaeologists and concerned Irish politicians are rallying support worldwide for the protection of the Hill of Tara (see www.savetara.com to learn more about the effort), the iconic site remains in great peril. At press time, the European Commission had initiated legal action against the Irish government over the M3, charging Ireland with failing to protect its own heritage.


© 2008 by the Archaeological Institute of America
archive.archaeology.org/0801/topten/tara.html
Share