Nebo-Sarsekim Tablet • The British Museum, UK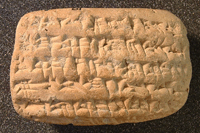 (Courtesy of the Trustees of the British Museum)
Last June, Austrian Assyriologist Michael Jursa was doing what he has done since 1991, poring over the more than 100,000 undeciphered cuneiform tablets in the British Museum. But while analyzing records from the Babylonian city of Sippar, he made a startling discovery with Biblical implications. It came in the unlikely form of a tablet noting a one-and-a-half pound gold donation to a temple made by an official, or "chief eunuch," Nebo-Sarsekim.
"At first I was just pleased to have found a reference to the title 'chief eunuch,' as these officials are mentioned very rarely in the sources," says Jursa. "Then it suddenly came to me that this text was very close chronologically to an episode narrated in Jeremiah 39 in which Nebo-Sarsekim is mentioned, and that I might actually have found the very man. So then I got quite excited and instantly went and checked (and double-checked) the exact spelling of the name in the Hebrew Bible and saw that it matched what I had found in the Babylonian text!"
The tablet is dated 595 B.C., the ninth year of Nebuchadnezzar II's reign. The Book of Jeremiah relates that after Nebuchadnezzar took Jerusalem in 587 B.C., he committed the prophet Jeremiah to Nebo-Sarsekim's care.
"It is so incredibly rare to find people appearing in the Bible, who are not kings, mentioned elsewhere," says Jursa. "Something like this tablet, where we see a person mentioned in the Bible making an everyday payment to the temple in Babylon and quoting the exact date, is quite extraordinary."


© 2008 by the Archaeological Institute of America
archive.archaeology.org/0801/topten/cuneiform.html
Share