Praise for the AIA's Field School Scholarships
My first experience with archaeology was in the summer of 1973, when, as a foreign exchange student, I worked on an excavation at Cerveteri in Tuscany. During that summer I not only learned the basics of fieldwork, but also developed a passion for archaeology that led me to dig at Aphrodisias, Gordion, and, for 20 years, at Troy.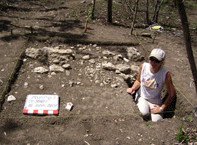 Waldbaum Field School Scholarship winner Susan Kooiman of the University of Wisconsin-Madison took part in an excavation in Belize. (Courtesy Susan Kooiman) [LARGER IMAGE
Not everyone is lucky enough to fall into a program, like the one I did, that provides the field training archaeologists need at the beginning of their careers. Most students need to enroll in a field school, but these are expensive, especially considering the cost of travel. In an attempt to remedy this situation, the AIA has created an Archaeological Field School Scholarship named in honor of Past President Jane C. Waldbaum.
Making field training widely available was always one of Jane's top priorities. "Students' first archaeological field experiences may change their lives," she said. "It is so important that the opportunity to discover what archaeology is really all aboutnot be limited tostudents who can afford it without assistance."
This year we awarded our first scholarships, enabling students to participate in programs that included the site of Huaricanga in the Peruvian Andes, a Roman Fort at Yotvata in Israel's Arava desert, and the site of Mitrou in Greece's northern Euboean Gulf, among others. "Learning where to dig and how to set up trenches was an amazing opportunity," one recipient told me. "Every day I felt like anything was possible. I could hardly believe that I was helping to collect data that could determine [our understanding of] the earliest civilizations in the Andes."
Although the program has only begun, its success is already abundantly clear, as is the need for such a scholarship: this year we received 75 applications. We were able to inaugurate the program thanks to a generous grant from a member of the AIA's Governing Board, but our hope is to establish an endowment so that the Waldbaum Field School Scholarships can be awarded in perpetuity. To do so, we need your support. Training the next generation of archaeologists is central to our mission of securing a future for the past, and your membership in the AIA is a vital part of that goal.
C. Brian Rose is the president of the Archaeological Institute of America.


© 2007 by the Archaeological Institute of America
archive.archaeology.org/0711/etc/president.html
Share