Plans for a Greek supermarket lead to the discovery of an ancient agora.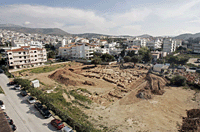 Excavations in the Athenian suburb of Voula yielded a 5th-century B.C. marketplace. (Thalassini Douma)
When Sklavenitis company officials made plans in 2005 to build a new supermarket in Voula, a coastal suburb of Athens, they quickly learned they weren't the first to picture a shopping area there. Archaeologists, called in to determine if ancient buildings would be threatened by the construction, made an extraordinary discovery--the remains of an agora, or marketplace. They were soon able to identify it as belonging to the municipality of Aixonides Halai, an ancient town important for its proximity to the city of Aixone and the valuable salt flats that existed along the coast. As the only known agora of a deme (administrative area equivalent to a town) found outside Athens, the discovery promises to enhance archaeologists' understanding of the economy, cult practices, and organization of everyday suburban life during the Classical period (fifth to fourth centuries B.C.).
"It's very rare to find such a large site in Greece that hasn't been used for building," says Yannos Kourayos, who, along with co-director Mary Giamaldi, led the team from the Greek Archaeological Service. Intense building in most areas around Athens and in Attica (the province that includes Athens) has made it unlikely that archaeologists will be able to reveal the full extent of the ancient town. "We were lucky to discover the agora and see how it relates to the areas around it," says Kourayos.
Because of the importance of the Voula excavation, Sklavenitis and the Greek Archaeological Service have decided that only private houses will be built near the site (since their foundations are less destructive than those of a supermarket). Researchers will conserve the ancient ruins and leave them visible, and they will send the artifacts to the Archaeological Museum of Piraeus. It will take them years to analyze the finds and publish the site.
Eventually developers will integrate the old marketplace into the new buildings. In the meantime, archaeologists and residents alike are pleased to have located the agora and saved it from destruction.
Jarrett A. Lobell is a senior editor at ARCHAEOLOGY.


© 2007 by the Archaeological Institute of America
archive.archaeology.org/0711/abstracts/greekmarket.html
Share