Can archaeologists and museums work together?
I was recently discussing the newly renovated Greek and Roman galleries at the Metropolitan Museum of Art with a member of the Archaeological Institute of America, who asked me whether a visit to the galleries would in any way violate the AIA's Code of Ethics. Of course not, I replied, but the question caught me by surprise, and highlighted the public's perception of the gulf between archaeologists and museums. That divide, which has grown exponentially within the past decade, hinges on different approaches to looted artifacts.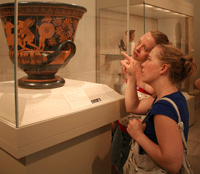 Museumgoers at the Metropolitan admire the famed "Euphronios krater," now on loan from Italy until 2008. (Courtesy Eric Powell) [LARGER IMAGE]
Many in the museum community would favor the purchase of an undocumented artifact, contending that it would otherwise disappear from the public eye. Just as many archaeologists would argue that the purchase of such artifacts fuels the illegal antiquities market and spurs the plundering of even more sites. There also seems to be a sense in some circles that archaeologists are only interested in pollen cores and flint knapping, that they view marble statuary and vase painting as unimportant. This is not the case. Archaeologists value the arts of antiquity just as much as collectors and curators do, which is why we focus so intently on the original contexts of ancient art.
When an object is looted from its archaeological context, we can still admire its beauty, and maybe even establish its authenticity. But in most cases, we lose much of what the artifact could tell us about the society that produced it. Ancient art deserves the highest level of care we can provide, which means ensuring that objects are not stripped of their histories (see "A Tangled Journey Home").
As a museum curator and a field archaeologist, I hope we can find a way to narrow this divide. The two groups may not agree on a common course of action, but both deplore the destruction of ancient sites. We may therefore be able to reach consensus on programs aimed at preventing the plundering of artifacts and their removal from the countries of origin. I remain convinced that there are potential areas of agreement, and that we should search for them more energetically than we have in the past.
C. Brian Rose is the president of the Archaeological Institute of America.


© 2007 by the Archaeological Institute of America
archive.archaeology.org/0709/etc/president.html
Share