Teasing apart the mysteries of Thracian chariot burials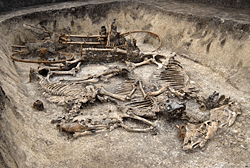 This Thracian chariot, and another one found nearby, are the only complete examples that archaeologists have ever found--as many as 150 similar burials have been looted. (Andrey Mihailov/Bulphoto)
Standing over an excavated pit in a lush field between rusting grain silos and an aging dairy, archaeologist Veselin Ignatov explains, in helpfully unscientific language, the difference between two Thracian chariots he has just uncovered.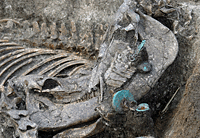 Thracian chariots were buried with up to eight horses, often decorated with elaborate bridles. Mounts were essential and revered in Thracian culture. (Andrey Mihailov/Bulphoto)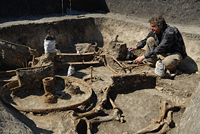 Archaeologist Veselin Ignatov has excavated the sites of 11 chariot burials. The intact site in Nova Zagora attracted nationwide attention, which he hopes will lead to greater funds, resources, and security. (Andrey Mihailov/Bulphoto)
"This one is a Mercedes," he says, as we look over the remains of a chariot and horses buried in Bulgaria sometime between the first and third centuries A.D. "The other one," he says, indicating a pit 10 yards away, "is more economy class."
The rusty, straight crossbars of the luxury chariot are studded with nails shaped like railroad spikes. Thin corner plates mark where wooden components were once attached. The hubs and rims of two large iron wheels lay as if they had simply fallen over. And at the front of the chariot, like loyal but macabre pets, are the intact skeletons of three horses.
The other burial, which dates to the same period, contains a similar collection of artifacts, but because the iron bars are smaller and more bent, it is not clear what went where; they appear to have been scattered in the general outline of a chariot. All the others excavated in Bulgaria so far, including the luxurious one here, had passenger platforms suspended over the axle by leather ropes for a smoother ride. This is the first chariot found with a passenger platform mounted directly on the axle--I can only imagine what kind of bone-jarring ride it provided.
Ignatov, from the Historical Museum in the town of Nova Zagora, has worked on 11 Thracian chariots in nine burial sites in the region, but these two are the first complete examples any archaeologist has found. Dozens of other such sites have been looted, leaving archaeologists with an incomplete picture of this key aspect of Thracian culture. Even with the metal components preserved at this site, reconstructing these chariots is like putting together a three-dimensional jigsaw puzzle. But all the pieces are roughly in place, so Ignatov expects new insights into how these vehicles were constructed, used, and eventually buried.
Matthew Brunwasser is a freelance journalist based in Sofia, Bulgaria.


© 2007 by the Archaeological Institute of America
archive.archaeology.org/0709/abstracts/chariot.html
Share