---

"Troubled Waters" (September/October 2000)
A PLUNDERED PAST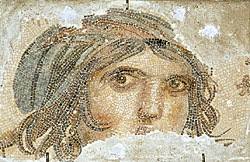 Two years ago, archaeologists at Zeugma discovered a mosaic fragment preserving only part of a woman's portrait, nicknamed "Zeugma's Mona Lisa" or the "Gypsy Girl." Plunderers had previously looted the surrounding mosaics. (Özgen Acar)

lundering of Zeugma's mosaics stretches back as far as the nineteenth century. One of the most important of these artworks is a panel depicting the sea god Poseidon surrounded by personifications of Roman provinces. This mosaic is currently on exhibition, in pieces, in St. Petersburg and Berlin. The terms used to describe the origins of mosaics to be found in various museum catalogues, such as "East Mediterranean," "near Syria," "said to be from East Turkey," or "possibly from South East Anatolia," may refer to Zeugma. An example would be the square-shaped marble and glass floor mosaic of geometric design in the North Carolina Museum of Art, in Raleigh, where it is referred to as "Roman, probably from East Turkey."
Since the 1970s, the museum at Gaziantep, the region's principal city, has received several warnings of smuggling activities and has conducted sporadic rescue excavations. On July 2, 1992, the museum was alerted to an illegal dig. Archaeologists from the museum found that a tunnel big enough for a person to pass through had been dug into a Roman villa. During their excavations, they found an extremely well preserved second-century A.D. mosaic depicting the wedding feast of Dionysos and Ariadne. The mosaic was left in place, but thieves had been alerted to its existence by local news reports. Six years later, in a nighttime raid, they cut out two-thirds of the mosaic and made off with it. Interpol has been searching for it since 1998.
In 1993, responding to a Turkish government request, agents from the New York FBI Art Theft Department confiscated from the Fortuna Gallery on Madison Avenue a marble statue of a young man and fragment of garland smuggled from Aphrodisias, in western Turkey. At the gallery they saw a piece of mosaic showing the centaur Nessos carrying off Heracles' wife Deianira. While Turkish archaeologists were examining a photograph of this mosaic, by coincidence, another photo of the piece was found in Nizip, a town near Zeugma, among the color negatives of a local photographer. In 1974, the owner of the Fortuna Gallery had been sentenced to two years in prison for antiquities smuggling in Turkey. The current location of this mosaic is unknown.
In September 1993, archaeologists found another tunnel left by looters. Excavations by David Kennedy of the University of Western Australia revealed a villa containing an 80-foot-square mosaic from which the heads of two seated figures, a man and a woman, had been cut out. Canadian scholar Sheila Campbell later established that mosaics of the lovers Parthenope and Metiochos in the Menil Collection in Houston, Texas, were the missing pieces of the mosaic Kennedy found. The matter came to the attention of the Turkish government and Bernard Davezac, director of the Menil Collection, and both mosaics were returned to the Gaziantep Museum this past June.
---
BACK
---
HOME | NEWS | BACK ISSUES | SUBSCRIBE! | TOC | WRITE TO US

---
© 2000 by the Archaeological Institute of America
https://archive.archaeology.org/0009/etc/past.html