Minoans in Manhattan
March 13, 2008
Text by Mark Rose
Photos courtesy Onassis Public Benefit Foundation
A new exhibition offers a rare opportunity to appreciate the achievements of Crete's Bronze Age civilization.
Miniature gold double-ax votive
Arkalochori Cave, Middle Minoan IIIB (ca. 1650-1600 B.C.)



[OPEN PHOTO GALLERY]
An important new exhibition, From the Land of the Labyrinth: Minoan Crete, 3000-1100 B.C., has just opened at the Onassis Cultural Center in New York. It brings more than 280 artifacts from Crete--from a miniature gold double-ax to a four-foot-tall storage jar, from wall paintings to carbonized figs--most of which have never been shown abroad before and some being displayed for the first time ever. On loan from the archaeological museums of Herakleion, Khania, Rethymnon, Haghios Nikolaos, Ierapetra, Siteia, and Kissamos in Crete, the artifacts are arranged in 11 thematic sections intended "to reveal aspects of daily life in the Minoan civilization--including social structure, communications, bureaucratic organization, religion and technology--during the third and second millennia B.C." The first solely Minoan exhibition in the United States, From the Land of the Labyrinth is a great overview of the civilization and its achievements.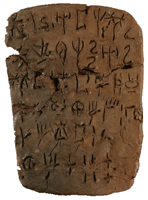 Clay tablet inscribed with six lines of Linear A writing
Zakros, end of Late Minoan IB (ca. 1450 B.C.)
Entering the exhibition area, visitors are immediately confronted with a display of double-axes, an iconic Minoan religious symbol. These range from a miniature gold one (less than 2 inches tall), a votive offering found at Arkalochori Cave, to several large bronze ones (the largest, from Nirou Chani, with a blade more than 3.5 feet wide). Visitors may recognize other hallmark Minoan artifacts in the show: clay tablets inscribed with the still-undeciphered Linear A writing, a bull's head rhyton carved from chlorite with gilded horns, and the "Chieftain's Cup," a carved steatite conical cup with processional scene (see photo gallery). That any of these are on display outside Crete is a rare occasion.
Next, and perhaps less familiar, are carved stone vessels, a craft at which the Minoans excelled and is here represented by several examples from Early Minoan II-Middle Minoan I (ca. 2600-1800 B.C.) tombs at Mochlos. And while Minoans are famous for their use of sea life as a source of decorative motifs on the so-called Marine Style pottery, the earlier Middle Minoan II (ca. 1800-1600 B.C.) Kamares Ware will surely impress visitors. There's a large selection, ten vessels in all, from delicate cups to large bridge-spouted jars, all decorated with striking red and white vegetal and geometric motifs on a dark background.
But visitors will be repaid for taking time to wander through the exhibition, going back and forth among the display cases, rather than simply viewing them in order. There are many connections to be made among the artifacts. For example, a Marine Style pot from Gournia depicting an octopus can be looked at with other pots from the same period, or can be compared with more stylized octopuses on later pottery to be seen a case or two away. Similarly, there is an impressive terracotta figure of a goddess with upraised arms from Gazi (ca. 1200-1100 B.C., nearly two feet tall) and several small terracotta and bronze figurines of worshipers. But if you look carefully throughout the exhibition you will find religious scenes and motifs depicted on many objects.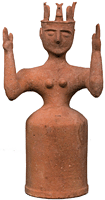 Terracotta figure of a goddess with upraised arms
Gazi, Late Minoan IIIC (ca. 1200-1100 B.C.)
Some of the small terracotta figurines on display have a seemingly playful character, such as double-headed (push me, pull you) bull and a rather large dung beetle. But the bull is a votive offering from Vrysinas, a mountaintop sanctuary, and many two-headed bulls were found there. (The exhibition catalog notes that by adding a second head, the donor of the votive might have emphasized the importance of the request being made to the divinity.) The beetle, from the open-air sanctuary of Piskokephalo, is another votive and recalls the Egyptian scarab.
Two of the most intriguing finds on display are sistra, Egyptian rattles, found at excavations on Crete. One, made of bronze and found at Mochlos, is dated about 1450. The other is one of six terracotta ones that accompanied burials in a cave at Hagios Charalampos that are substantially earlier, ca. 2100-1700 B.C. The exhibition catalog notes that "the sistra constitute undeniable evidence for a strong relationship between Crete and Egypt and of the influences exerted by Egypt on Minoan civilization." Other reminders of links between the Minoans and Egypt in the exhibition include the beetle votive figurine already mentioned and a scarab of the 18th Dynasty pharaoh Amenhotep III from Kastelli, Khania.
A highlight is the well-preserved boars' tusk helmet from Armenoi, only the second such helmet found in Crete. Shown alongside it are two miniature representations of men wearing boars' tusk helmets. Both of these (one of hippo ivory and one of bone) would have been attached to a furnishing of some sort. All three date within 1375-1250 B.C. In an adjacent case is a large Late Minoan II (1450-1400 B.C.) jar on which boars' tusk helmets are used as the chief decorative motif. So, we have the full range of actual object, use of the object as a decorative plaque, and reduction of it to a motif that perhaps conveyed a sense of prestige.
Three examples of Minoan frescoes are included in the exhibition, including an spray of olive branches (part of a larger landscape scene) and a geomteric pattern with red lily-papyrus motifs. The main attraction here, however, is the Patridge Fresco from Knossos (ca. 1700-1525/1500 B.C.). It depicts a stream in a rocky environment with several partridges and a hoopoe (a small-medium bird with a distinctive crest). Excavated by Sir Arthur Evans some 80 years ago, it was heavily restored, and today the restoration itself is an artifact.



Terracotta rhyton (ritual vessel) painted in "Marine Style"
Zakros, Late Minoan IB (ca. 1525/1500-1450 B.C.)
The range of objects presented in From the Land of the Labyrinth is exceptional. There are many carved seal stones with exquisite carvings of religious activites, bulls and bull leaping, griffins and lions, and marine life. The jewelry on display also shows a high level of workmanship on a small scale. There are necklaces of gold papyrus blooms, rosettes, and argonauts, and polished amethyst, carnelian, and sardonyx beads. And there are large-scale pieces, such as elaborately painted terracotta sarcophagi.
But not all of the objects on display are works of art or adornment, religious significance, or intended for the Minoan elite. Agriculture and industry are also well represented. There are actual 3,450-year-old carbonized grass peas from Kastelli, as well as carbonized figs from Sternes that are a couple of centuries younger. From Zakros come a ceramic wine press and vat (both dating ca. 1450, but from different locations at the site), as well as a possible bee smoker. Artifacts related to metalworking on display include oxhide-shaped ingots of Cypriot copper, crucibles and molds, and finished bronze tools such as axes, picks, chisels, a saw, and a trident. Most of these are from the settlement of Mochlos and the palace at Malia. Through these and other objects, the exhibition explores the full range of Minoan civilization.
Nobody interested in the ancient world--not just the Aegean, but also Near Eastern and Egyptian--who will be in New York during the next several months should miss this exhibition. The Minoans were at the geographic and cultural crossroads of it all, and this is a great introduction to their civilization. Moreover, it is not often that so many unique and fragile objects are allowed to travel. Take advantage of this opportunity.
From the Land of the Labyrinth: Minoan Crete, 3000-1100 B.C. will be on view at The Onassis Cultural Center (645 Fifth Avenue) through September 13, 2008, Monday-Saturday from 10 a.m. to 6 p.m. Admission is free. The catalog acconpanying the exhibition is exceptional and well worth obtaining.
Mark Rose is Online Editorial Director, Archaeological Institute of America.


© 2008 by the Archaeological Institute of America
archive.archaeology.org/online/reviews/minoans/
Share