Rome Yet Again
September 6, 2005
by Paul B. Harvey, Jr.
Is the HBO series Rome's history though the eyes of ordinary men or just an ancient version of Desperate Housewives?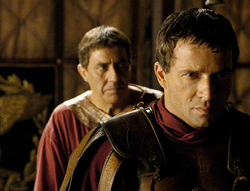 A brooding Caesar (back, with a full head of hair, which he did not actually possess) and Antony (Photo: Franco Biciocchi, courtesy HBO) [LARGER IMAGE]
HBO's popular "Six Feet Under" concluded on a bittersweet, but largely positive note on August 21st. HBO's raunchy, all-too-plausible (and apparently highly addictive) serial tale "Deadwood" about the slow and violent metamorphosis of a mining community into an urban center will not reappear until later this year, while the next season of HBO's award-winning "The Sopranos" about northern New Jersey's dysfunctional family of Italian-American entrepreneurs will not resume until March 2006. How to fill the gap, then, in HBO's primetime Sunday (9:00 PM ET/PT) schedule? With a series that is equally original? No. HBO has teamed up with the BBC to offer a visually spectacular, generally well-acted variation on a very well-known theme: the collapse of the Roman Republic and the emergence of authoritarian rule under the Prince of Peace, Imperator Caesar Augustus.
That theme constitutes the basic problem with what we are promised will be a 12-episode series: we know the plot line before we view. So how to make this visualization of well-known historical events compelling? The answer is the construction of several mildly interesting, but not entirely plausible, subplots. HBO's own press releases (and their attractive website, www.hbo.com/rome) declare that the series dramatizes "The Hot, Wild City," while telling the tale through the eyes of ordinary men, all with fastidious attention to historical accuracy. Herewith one reviewer's judgment (based solely on viewing the first three episodes of "Rome") on how successful those announced aims are.
These opening episodes of the series get the politics just about right: a faction of senators prod an overly optimistic Pompey into a confrontation with Caesar. That same faction of senators severely over-estimates Pompey's military abilities and disastrously undervalues Caesar's political shrewdness, ruthlessness, and speed. The result (as we all know) was that Pompey and a group of senators evacuated Rome while Caesar crossed the Rubicon--not invading Italy, mind you, as Caesar reminded his readers in the opening sections of his Civil War, but coming to the aid of the Roman people, whose tribunes that same faction had foolishly put to flight. The portrayal of several significant debates in the Senate (presented here, manifestly, on the model of the House of Commons) and of conversations among political potentates are plausible: issues of Caesar's prestige and military record are set out well against vague expectations of what Pompey thought he could accomplish.
Several scenes are done well. Set pieces of battle conflicts are noisy, bloody, and chaotic. More subtly, several scenes ring absolutely true: Caesar rallying his troops before invasion; the crossing of that historically-significant, but geographically unimpressive stream, the Rubicon; the Pompeians evacuating Rome once they realize Caesar is almost at the gates; the Roman populace's apprehension at what will happen next.
The level of acting in these episodes is very high, if often not historically accurate or plausible. Pompey (Kenneth Cranham) is all but perfect--he even looks like the extant portrait busts of Gnaeus Pompeius Magnus. His world-weary, overly confident portrayal captures well the lion in decline. Ciarán Hinds as Caesar is a little too stocky and hirsute and only occasionally hints at the charismatic, determined personality he plays. Mark Antony is splendid: James Purefoy presents well the aristocratic, calculating, incipiently bibulous ladies' man of whom our sources speak. Several senators are portrayed curiously: the younger Cato speaks pointedly in senatorial debate, but is far too old (and why is he wearing a black toga?). Cicero speaks eloquently in the Senate. It is just as well he speaks briefly: at the moment portrayed he was, in fact, in distant southeast Turkey, administering reluctantly, but well, the province of Cilicia. One character all but steals the show: Max Pirkis (previously seen as a precocious, aristocratic young midshipman, in "Master and Commander") is an utterly convincing Octavian. Here is no spoiled, feckless youth needing instruction in statecraft and Realpolitik by a kindly gladiator (compare the recent series, "Empire"), but a self-confident, calculating, Machiavellian adolescent. This character, we can readily believe, will indeed survive to become Augustus. (Never mind that his name was Gaius Octavius, not Octavian: he would not become, by testamentary adoption, Gaius Iulius Caesar Octavianus until after Caesar's death.)
| | | |
| --- | --- | --- |
| [LARGER IMAGE] | Kenneth Cranham, left, makes a believable Pompey. A not-so-young Cato the Younger, right, sports a black toga. (Photos: Franco Biciocchi, courtesy HBO) | [LARGER IMAGE] |
Many background aspects of this series are nicely done. The crowded hustle and bustle of Roman street life is presented convincingly. Rome ca. 52 B.C. was no modern Calcutta (despite one of the producers' assertions), but neither was it a quiet, spacious, austere museum of marble. A pantomime scene in the first episode is delightfully noisy, bawdy, and plausible. The registers of discourse among different social classes are rendered plausibly: the upper-class characters speak with mildly Oxbridge accents, the common folk in distinctly more vernacular accents. Medical scenes (the death of Julia, Caesar's daughter and Pompey's wife, for example) are extremely convincing.
The sets are lavish. The topography of the city of Rome (courtesy of those old masters of reconstructing ancient Rome on the back lots at Cinecittà) is presented without glaringly obvious anachronistic architectonic structures. The costumes owe much to Pompeian wall painting (as do the wall decorations in the various aristocratic homes we visit). The clothing of common folk is simple, unadorned, and accurate. This viewer wishes the producers had spent as much attention to the plots and the characters as to the sets.
On the other hand, the writers and directors of this series should have attended more faithfully to the advice of their historical consultant, or perhaps hired more consultants. Centurions on horseback look mighty dapper in their chain mail--several hundred years before such defensive garments are attested in the Roman army. Religion and religious ritual permeated ancient Rome society at all times, but religious affairs are not presented here in any convincing fashion. Some scenes of prayer are done well; other visualizations of ritual are anachronistic or simply bizarre. For example, Atia, as devotee of Magna Mater, undergoes a taurobolium: the sacrifice of a bull with the blood dripping down through a gate onto the worshiper below. No taurobolia are attested in Italy until the first-half of the second century A.D. Mark Antony is invested with tribunicial authority in an incoherent and incomprehensible religious ritual without historical warrant.
Now as for those subplots. When we read through the fifth book of Julius Caesar's Gallic War, we meet (5.44) two contentious senior centurions whom Caesar praises highly for their bravery in battle: Lucius Vorenus and Titus Pullo. From that Caesarian notice, the writers of this series have constructed two characters to serve as Caesarian gofers and to provide an everyman's vision of the momentous events in which they participate. That role, apparently, was not enough. The characters are developed into a worldly wise, vaguely criminal Pullo (played with thuggish demeanor by Ray Stevenson) and a competent, but rather naive and innocent Vorenus (played with cold detachment by Kevin McKidd). Much of the subplot in which these two characters appear revolves about Vorenus' return to Roman wife and family: "Honey, I'm home from the wars and who's the father of that kid you're holding?" We learn that Vorenus needs lessons from Pullo in how to communicate with his wife, as well as instruction in the fine points of female anatomy. All of this is amusing, but evocative of any number of daytime soap operas. When not trying to have conversation with his wife, Vorenus frets about political morality and loyalty to Caesar. That aspect of Vorenus' character as presented may not fit with any known Caesarian centurion, but is modeled on the career of one of Caesar's most competent commanders, Titus Labienus, who did indeed leave Caesar for the cause of his primary patron, Pompeius.

[LARGER IMAGE]
Caesar's men: Pullo, left, vaguely criminal, and Vorenus, right, rather naive. (Photo: Franco Biciocchi, courtesy HBO)

Caesar's heir: "Octavian" calculates his next move. (Photo: Franco Biciocchi, courtesy HBO)


[LARGER IMAGE]
The other subplot presumably validates HBO's promotion of this series as about a "hot, wild city." The character Atia, Caesar's niece and the mother of Octavian and Octavia, is portrayed by Polly Walker. She is certainly lovely to look at and we certainly see practically every inch of her, but her character is pretty much made up out of whole cloth. The character of a feminine conspiratorial, manipulative, indiscriminate lover should be familiar: this is the Livia of "I, Claudius" as upper-class slut. As in many an oligarchic society, daughters of upper-class families at Rome were employed as political pawns. That point is brought out well in this series by the characters of Pompey's wives Julia and Cornelia. That point is also stressed in the characterization of Octavia (Kerry Condon, whose body also receives full disclosure in these episodes), but stressed because of the wild flights of fancy of the series' writers. Octavia has a husband (one Glabius) she is forced to divorce, thus to be a match for perhaps Pompey, perhaps Mark Antony. No mention of her actual husband, Claudius Marcellus, to whom she was steadfastly married. After Marcellus' death in 40 B.C., Octavia was indeed married to Mark Antony, to seal a (temporary) political alliance between her brother and her new husband. Little in the historical record hints at the Octavia we see in this series.
| | | |
| --- | --- | --- |
| [LARGER IMAGE] | [LARGER IMAGE] | The character of Atia, left, was made of wholecloth. Octavia, right, was given a new husband named Glabius for the series. (Photos: Franco Biciocchi, courtesy HBO) |
On balance, then, as a visualization of ancient Rome, "Rome" is certainly better than most of its genre, but lacks the dramatic tension of that classic series, "I, Claudius". We do not see here the political implausibilities of "Gladiator", but neither do we see a strictly accurate (or, in many instances, even convincing) portrayal of historical personalities. And as a dramatic series, "Rome" does not leave the viewer at the end of an episode eager to see what happens next. We already know.
Paul B. Harvey, Jr., instructs ancient history (mostly Roman) and classical languages (mostly Latin) in the Department of Classics and Ancient Mediterranean Studies and in the Department of History at Penn State University.


© 2005 by the Archaeological Institute of America
archive.archaeology.org/online/reviews/hborome/
Share