St. Paul in Ephesus
January 17, 2002
by Özgen Acar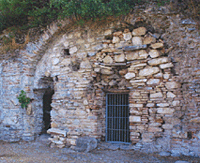 Entrance to the Cave of St. Paul at Ephesus (Courtesy Özgen Acar) [LARGER IMAGE]
Early Christian wall paintings found in the Cave of St. Paul, in the vicinity of Ephesus, Turkey, are being restored. The Cave of St. Paul, which was a place of pilgrimage for Christians until recent times, is on the northern slope of Bülbül Dag (Nightingale Mountain). The House of Mother Mary, consecrated as a place of worship by the Vatican and visited for religious services by Pope Paul VI in 1967 and Pope John Paul II in 1979, is on the mountain's south side.
The cave was discovered in 1906. It consists of a corridor leading to a 15 by 2 m room, 2.5m high, that was cut into the rock. The room's floor, originally level, was subsequently covered with material from later periods, raising it 20 cm. In the corridor there are two niches, 0.5m above the ground and blackened with soot. There are layers of plaster on the niche to the right of the entrance, going down to the floor, as there are on the corridor walls. The last layer has early twentieth-century graffiti--such as "the hidden of Mother of God" and "Paul help your servant"--written on it in charcoal and chalk.
Karl Herold, head of the restoration department for the Austrian Archaeological Institute excavations in Ephesus, was working on the cave walls when he noticed that there were paintings underneath the plaster. Removing it, Herold uncovered pictures of Mary, St. Paul, and St. Theoklia, a female disciple, together with some ancient inscriptions.
St. Paul of Tarsus visited Rome four times from A.D. 44 to 62 to spread the message of Christianity and, while traveling through Anatolia, stopped twice at Ephesus. He caused violent protests when he preached sermons in monotheistic Jewish synagogues in order to spread the word of Christianity in polytheistic Ephesus. St. Paul was killed on his fourth visit to Rome. St. Theoklia, who accompanied him on some of his journeys, later died in Antioch, modern Antakya.
The paintings of St. Paul and St. Theoklia date from the sixth century, and show them side-by-side for the first time. The depiction of St. Paul is the first one that has been discovered in Ephesus. The painting of Mary has been damaged during the course of time. Various pictures and inscriptions were added to the Cave of St. Paul up to the eleventh century. Later, it was turned into a chapel and became a place of pilgrimage for Christians. Immediately to the east of it is a cave from the Byzantine period, which was made with an entry room leading to two separate areas.
The Vatican Embassy in Ankara has started a new study of the cave.


© 2002 by the Archaeological Institute of America
archive.archaeology.org/online/news/stpaul.html
Share