Digging San Francisco
April 17, 2007
Allen Pastron reflects on a quarter-century of work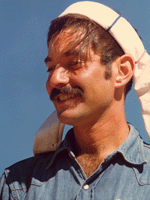 Allen Pastron, after nearly two years living with the Tarahumara (Courtesy of Allen G. Pastron) [LARGER IMAGE]
Longtime readers of ARCHAEOLOGY will remember a pair of exceptional articles about early San Francisco, written over a decade ago by Allen G. Pastron. Those articles featured a Gold Rush-era store ("Bonanza from Old San Francisco," July/August 1988) and a Chinese settlement ("On Golden Mountain," July/August 1989), just two examples of the kinds of sites that Allen, as head of the contract archaeology (or cultural resources management) firm Archeo-Tec (www.archeo-tec.com), has had the privilege of excavating. During a recent trip to California, I caught up with Allen and asked him about what it's like to be an archaeologist in this city with such a colorful past and rich heritage. His answers provide an unusual behind-the-scenes look at how contract archaeology works in a major urban center, as well as a bold vision for the future. Current ARCHAEOLOGY readers will be pleased to know that more of Allen's work will be featured in upcoming issues.—Mark Rose
If you could just run through the main sites that you have excavated here in San Francisco, for those unfamiliar with your articles in earlier issues of ARCHAEOLOGY.
Since 1986, we found about half a dozen previously unrecorded prehistoric sites in the heart of the city, including an extensive Native American village/cemetery site in the South of Market region, where the northern wing of the Moscone Convention Center now stands. This site, which is formally known as CA-SFR-114, was the richest burial site I've ever had an opportunity to investigate. Amazingly, considering that CA-SFR-114 was situated near the center of what had been one of San Francisco's most developed, densely populated blocks throughout the second half of the nineteenth century, the site was found in a remarkable state of preservation, buried 19 feet below present street level.
We have also found more than a dozen remarkable Gold Rush sites, including the Hoff Store site and what we call the "Chinese Store" site. These were two commercial emporia--one Euro-American and the other Chinese-- situated only three blocks away from one another in the heart of San Francisco's Financial District/Chinatown region. Both stores were in operation at the same time and both were destroyed in the same fire of May 3-4, 1851. Each site yielded tens of thousands of Gold Rush artifacts and well-preserved architectural remnants. These two sites are a tremendous point-counterpoint to one another. Additionally, the "Chinese Store" site represents the oldest, most extensive and best-preserved cultural deposit ever encountered in the heart of San Francisco's Gold Rush-era Chinatown, which was then, as now, the largest and most important overseas Chinese settlement in the world.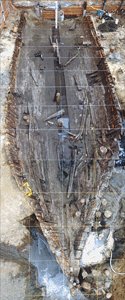 In September of 2001, Allen Pastron and his staff at Archeo-Tec discovered the General Harrison, in downtown San Francisco. A grid was erected to aid in mapping the 126-foot Gold Rush-era ship. (Courtesy of Archeo-Tec) [LARGER IMAGE]
We've also found the hulks of three wooden sailing ships buried in waterfront landfill that were used as warehouses, and for other purposes, during the Gold Rush. The most important of these, the hulk of the Gold Rush-era storeship General Harrison, was situated at the northwest corner of Clay and Battery streets, in the heart of the city's present-day Financial District. Like much of Gold Rush San Francisco, the General Harrison was burned to the waterline in the fires of May 1851 and then covered over with landfill. In the mid-1980s, we found the remnants of a Chinese fishing village site that had been established by enterprising Asian immigrants near the tip of Rincon Point. Around the same time, we found a transient early Gold Rush encampment, south of Market, where prospective miners camped next to the bay shoreline as they awaited the opportunity to travel to the mines of the Sierra Nevada foothills. Over the years, we have found several dozen residential sites and commercial sites from both the Gold Rush and the later nineteenth century. So, in brief, we have encountered a tremendous range of nineteenth-century sites in the city that highlight San Francisco's central place in the development of the American West, as well as its ethnic and economic and social diversity.
You started out at Berkeley, which is a pretty good place to start out.
In my opinion, during the 1960s and 1970s, the U.C. Berkeley Department of Anthropology was the best in the country, bar none. I'll admit to a certain amount of bias on this subject, but I was both an undergraduate and a graduate student there. I got my B.A. and my Ph.D. at Cal, so I was a campus fixture from, I believe, 1965 to '77. I am still amazed by the educational opportunities that were available to me. I have to say that being at Berkeley during that time was an unbelievable experience on many levels-- there was nowhere else I wanted to be. Here I was getting this terrific education, which in those days was essentially free, because U.C. Berkeley was a public school, and I was a California resident. There was also so much else going on. I loved it.
But I certainly was not trained to do what I wound up doing. I started my graduate career in African prehistory, working with J. Desmond Clark and Glynn Isaac, two of the world's most brilliant and insightful paleo-anthropologists. I actually was part of an archaeological expedition, in 1969-1970, with Desmond Clark, to Adrar Bous in the Sahara Desert, in the northern part of Niger Republic. We excavated a variety of pristine prehistoric sites. In the middle of this expedition, I ran into a clan of the local Berber-speaking nomads called the Tuareg. I became fascinated with them and hung around with them as much as I could. I still have several pictures of me riding around on camels with the Tuareg in the middle of the Sahara. By the time I came back to Berkeley, I decided that a social-cultural anthropological dissertation was more for me. So I switched my emphasis from archaeology to social and cultural anthropology, and then went and lived for a couple of years with a group of Native Americans in the Sierra Madre of northern Mexico called the Tarahumara, and did my dissertation on witchcraft and shamanism among these people. To say the least, this subject was a far-cry from archaeology. When my fieldwork was finished, I came back to Berkeley to finish my Ph.D. I got a teaching job, even before I finished my dissertation, and in my new role as assistant professor, started doing archaeology again.
Your job was teaching?
Yes, teaching. I got a job at the University of Santa Clara, a Jesuit University located near San Jose. I taught there for six years, and every now and again I'd also get a job teaching a summer class at Berkeley. I finished my dissertation during the first two years I taught at Santa Clara. During this time, I became increasingly interested in doing archaeology again. One day, during my time at Santa Clara, I got a call from an old friend, an attorney in San Francisco who had also been a graduate student in anthropology at Berkeley during the late 1960s. That's how I knew him, and by the mid-1970s, he had become a well-placed political figure in San Francisco. He asked me: "Are you aware of the fact that the Federal Government has just funded this huge sewer renovation project along the San Francisco waterfront?" And I said, no. He continued by informing me that "because of all of the new environmental legislation that has been enacted by congress in the last decade," archaeology would be a significant part of this multi-million dollar sewage improvement project. I replied that this was all interesting, but I knew next to nothing about any of it. He went on to explain that a friend of his, who had just been appointed by Mayor Moscone to serve as the director of this immense project, had only the day before been visited by representatives of the National Park Service who informed him that federal legislation now required that he spend up to one percent of his total project budget on archaeology. Hearing this proclamation, San Francisco's new "Wastewater Management Czar" went through the ceiling. He said he'd never heard anything this ridiculous and he wanted to talk to somebody who knew what this all meant. I asked my friend, "Why would he want to talk to me?" I didn't know anything about San Francisco history, anything about historical archaeology, urban archaeology, urban redevelopment projects, local politics, or anything else that might be relevant to the subject at hand...I didn't know anything about any of this. But my friend convinced me to meet with this newly appointed director of the Wastewater Management Project. So I did and to make a long story short, I was offered, and accepted, a contract to do the San Francisco Wastewater Management Archaeological Program, an open-ended undertaking that turned into a five-year project, all along the waterfront from the Marina District all the way to Islais Creek, near modern Hunter's Point. Within a few months, I, along with a number of friends and students, was digging all of these historic period sites along the waterfront, and within a few years I wasn't teaching anymore. Although for a time I made an effort to be an effective teacher and, at the same time, conduct my increasingly demanding consulting business, I finally realized that I couldn't do both. In the end, I decided to devote myself to running this company I had founded.
Here, all of a sudden, I was doing archaeology and being a businessman and still trying to be a scholar all at the same time. I knew absolutely nothing about the business aspects of my new job, but it was interesting and challenging. Given that I had never had an employee and managed a large project budget before, everything was more or less trial and error for a number of years, and I received a lot of help from a number of administrators of the Wastewater Management Program. My career as an urban archaeologist allowed me to be in the field more or less continuously, which was something I liked. I also was relieved of the burden of ever having to do committee work at the university anymore, which had been an aspect of academic life that I hated. And, to be quite frank, I was making a lot more money, which was also something I liked. So, by 1978 or 1979, I was doing consulting on a fulltime basis and only teaching an occasional course during the summer at Berkeley.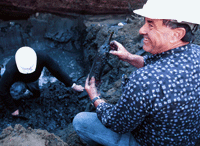 Allen Pastron displays excitement as he unveils a bottle of wine from the cargo of the General Harrison. An entire intact wooden crate of wine, packed in hay, was discovered. (Courtesy of Archeo-Tec) [LARGER IMAGE]
That's when your company, Archeo-Tec, came into being?
Well, I think I founded it officially in 1976. At that point I thought maybe I was going to be a one-project wonder. This was mainly due to the fact that the field now known as cultural resources management was new at the time and there was little or no precedent to predict whether this type of archaeology would last or in what directions it would develop. But as the Wastewater Management Project went on, the City of San Francisco started to develop regulations whereby archaeological investigations would be part of privately funded development projects throughout the city as well as the big federally funded projects. So my first project was the Wastewater Program, or as it was later called, the Clean Water Program, and that lasted from 1975 to 1981. In 1978, I was asked by Mayor Moscone's Development Czar to formulate and conduct an archaeological investigation at the site of the new Moscone Convention Center in the city's South of Market region. At the time, the Moscone Convention Center site, which covered an entire city block in an area that was about to be transformed from a blighted urban wasteland into a dynamic neighborhood filled with thousands of new residences and businesses, was called the Yerba Buena Convention Center, because Mayor Moscone was still alive and directing the project.
The Moscone Convention Center Project turned out to be a huge undertaking that lasted a couple years. Then, finally, in the early 1980s, we did our first private job, a big project, which was the new Levi's Plaza Development along five or six blocks of the city's northeastern waterfront. During the work at Levi's Plaza, we found one of the four buried Gold Rush ships that I've been lucky enough to identify and excavate over the years. So by the early 1980s, much more work was beginning to pour in. I found that quite to my surprise I had founded a viable commercial enterprise that provided me with an opportunity to do interesting work which, by that time, I'd become much more knowledgeable about.
What is the dynamic between city growth and the existence of intact archaeological deposits?
You have to look at two time periods. First of all, during the Gold Rush, San Francisco grew explosively, tremendously explosively. And all of a sudden the city went from a tiny, undeveloped, under-populated, backwater hamlet that had been part of Mexico less than a decade before, to the major American urban center on the Pacific coast. The city's rapid growth was often incredibly chaotic. During the Gold Rush, parts of the city--sometimes large parts of the city--burned down every few months. Between December 1849 and June 1851, San Francisco experienced no fewer than six devastating fires. The debris from these repeated fires was just pushed into the waters of the bay, or sometimes onto vacant lots, and new buildings arose where other structures had stood only weeks before. The old debris was quickly covered over with fill. Almost every lot in and around the original part of San Francisco, below and above the waterline, became an archaeological site. As a result of bringing the city to the official grade established by the municipal government, many of these sites were covered over with as much as 15-20 feet of fill in preparation for the new buildings that arose there. This process continued throughout the nineteenth century, and again after the great earthquake of April 1906.
Beginning in the late 1960s, an intensive phase of development commenced throughout San Francisco's Financial District and South of Market region. This is when all of the high-rises that you see today--the buildings that characterize the modern San Francisco skyline--were all built. When I moved here in 1965, the San Francisco skyline was very different. There were very few high-rises. Almost all of the big buildings that dominate the San Francisco skyline today were erected since I moved to the Bay Area, and this spurt of development turned out to be lucky for me. By the early 1980s, as the surge of downtown development neared its crescendo, the City Planning Department began mandating that archaeology become an integral part of the local development process. So as the developers like to tell me--usually with a mixture of scorn and resignation--every time someone wanted to build a high-rise, there I was. After a while it just seemed that my crew and I had become an integral, if unwelcome, part of the local development process. I was also lucky enough to have been there at the very beginning. And so, while I'm certainly not the only person who has done archaeology in San Francisco, I've certainly been fortunate enough to have done the bulk of it. I think it's fair to say that I've done the majority of the really interesting sites in the city, and that I think it is mainly due to the fact that I was, in essence, the first person on the scene, so I met a lot of people at precisely the right time. As events transpired, one developer would tell his friends about me, and the next thing I knew, I was doing most of the archaeological research in San Francisco.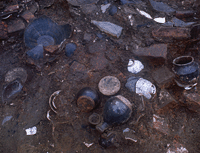 A mass of Gold Rush artifacts in situ at the "Chinese Store" site at the corner of Kearny and Sacramento Streets. (Courtesy of Archeo-Tec) [LARGER IMAGE]
The relationship between developers and archaeologists, it has to be tense at times.
It's often very tense, and understandably so. Over the years, my primary interest, over and above anything else, is to do solid work and to publish my results. I have wanted to be able to contribute, hopefully in a scholarly fashion, but also to the public at large. Because ultimately, even in private projects, it's the public that's paying for the work, so I want to give something back to the public, in the form of written articles, books, lectures, videos, or movies. My staff and I are trying to accomplish a wide variety of objectives and to produce and disseminate a diverse array of information, and this is not easy to do, because the developers who fund our work don't want to pay for any more than they have to. They're not interested in funding scientific research, and they won't. With rare exceptions, developers only wish to achieve minimal compliance with the specific conditions of approval governing their projects. So before anything else, I have to figure out how to persuade my clients to fund the research I wish to pursue in a way that is at least minimally palatable to them. It is also essential for me to structure a project that the sponsor won't find so odious that he'll simply go find somebody else do the work. And finally, I always have to think of ways to do more than just the bare minimum.
One of the things that I have discovered about myself, which is something that I never knew before I started doing this type of work, is that I seem to have some innate sense of business and politics and getting on with people. I've generally somehow been able to keep my clients reasonably content while, at the same time, convincing them to contribute more than they really wanted to, without alienating them. Many times even the clients who have cursed me for the worst pirate since Blackbeard come back and use me again when it is time to do the next project. I don't know exactly where that ability comes from. Nobody in my family has ever been any good at business; they're all professional people, mainly doctors. But it's just something that, much to my surprise, I've found I'm able to do with a reasonable degree of success.
Is it maybe related to your earlier experiences among other cultures, nomads in Africa and the Tarahumara in Mexico?
Well, I like people and I guess people tend to like me, and ultimately everything you do sort of comes down to--in the words of a friend of mine in graduate school--personalismo. If you want to succeed at most things, it helps to get along with people, and I guess I'm good at that.
But it's also dealing with another culture. Because contractors are...
Well, contractors are another thing entirely from developers. You must realize that there are many players in contract archaeology, each with his, or her, own agenda and personality. You have to deal with your client, who's the developer. You have to deal with the contractor, who's the guy hired by the developer to do the job, and they really hate us, most of the time, because we're in their way. So first of all, you have to convince the developer to hire you and not someone else, and then to give you as much money as you need to do the kind of job you want to do. You have to convince the contractor that it's in his interest to allow you to do your work in a manner where he doesn't see himself being catastrophically impeded and hindered every step of the way. Then there are politicians involved in the big projects. They have to be convinced that you're doing the right thing, and in a way that's going to make them look good. Then there are the bureaucrats at the City Planning Department who have their rules and regulations, which have gotten quite stringent and complex over the last few years. The bureaucrats have to be satisfied that you're doing things in a way that makes them feel comfortable and will not adversely impact their personal career goals at the Planning Department; and I've found that this is a process that often requires repetitive soothing . Everybody has a different agenda, and, to an extent, everyone has to feel reasonably comfortable with the work you are doing. Of course, when representatives of state and/or federal agencies are involved in any given project, the regulatory and political dimensions of the job become even more complicated. And finally, there's also the public as well. You get a high-profile project, where you have, for example, a buried ship, and the public wants it preserved. They want more work done than is feasible, or politically or economically possible, to do. In the end, as the project archaeologist, it is up to me to convince the public that I am doing the right thing with respect to their cultural and historical heritage. So, in the end, there are many diverse competing interests, all of which bear down on you, the archaeologist, and you have to somehow separate them, on the one hand, and bring them together, on the other, in a way where everybody feels that they're not being ignored or ravaged by the process. All the different players need to feel that they are getting enough of what they need to make it worth their while to go forward and support you. And that is not an easy thing to do.
As a contract archaeologist, doing cultural resource management, how do you get along with your colleagues at universities? There was, for a long time, a perception that contract work was not necessarily substandard but didn't necessarily serve a higher purpose in terms of understanding past culture either.
I get along well with the people who work at the University of California, which is the closest university to me. I don't have much of a relationship with people at other institutions, except specific people who I use as consultants. But for the most part, when I do deal with academics I get along reasonably well with them, although I have been sneered at, and derided, as a "money-grubbing Philistine" from time to time. I think that most academics accept the fact that I'm interested in trying to do quality work, and understand the fact that oftentimes I'm subject to limitations that they may not be subject to. But for the most part my relations are good, although the truth is, I've got 20 employees and dozens of clients and that keeps me busy on a day-to-day basis, so I don't deal with academics on a regular basis.
One thing probably the public doesn't have a good idea of is the budget and the time involved in a project from start to finish. What's the archaeology cost, in terms of a medium-sized project, just ballpark figures?
Well let's say, for example, we're doing a project in San Francisco. The first step is to do an archival site history and, if warranted, an Archaeological Research Design and Treatment Plan. This means you have to go into the library and figure out if there is a likelihood that any significant cultural resources--and significant has a specific definition, in accordance either with the California Environmental Quality Act (CEQA) or sometimes the National Historic Preservation Act. Before anything else, you have to determine the likelihood of finding significant cultural resources on a particular property. The historical studies that we are required to submit these days have become quite involved and specific, much more so than when I started. So it takes usually six weeks, perhaps as long as two months, depending on the size of the site, and anywhere from $5,000 to $15,000 to produce one of these documents called an Archaeological Research Design, a treatment plan, and a site history. That's the first part, and developers usually don't balk too much at this stage because they know they have to do it. If it looks like a project site may contain archaeological remains of potential historical significance, the next stage of the work is to conduct a pre-construction archaeological testing program. The specific work-scope for this phase of the study has been delineated by the recently completed Archaeological Research Design and Treatment Plan.
Once the Planning Department bureaucrats have given their approval to the proposed work-scope, it is necessary to negotiate an adequate budget with the developer. This is often an anxious time, because we are now talking about a budget ranging anywhere from $20,000 to $50,000. Needless to say, this part of the process takes time and is often nerve-wracking. This is because the ultimate cost of the project is uncertain, since neither archaeologist nor developer knows if the pre-construction testing procedures are the end of the process, or only the beginning of an extensive, costly program of work. The "bottom line" cannot yet be calculated because the most important question--what, specifically, lies under the ground--is either unknown, or incompletely understood, at this point. This is the point where a certain amount of political skill comes in, where you have to, on the one hand, soothe your client and tell them, "look, you've got to do it, this is the best way that the work can be done, it can't be done any cheaper, and it will all be all right in the end." On the other hand, you have to be firm and tell the client "look, don't start fooling around here; we can't do any less work than the program I've proposed, because the Planning Department is not going to approve it, and if you don't find out right now exactly what you're dealing with at your site, the results to your budget during construction might be catastrophic." So, on the one hand you have to be soothing and comforting, and on the other hand you have to be clear about what you're doing, and what the consequences are for your client if things are not done right.



This clay penny pipe was found during the excavation of the storeship the General Harrison. Penny pipes, common during the nineteenth century, received the name because of their price. (Courtesy of Archeo-Tec) [LARGER IMAGE]
In most cases, you don't find enough during the pre-construction testing to justify doing a full-scale data recovery program, but of course there are times when you do. So for example, where we found the buried hulk of the Gold Rush storeship General Harrison, or when we encounter a prehistoric site with human burials, like CA-SFR-114, there's no doubt that the client is going to curse the day he ever met me. Sites like these require a full-blown mitigation effort, and the client is stuck with it. Projects of this nature often require six months of intensive field research, sometimes more, with a concomitant program of laboratory analysis and report preparation to follow. When all is said and done, these projects often run to seven figures. Needless to say, such projects are relatively rare. If for no other reason, only the largest development projects can support archaeological research of this magnitude.
That's for the recovery, and beyond the recovery comes the analysis.
Now, beyond the recovery in the field, this is also where contract archaeology becomes very tricky. A lot of archaeologists in this field will frontload the costs, to do as much fieldwork as they can. Because they know that once a developer has erected their building, and it's occupied, they don't care about you anymore. And frankly, many people in the cultural resources management field don't care about publishing their results; it isn't a priority to them, so if they can just make enough doing the fieldwork, they're not going to scream and holler too much if they don't do much in the way of post-field research. If the Planning Department complains that a final report is not forthcoming, many archaeologists simply point their finger at the developer and say, "He won't pay me, so what can I do." The Planning Department doesn't like excuses of this sort, and they've tried to make strides in recent years to ensure that such situations do not happen. At our company, the main focus is to publish our results, so the analysis and the write-up and the eventual publication of the work matters to me more than anything else. In recent years, my associates and I have made it a point to videotape everything we do in the field with the intention of creating educational movies about urban archaeology.
In brief, we try to always do more than what is minimally required when it comes to important projects and this means I have to use whatever skills I've got to make certain that I've got enough budget from the project in question to achieve the goals I've set myself. And this is generally far easier said than done. Developers are business people; when they need you they can be quite responsive, but when they don't anymore, they don't remember you. There's no point getting mad at them about this, it's just the way it is. As the Godfather might say, "it's business, nothing personal." But on the other hand, you have to represent your own interest, too, and that of the Planning Department and that of the resource you are investigating, which in an urban project usually winds up destroyed as a result of your efforts and, moreover, the developer's. To sleep well at night, you have to make certain that you've done not only everything you can, but that you've succeeded in doing a proper job.
Are there developers who are more enlightened, who see either a moral obligation to do more than the minimum with the cultural resources, or perhaps value the public's perception of them as doing more?
Yes, there are some. Those are few and far between, but you do find them. We've had some. There was a project we had here in San Francisco, where we excavated the remains of what was known as "Fort Vigilance" or "Fort Gunnybags" at the corner of Sacramento and Front streets. San Francisco was so lawless during the Gold Rush and the municipal authorities so corrupt and impotent, that at two different times, in 1851 and 1856, the local citizens formed Committees of Vigilance to deal with crime and violence. These were committees of citizens who acted as vigilantes to deport criminals or, in extreme cases, to hang them. Fort Gunnybags was the very famous headquarters of the 1856 Vigilance Committee that was headed by a local businessman named W.T. Coleman; people have written books about him, and he was often referred to as the "Lion of Vigilance" in the literature of the nineteenth century. During the 1990s, we excavated the site of "Fort Vigilance." The developers on that particular project turned out to be the most ideal clients. We exceeded our budget by a factor of four, and they never complained. They just said, "Look, this site is important. Do what you have to do. It's OK." They were absolutely princely. I've run into other clients like that, but I can count them on the fingers of one hand.
Also, every now and again I run into people who have no interest in archaeology but are good businessmen. These clients realize that it is ultimately cheaper and more effective to cooperate with me than it is to fight with me. Such clients will do what they need to do without much fuss or complaint, and I always consider it a pleasure to work with such individuals. On the other side of the coin, sometimes you'll have to deal with people who are absolutely beastly. Such people couldn't care less what they were destroying; they simply don't want to pay for it. They cut corners, they lie, they cheat; these clients are a nightmare to work with. Thankfully, these clients are fairly rare. Then you have the most common type of client, your run-of-the-mill businessman who's going to do what he needs to do to achieve his goals but doesn't want to pay a penny more than necessary. With this sort of client, you have to use all of the skills you may have to make certain that the scope and budget for the project are adequate to satisfy all relevant concerns, because from the onset you know the client is going to protect his interests down to the last dime. In these cases, you have to make sure you do the same.
Over the years, I have attempted to teach the people who work for me whatever business, social, and political skills I have acquired. Some people just pick it up right away, and other people, who are often very bright, just don't get it. I mean, there are some people who have no business sense and they'll ask me, "How did you know how much to bid, or how did you know the client would accept your proposal? How did you read this guy so well?" I'll explain it, and it makes perfect sense to me, but some people just don't get it. Sometimes I think what they don't get is that no two situations are ever alike. There's no formula for it. You just have to feel your way in each situation, and if you don't have the proper intuition for dealing with people in diverse circumstances you are not likely to excel at this sort of work. I guess it's like appreciating the finer points of modern art; if you don't have a feel for it, nobody can really teach it to you.
So how many projects have you done, and what do you have in your care now in terms of numbers of artifacts?
I would say, since we started with the Wastewater Program in the mid-1970s (if you include all projects which begin with archival studies, and may end there, or continue to a test and end there, and then including the big data recovery projects) in San Francisco I'd say we've done in excess of 200, perhaps 300, over the last 25 years. Important projects involving unique or highly significant sites? I'd say we've done perhaps 20-25. As a result of these, I would say I have in my custody over a million artifacts that I have to pay to store. For a while, for the Wastewater collection, it went to the Lowie Museum of Anthropology, now the Phoebe Hearst Museum, at U.C. Berkeley. But the Lowie Museum quickly reached its limits and after a while they told me to stop calling them because they couldn't take any more of the material I had recovered in San Francisco. Since then I've been storing the material myself, and to the best of my ability--which is, believe me, a limited ability--conserving what I can in the hope that some day, somebody will recognize that this material has great value.
How do you see your role as a de facto custodian of this material, the remains of San Francisco's past?
Over the last 15 years, and certainly in the last seven or eight, I've become very interested in communicating the results of the archaeological research I have conducted to the general public in a way that can be appreciated. I've always noted the following irony: considering what archaeologists do is, I think, perhaps the most inherently interesting of all of the intellectual disciplines, we professionals somehow manage to convey our findings in a manner that is so filled with jargon that it is all but incomprehensible to anyone outside the small circle of anointed insiders. We make archaeology sound boring and then complain when the public doesn't support us. That's something that I think has to change. If the public is to support us, we have to earn that support. Let's face it, in a world where money is in short supply we have to convince the public that what we do is worth the cost. The public has to clearly understand that our work benefits everyone and is, therefore, worthy of the funds expended on it. And that's what I'm interested in doing.
Do you think a way to resolve the question of curation and the expense of it, would be a museum that charged admission but was very friendly, very accessible to the general public?
I do. I don't have a problem with charging admission, certainly for the people who can afford to pay it. And I think if you have a museum that is interesting, and accessible, people who can afford to pay will pay and won't mind it. Every time I go to the American Museum of Natural History in New York, there's a long line at the entrance booth. People are willing to wait, and to pay, because they are interested in what is inside the museum. So I don't see that as a problem, although, I have to say, I'm not an expert on museum affairs. My main focus is just trying to find a way to curate the mass of cultural materials I've collected over the years. However, my associates and I have done a variety of museum exhibits and smaller historical/cultural displays here in San Francisco. Usually such displays are located in the buildings that are built on top of our sites. Creating such exhibits and displays is one of the things that we most enjoy doing. And I've got these plans--sometimes I think they're just too grandiose, but other times I think we could really bring it to fruition. I'd like to start a San Francisco History and Archaeology museum, here in the city somewhere, that essentially featured the materials that I and others have excavated right here in the city. That would be a fitting legacy for so many years of digging beneath the feet of at least two generations of twentieth-century San Franciscans


© 2007 by the Archaeological Institute of America
archive.archaeology.org/online/interviews/pastron.html
Share