Return to Johnson's Island
February 2, 2006
Catching up on recent finds and developments in the investigation and preservation of a Civil War POW camp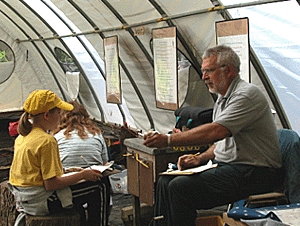 In 1999, readers of ARCHAEOLOGY were introduced to the Union prison camp for captured Confederate officers at Johnson's Island, Ohio, by archaeologist David Bush of Heidelberg College. His article "Doing Time" in our July/August issue presented the archaeological findings, and the online feature "In Their Own Words: Tales From A Civil War Prison" presented letters from those who had been interned at the camp. Three years later, we were in the field with Bush in an InteractiveDig, "Unlocking a Civil War Prison."
This spring and early summer we'll be back in the field at Johnson's Island. We asked David for an update about the site and what he hopes to find this year.
We've covered your earlier work, excavation of the privies and the Block 2 barracks, but more recently you've investigated Block 4. How did that work add to the picture of life at Johnson's Island?
The investigations at Block 4 have been quite extensive and revealing. We have historical accounts of many of the prisoners who were housed there, so this adds to our understanding of the activities which occurred in this block. We spent four years excavating within the block itself, and two years exploring latrines to the rear of the building. I am in the process of analyzing all this data, but there is a significant amount of information on the craft of the prisoners. The prisoners were carving hard rubber into rings, brooches, trinkets, necklaces, and many other items. Most they were either sending home to their loved ones or selling to guards to acquire funds for needed supplies. Our excavations have revealed the actual raw materials used by the prisoners, including the precious and semiprecious metals used for settings.
Excavations in Block 4 have also revealed much information on the day-to-day existence of the prisoners. We have recovered thousands of pieces of glass and ceramics suggestive of the types of articles they had access to over the months they were imprisoned. We have also discovered tunnels from both the latrines and the block itself, reminding us of their desire to be back home. Every time we explore the site, we uncover more information about how these prisoners existed.
Any special finds since we last covered Johnson's Island?
Recently I have been working with one of my students here at Heidelberg College in the analysis of the container glass from Johnson's Island. We have been focusing on the glass from the dated latrines. There are more than 100 bottles that we have been looking at in this study. We have plotted their manufacturing style over the three years represented (1862-1864) and see that different molding techniques appear to be going out of style (dip molds) and others (three-piece molds) are much more popular. There is a hock wine bottle that appears to be German made, as well as several very finely made champagne bottles that may be French. In any event, it is very revealing that at Johnson's Island we have there fairly expensive wine and champagne which the prisoners must have had shipped up from their homes in the South.
This coming season you'll be looking at the hospital (Block 6). What do you expect to find there?
We are going to be exploring the actual location of the prison hospital. This investigation will be very interesting, because it will be the first time we have explored the main hospital building. I would expect the kinds of materials we will encounter are going to be quite different. Instead of representing prisoners that were passing the time carving items, cooking, and conducting various other activities, we will be finding items related to their suffering and care. The exploration should be very enlightening in terms of what the day-to-day treatment of prisoners was like. We should find items related to medical treatment as well as data on their daily care. I am not sure how that will present itself, so I am as excited as anyone about this coming year's study.
One of the most fascinating aspects of your work is the connection that families descended from those held at Johnson's Island have with the site. Have you received any archival material recently, such as letters from Southern officers describing their life in the camp?
The Friends and Descendants of Johnson's Island Civil War Prison (Friends), the nonprofit group that owns the land we work on, has recently had several primary documents donated to them. They include an autograph book and several letters. These are always very exciting and provide yet another view into the prison.
As the curator of all materials donated to the Friends, I get to view all primary documents that have been entrusted to the organization. One of the letters recently given to the Friends was from a prisoner named Thomas Skinner. Written April 15, 1862, just five days after the prison had opened, it is a very informative letter and one of the earliest examples of prison letters that I know of. Letters like this offer great insight into how the prison was being viewed by its unwilling occupants.
Johnson's Island was for captured Southern officers. Do we know from the archaeological work that you've done there how it compared to other POW camps? How many other Civil War POW camps have been excavated?
There has been only a modest amount of work conducted at a few of the other prison sites. From the official records, there were 65 prison camps used by the Union and Confederates; 33 by the Confederates and 32 by the Union. By far, our work at Johnson's Island has been the most extensive. The National Park Service conducted some work at Andersonville, Georgia, in the late 1980s, but this work focused on reconstruction efforts by the NPS. I am unaware of any further work done at Andersonville since that time. Of course, it is difficult to compare the material culture from Andersonville to Johnson's Island. At any one time, there were only 3,250 within the 16.5 acres of Johnson's Island. At Andersonville, there were up to 33,000 in the 25 acres of that camp. Of course, the material culture associated with Johnson's Island reflects the access that the prisoners at Johnson's Island had. Only a few hundred artifacts were recovered from Andersonville, where at Johnson's Island we recover a few hundred every day.
Archaeological investigation was conducted at Rock Island in Illinois in 1981. The study did not focus on the prison site, therefore, there's little information about the potential of its archaeological resources. More recently, there has been an effort to conduct archaeological investigations at the Salisbury Prison in North Carolina. It is my understanding that this is in a preliminary stage, thus I can't say much about this exploration yet.
From the work conducted at Johnson's Island and at other prison sites, it is pretty clear the archaeological resources at Johnson's Island are pretty unique. The fact that we have latrines behind each of the living "blocks" of the prisoners which we can date to specific months and years is almost unheard of archaeologically. This affords us the ability to look at how prison life changed from year to year at Johnson's Island from the unbiased archaeological record.
Loss of Civil War battlefield sites to development is an ongoing concern, but is enough being done to protect other sites, such as POW camps?
No, it is not, and I can say this with great emphasis. I wrote an article for the Skirmish Line magazine where I addressed this specific issue. Prison sites, along with encampments and other nonbattlefield related sites, are not considered for financial support by the Civil War Preservation Trust. Therefore, at sites like Johnson's Island, we need to become very creative to try and protect this land from development. The Johnson's Island Civil War Military Prison Site (its official National Historic Landmark name) is on the National Park Service's threatened list because of development. It is a shame that sites like this one, that are so significant to our nation's history, can be lost because of a limited view of what constitutes a significant Civil War property.
How are the efforts to purchase and preserve the site going?
The Friends purchased 17 acres of the island, including about two-thirds of the prison compound and all of Fort Johnson in 2002. The purchase price was $350,000. Since that time, the Friends have raised enough pay interest and to reduce this mortgage to about $280,000. Presently, the Friends are working hard to raise enough money to further reduce this mortgage. Major site maintenance efforts and development will commence once the mortgage is significantly reduced. If anyone is interested in supporting the efforts of the Friends, they can contact the Friends at the website, www.johnsonsisland.com.
Much of the work at Johnson's Island is done by volunteers, including schoolchildren who participate in the Experiential Learning Program in Historic Archaeology. Having elementary school kids dig is not a common practice--what's the goal of the program and how well does it work?
One important goal of the Johnson's Island Experiential Learning Program is to introduce participants to this National Historic Landmark site and facilitate their understanding of the role of Johnson's Island during the Civil War. During the program, students, teachers, and parent chaperones alike quickly acquire the skills necessary for excavation and realize the uniqueness of discovering and "touching" the past. Students begin their participation by an exploration of the cemetery in which they hear from the diaries and letters of POWs who are buried there. Next they proceed to the site for an orientation of the prison via maps/grid system and an introduction to protocol related to the privilege of excavating at a national historic landmark site. Finally, students are guided through the processes of digging, screening, and recovery of cultural material. One important concept promoted is students are encouraged to be observant (considering physical properties such as form, texture, color) and hypothesize as to the nature of the materials they uncover and what those materials might tell us about the culture it represents as opposed to asking questions such as "what is this?" or "is this something?" The focus is constantly on guiding students in making inquiries and connections through experience. Providing opportunities for students to develop new perspectives about the past and developing a sense of stewardship for the Earth are also program goals. We try to accomplish this through developing the concept of historic context.
What do the kids take away (metaphorically, that is)?
Time and again we hear from the participating students that the excavation day was a once in a lifetime experience. I truly enjoy conducting the Experiential Learning Program, for it offers students an opportunity to touch the past, to discover a part of their country's history that has never been discovered before. When they find an artifact considered a special find, they are rewarded with having their name placed into the permanent site catalogue as the discoverer of the artifact, and they receive a Field Specimen sticker to remember the event. When their artifact is used in a display, we always list who the discoverer was. In this fashion, everyone realizes how their one find remains significant to the understanding of the history of the site.


© 2006 by the Archaeological Institute of America
archive.archaeology.org/online/interviews/davidbush/
Share