Tut Discovery Timeline
"TutWatch"
March 25, 2005
History of the greatest find of the 20th century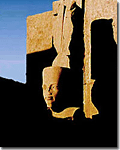 1891: Howard Carter goes to Egypt as a junior artist with the Egypt Exploration Fund; he stays on and eventually is hired by Egypt's Antiquities Service.
January 8, 1905: The Saqqara affair leads to Carter's resignation of the position as Chief Inspector for Lower Egypt.
1908: Carter is introduced to Lord Carnarvon by his old Antiquities Service boss, Gaston Maspero.
1915-1922: Carter directs excavations in the Valley of the Kings on behalf of Carnarvon.
November 4, 1922: An Egyptian boy employed by Carter to provide water for his workmen notices a step carved in rock.
November 5, 1922: The sealed door of a tomb is found. Carter cables Carnarvon: "At last have made a wonderful discovery in Valley [of the Kings]; a magnificent tomb with seals intact; re-covered same for your arrival; congratulations." Carnarvon sets out for Egypt.
November 26, 1922: First look into tomb. Carter: "as my eyes grew accustomed to the light, details of the room within emerged slowly from the mist, strange animals, statues, and gold--everywhere the glint of gold." Carter enters the Antechamber briefly.
November 27, 1922: Carter and Carnarvon, along with latter's daughter Lady Evelyn Herbert, explore the Antechamber and Annexe, noticing a sealed door to another chamber.
November 28, 1922: Carter, Carnarvon, and Herbert re-open an ancient looters' passage through the sealed doorway and enter the Burial Chamber.
February 17, 1923: The Burial Chamber is officially opened.
April 5, 1923: Lord Carnarvon dies from an infected mosquito bite in Cairo.
1923: Carter publishes first of his three-volume account of the discovery, The Tomb of Tut.ankh.Amen.
February 12, 1924: Carter walks off job, writes pamphlet to document interference by authorities.
March 30, 1924: Egyptians find unrecorded wooden sculpture of Tut's head in a box in Ramses XI's tomb, which Carter used for storage. Suspicion falls on Carter, who explains it came from the corridor leading to Tut's tomb, not within it.
January 25, 1925: Carter resumes work in tomb.
1927 and 1933: Carter publishes the second and third volumes of The Tomb of Tut.ankh.Amen.
March 2, 1939: Death of Howard Carter in London, his projected final publication of the tomb, A Report upon the Tomb of Tut 'ankh Amun, unfinished.
For more on Tutankhamun and the exhibition, see TutWatch.


© 2005 by the Archaeological Institute of America
archive.archaeology.org/online/features/tutwatch/timeline.html
Share