Scanning Tut or Murder! Well, maybe not...
"TutWatch"
March 25, 2005
A high-tech look at Tut generates more controversy than answers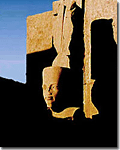 Nobody has ever been through a CT scan with more media attention than Tutankhamun. The project, which provoked recriminations in Egypt and didn't resolve how Tut died, was documented--highlights and lowlights--by the Egyptian newspaper Al-Ahram (the name means "the pyramids") and other sources. Here are links to those articles--which give a no-holds-barred look at the politics and personalities of modern Egyptology--and the official press release with the project's results.
Autopsy for King Tut? (Al-Ahram, 18-24 November 2004)
A pre-CT scan report that asks, "Can archaeologists actually find out how Tutankhamun really died?"
Pharaonic forensics (Al-Ahram, 13-19 January 2005)
Eighty-three years after its discovery Tut's mummy is scanned. Will the "scan finally resolve the mystery surrounding Tutankhamun's death?" Are the bad weather and technical glitches because "the ancient Egyptian gods are very angry. They are sending their curse from eternity"?
Drop the mummy, and nobody gets hurt (Egypt Today, January 2005)
Two Egyptian critics attack the scanning project, and Zahi Hawass responds in this long article.
Mummy scan furore (Al-Ahram, 20-26 January 2005)
A member of the Egyptian scientific team quits, saying "What has been done...is another zero to add to the group of zeros we have obtained already."
The controversy over King Tut (Al-Ahram, 3-9 March 2005)
In his "Dig Days" column, Zahi Hawass explains why he believes four Egyptians have publicly criticized the project.
How did the boy king die? (Al-Ahram, 10-16 March 2005)
The scan's been done...will it prove Tut was murdered, struck down by a blow on the back of the head? Nope, the scientists "unanimously agreed that the young king, who died at age 19, was not killed after being hit on the back of his head, as was traditionally believed."
The official press release, TUTANKHAMUN CT SCAN, from March 8 details the project's findings. This somewhat frustrating document offers varying viewpoints of team members without making definitive conclusions. Tutankhamun's left thighbone was broken, but was that just before death, done when Carter and company extracted (rather brutally) the mummy from a hardened pool of resin in its coffin? Could it have led to an infection that caused Tut's death? These questions are left open--apparently there was no consensus--though I'd suspect that Carter et al. are likely the perpetrators. There is interesting information about how Tut was embalmed (with another set of dueling interpretations on one point), his health, and age at death. And the main conclusion that people wanted to know? There's no evidence he was stabbed, clubbed, or the like. Assassination boosters, however, can still fall back on poisoning, smothering, etc.


© 2005 by the Archaeological Institute of America
archive.archaeology.org/online/features/tutwatch/murder.html
Share