Crisis at the Smithsonian: Introduction
September 19, 2002
by Jasmin Chua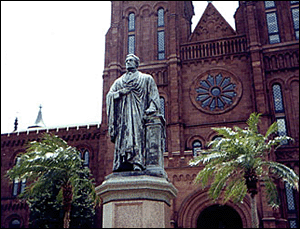 On his death in 1829, James Smithson left $500,000 to the United States. The institution founded with his bequest was named after Smithson, a fact the current secretary points to in defense of his own fundraising activities. [LARGER IMAGE]
The Smithsonian Institution is a national symbol in crisis. Its financial and staffing woes have received so much nation-wide attention, according to archaeologist Ellen Herscher, because it is more than just your average museum. "Most people regard the Smithsonian as somehow different from most museums," says Herscher. "It houses the Star-Spangled Banner and the Wright brothers' airplane. It's something special as corny as it may seem. It really creates a sense of identity for Americans that no other museum does."
Billed as "America's museum," and sometimes less ceremoniously, "America's attic," the Smithsonian Institution is the world's largest museum complex and research organization. It's composed of 16 museums and galleries, as well as the National Zoo, and maintains a collection numbering over 142 million objects.
In the last two years, however, the Smithsonian has been making headlines for more unflattering reasons. At the center of the controversies surrounding the institution is Secretary Lawrence Small, who has been blamed for a litany of transgressions, from selling the museum's name to the highest bidder to callous decisions regarding the closure of certain research facilities. His tenure has also seen an exodus of museum directors--seven at the last count.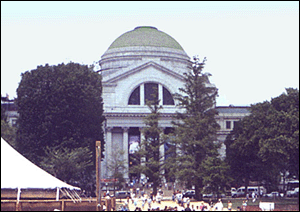 National Museum of Natural History director Robert Fri was the first of seven directors to resign since Secretary Small's appointment. [LARGER IMAGE]
Privately, Small was under investigation by the U.S. Fish and Wildlife Service which suspect that his personal collection of South American masks, headdresses, and costumes included feathers from protected bird species and teeth from endangered cats. As of April 2002, the case was still under review.
When Small announced plans to eliminate the National Zoo's Conservation and Research Center and the Smithsonian Center for Materials Research and Education in April 2001, public outcry led congress to intervene. While Small withdrew his proposal to close the CRC, the Senate Appropriations Committee had to vote to keep the SCMRE open.
"[His] whole approach makes you wonder how sensitive he is to what's really at stake," says Herscher. "His approach, I think, kind of jumped at people and really reveals what his mentality is. [He's clearly] not into doing research."
Small has also been accused of bestowing corporations and private donors too much authority over the running of museum exhibits. Virginia businesswoman Catherine Reynolds's $38-million donation, for instance, came with a stipulation to use it for a "Hall of Achievers" exhibit. The uproar that followed led her to retract her donation nine months later, while Small found himself in front of a congressional panel, defending donor rewards.

[LARGER IMAGE]

[LARGER IMAGE]
Fundraising efforts and shifting priorites at the Smithsonian have raised eyebrows in the national press, such as the Washington Post, and the international scientific community, as in the journal Nature.
Allowing donors too much of a say in what the exhibits would be is completely against all museum principles, according to Herscher. "I think that private funding is necessary," she says. "It's necessary for obvious reasons, but [there are] ways to do it that are more respectful to the museum's mission." She suggests that the museum decide what they would like and what they would need in terms of an exhibit then find someone who was willing to support their plans. "[What they're doing now is finding] the person who was willing to give millions of dollars and then sort of saying, 'Well, what would you like to give it for?'," notes Herscher.
However, she contends that Small's influence has not been wholly negative. "[He has been] challenging some of these things that have been taken for granted," she says. "I don't think that complacency is good for any institution and so by some of his really outrageous things, he's woken people to discuss and reexamine [what's] important."
| | |
| --- | --- |
| The Smithsonian's first building--a red sandstone Romanesque edifice known as "the Castle"--has become a symbol for the entire Institution. | |
The Smithsonian's research role is one of the issues that has gone under the microscope. Last year, a commission was established after widespread criticism of changes to Smithsonian science programs. The commission's report regarding the institution's scientific functions will be presented to the Board of Regents in December. According to Jeremy Sabloff, director of the University of Pennsylvania Museum and chair of the commission, they are "very optimistic," especially with the hiring of a new director for the Museum of Natural History and a new undersecretary of science. "We hope that we'll provide a useful blueprint for how science in general in the Smithsonian, and in particular, [the Museum of] Natural History, might be strengthened."
For a blow-by-blow account of the Smithsonian's past and present predicaments and character sketches of the players involved, please follow the links below.
| | |
| --- | --- |
| | Timeline of Events |
| | |
| | Character Sketches |
| | |
See also "From the President: Myopia at the Smithsonian," September/October 2001
Jasmin Chua, a graduate student in NYU's science and environmental reporting program, is an intern with ARCHAEOLOGY.


© 2002 by the Archaeological Institute of America
archive.archaeology.org/online/features/smithsonian/
Share