Kenneth Behring
"Crisis at the Smithsonian"
September 19, 2002
Kenneth E. Behring made Smithsonian history when he donated $100 million to the institute--$20 million to the National Museum of Natural History in 1997 and $80 million to the National Museum of American History in 2000.
A rags-to-riches textbook case, Behring made his fortune selling used cars and then building condos and golf-course communities. Now 74, he owns a huge house in California, complete with a waterfall and stream, and a fleet of classic cars housed in his own museum. One also must not forget the fact that he bought the Seattle Seahawks football team and then sold it for a profit of more than $100 million. Not bad for a Wisconsin farm boy who started out in a cheese factory at 14.
A big-game hunter who is used to going on safaris and shooting lions, leopards, rhinoceroses, and even an elephant, Behring now spends most of his time delivering wheelchairs to the poor in developing countries such as Vietnam and Guatemala. "For $150--the cost of a wheelchair--it's the difference between a person wanting to live and wanting to die," he told the Washington Post in 2000.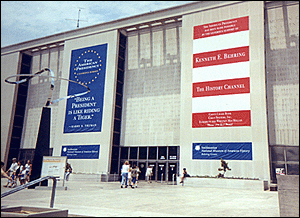 In honor of donor Kennth E. Behring, the Smithsonian's National Museum of American History now bears the subtitle "Behring Center." [LARGER IMAGE]
His obvious generosity hasn't made him invulnerable to reproach. In late 1997, when he gave the first $20 million to the Museum of Natural History, he also offered the stuffed trophies from his hunting expeditions, including four rare, bighorn sheep, one of which was a Kara Tau argali sheep Behring had shot in Kazakhstan a few weeks before. With only about 100 left in the world, the Kara Tau argali was declared an endangered species shortly after. The Humane Society was incensed, but Behring responded that he had shot the Kara Tau argali in the company of Russian scientists who wanted to study the animals.
"I am an enthusiastic sportsman and hunter," he said in a news release, "and I abide by the letter and spirit of the law."


© 2002 by the Archaeological Institute of America
archive.archaeology.org/online/features/smithsonian/behring.html
Share