Details on the Trial
"Selling the Past: United States v. Frederick Schultz"
April 22, 2002
Ten years in the making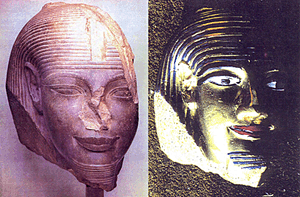 Tokeley-Parry bought this sculptured head of the 18th Dynasty pharaoh Amenhotep III (ca. 1403-1354 B.C.) from the Farag family in Cairo shortly after it had been looted. He dipped the sculpture in clear plastic and painted it to resemble a cheap tourist souvenir (shown on right) before smuggling it into Switzerland and later to Frederick Schultz. Schultz sold it for $1.2 million in 1993. [LARGER IMAGE]
The following is based on interviews, court testimony and the indictment of the defendant.
Jonathan Tokeley-Parry is a former cavalryman and self-styled "antiquities restorer" with a Cambridge degree in moral sciences. At the time of his arrest, he had been smuggling antiquities out of Egypt since the early 1990s with the help of Ali and Toutori Farag in Cairo. Tokeley-Perry used his knowledge as a restorer to camouflage the artifacts as reproductions and then shipped them to the Zurich airport's duty-free zone to avoid notice.
The productive smuggler was discovered in 1994 when his assistant took 27 papyrus texts stolen from a government storeroom in Egypt to the British Museum, to confirm their authenticity for a potential buyer. A curator recognized them as part of a previously discovered cache from an animal necropolis. He notified Scotland Yard, the Egyptian Embassy in London, the Supreme Council of Antiquities, and the Egyptian Tourist and Antiquities Police.
Local police and detectives from Scotland Yard traced Tokeley-Parry's assistant to a cottage and barn near a manor owned by Andrew May of North Devon on June 28, 1994. The smuggler had reported the alleged theft of an Egyptian stone head worth £100,000 from the cottage in 1993.
Stephen Holmes of the Devon-at-Cornwall constabulary and Dick Ellis of New Scotland Yard took the stand at Schultz's trial to describe the incriminating antiquities, forgeries, photographs, and files that they discovered in the estate buildings. Under the cottage's bed, they found a pair of false doors from the tomb of Hetepka, a royal hairdresser, near Cairo. The tomb was later found to have been plundered in 1991 while Tokeley-Parry was in Egypt, and scholarly papers in his possession proved that he knew of the doors' origin. Papers at the estate revealed Schultz's involvement in the smuggling scam and a web of other accomplices in Egypt, England, and Switzerland. For example, the Farag family in Cairo would send goods to Switzerland, where a Swiss accomplice would create false documents to make it look as if they had originated in Germany.
Tokeley-Parry returned while the police were searching the cottage and also had to hand over an antiquity in his suitcase, which he had "picked up in the desert." He was carrying a journal, labeled #16, that described its origins. Stephen Holmes, a stocky round-cheeked policeman from Devon-at-Cornwall, testified at Schultz's trial that he did not find the incriminating journals #1-15 until June 2000. On behalf of the United States government, he followed the newly freed Tokeley-Parry to a local weatherman who was keeping the rest of the journals for the smuggler. Their contents further implicated accomplices including Frederick Schultz.
Before Tokeley-Parry's trial in January 1997, the Briton requested the return of his passport to go to Switzerland and comfort a former fiancée who had lost her mother. When that ploy failed, he applied for a new passport under his original name--Jonathan Foreman--and used it to close out his Swiss bank accounts. Dick Ellis, who spearheaded the pursuit and prosecution of Tokeley-Perry and his smuggling ring, told the New York jury about the smuggler's ensuing antics to try to avoid prosecution.
Ellis served as a police detective in metropolitan London for 30 years and is now the managing director of an art sales information company between London and Cambridge. The 52-year-old, who sports a longish fringe of gray hair, formed and headed Scotland Yard's Art and Antiques Squad from 1989 to 1999. Ellis reported that several witnesses in Tokeley-Parry's first case in England were threatened. This included an antiquities courier for the smuggler who was intimidated during the trial and attacked outside the courtroom by another accomplice.
Tokeley-Parry fled to North Devon before the prosecution could rest its case in the English trial, checking himself into a psychiatric hospital and attempting suicide by drinking hemlock. Because of his ensuing temporary paralysis, a second trial was necessary in the summer of 1997. The smuggler was then found guilty of smuggling antiquities and using false documents to get a passport. He served three years of a six-year prison sentence in England, while Egypt convicted and sentenced him in absentia to 15 years of hard labor. Ali and Toutori Farag, Andrew May, and the courier Mark Parry were convicted and sentenced to 10 to 15 years' hard labor each, the Englishmen in absentia.
The British authorities noted that Schultz was a key benefactor of Tokeley-Parry's activities in 1996, but he denied any wrongdoing then and was not charged with a crime. Ellis testified later in the New York trial that a paper trail showed the American dealer knowingly financed many of Tokeley-Parry's illegal activities. For example, Tokeley-Parry faxed Schultz in the early 1990s that he needed money because the "boys have just returned from the hills above Minea, which is bandit country... and we are offered a large hoard...." Ellis showed that Schultz had also obtained a striding, 6th Dynasty limestone nobleman from Tokeley-Parry. He sent the British smuggler $99,000 in 1992 to obtain the second half of the statue, and then the next year offered it to a person in Tennessee for $825,000 and the Brooklyn Museum of Art for $600,000. That same year, he sold Tokeley-Parry's unique sculptured head of the pharaoh Amenhotep III in London for $1.2 million after failing to sell it to museums in Cleveland and Texas for $2.5 million. Tokeley-Parry had dipped the sculpture in clear plastic and painted it black and gold like a gaudy tourist souvenir to smuggle it out of Egypt.
In 1994, Tokeley-Parry warned Schultz that his phone lines were not secure and wrote that some builders were "obviously sitting on a temple site that covers some span of time" and wanted a payment for stelae from the site. Schultz wired $25,000 to Ali Farag, "a close associate of Jonathan Tokeley-Parry, as a down payment on Egyptian collection." He later wired $52,000 more, the last installment, to an English account in the name of the smuggler's mother. That same year, Tokeley-Parry consigned the striding limestone figure to Schultz, who shipped it to Switzerland in 1996. The dealer had Egyptologists look at many of these purchases to confirm whether they had come from a known site or not.
Frederick Schultz contacted Ellis after authorities confiscated Tokeley-Parry's antiquities in 1994, claiming that he had sent a green faience devotional statue from the New Kingdom to the smuggler for "restoration." The six-inch high statue depicts a king kneeling before an altar to the Theban Triad of gods: the creator god Amun; the mother goddess Mut; and their son, the moon god Khons. An antiquities dealer named Joseph Garena admitted, however, to having creating a false invoice for the statue in 1993 so that it would appear that he had owned the statue instead of Tokeley-Parry. Instead of restoring it, the British smuggler conned a Hollywood prostheses maker into creating a copy of it and other looted antiquities, for false return to and registration in Egypt.
Schultz and Tokeley-Parry also tried to bypass the 1983 Egyptian law by making freshly looted antiquities look like they had come from an old English collection. They copied turn-of-the-century pharmaceutical labels onto rough paper, baked them in an oven and dabbed them with used tea bags. Then they labeled them with the name of Tokeley-Parry's great-uncle to create the "Thomas Alcock Collection." When Tokely-Parry wrote Schultz that he had shipped him two Old Kingdom painted reliefs, he added that he was going to send some "Thom Alcock" labels because the tomb from which the reliefs had come was known to the Egyptian government. A research associate at the Brooklyn Museum of Art later saw one of Schultz's stone reliefs and identified it as looted, but the dealer only hid it away in a Zürich vault owned by the Farag family.
Schultz's trial finally took shape in New York in 2001, with a hearing over dismissing the case on November 20, 2001. The judge rejected that defense proposal on January 3 (see "Move to Dismiss Denied in Schultz Case"), and the trial began on January 28.
Josepha Garena was set to testify in the Schultz case since he forged documents for his friend and was familiar with Schultz's knowledge of antiquities law, but assistant U.S. attorney Peter Neiman denied him immunity because he had changed his story during earlier grand jury testimonies. The dapper, bearded antiquities dealer had testified in 1999 that he and Schultz understood the implication of international laws. But last year, he alternately criticized the laws for being confusing and sought justification in so many other dealers' circumventing them all the time. "I hope it's not true," responded Judge Rakoff to the tales of common criminality. "But if it is true, the prosecutors are going to be very busy."
Once Judge Rakoff dismissed the defense team's efforts to get the case thrown out, Schultz's lawyers argued that their client had bought antiquities in good faith from Tokeley-Parry and was therefore innocent. They depicted the smuggler as charming but vengeful. "There is not a thing this man will not lie about," declared Schultz's lawyer Linda Imes.
However, witnesses, including officers of Scotland Yard and the F.B.I. and Tokeley-Parry and his young fiancée, depicted a different situation. They exhibited bank statements and secret-agent like correspondences between the two men that hinted at a less than aboveboard business relationship. Tokeley-Parry had even written to his mother to look to Schultz for financial support should her son ever "disappear."
Ultimately, the jury agreed with the case set forth by the prosecution, led by Assistant U.S. Attorney Marcia R. Isaacson. "The government was put to a higher legal test but succeeded," says Patty Gerstenblith, a specialist in cultural property law at DePaul University, a member of the Cultural Property Advisory Committee and editor of The International Journal of Cultural Property.
According to the Cairo newspaper Al-Ahram, Tokeley-Parry's and Schultz's antiquities were mostly returned to Egypt two years ago, including:
Twenty-seven papyrus texts in Demotic script dating from 300 B.C.
Twelve Coptic textiles
A sixth-dynasty limestone relief of a seated woman named Se-Chess-Hat
A terra-cotta statue of an unknown person
Greco-Roman mummy masks
A "magnificent" bronze statue of the god Horus
An unidentifiable royal head in granite
Colored reliefs from ancient Egyptian tombs
Thirty-five items from the tomb of Hetep-Ka at Saqqara, including two false doors, three heads of the nobleman wearing a wig and a limestone relief showing a butcher at work.
In mid-2001, the newspaper reported the arrival of six papyri, one in Latin and the others in Greek and a limestone head of Queen Nefertari, the wife of Ramses II. The sculpture of Amenhotep III reportedly remains as collateral on a bank loan. [Next Page]

The Antiquites Trade and the Schultz Case


© 2002 by the Archaeological Institute of America
archive.archaeology.org/online/features/schultz/details.html
Share