Riding for the Brand
August 18, 2005
by Lisa Schiffman
Despite prejudice and an apathetic legal system, Lynell Schalk took on the battle to preserve America's past.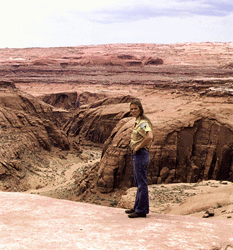 Schalk (BLM non-law enforcement ranger) on patrol on rim of canyon near Cedar Mesa, Utah in 1975. (Courtesy Lynell Schalk) [LARGER IMAGE]
In the course of her 30-year career fighting archaeological crime, Lynell Schalk showed grit and determination in her mission to preserve this country's Native American cultural heritage. From the rugged canyonlands of southeastern Utah, to the arid landscape of the California desert, she doggedly tracked down criminals who plundered ancient sites for profit. On horseback, by jeep, in helicopters, and during undercover operations--she pursued them at great personal risk. The first law-enforcement officer appointed to the Bureau of Land Management, Schalk had to work twice as hard as her male colleagues in order to prove her worth. "When apprehending someone she would stand her ground in a confrontation," recalls Seth Rigby Wright, retired sheriff of San Juan County, Utah, who first met Schalk in the early 1970s, "She didn't wait for an order."
Schalk, 55, traces her interest in archaeology back to her youth. Back then, growing up along the Columbia River in southwestern Washington, archaeology was a family affair both her parents were members of the Oregon Archaeological Society, and her brother graduated with a Ph.D. in archaeology from the University of New Mexico. "We were surrounded by archaeology," she recalls. "I spent all of my waking hours outdoors as a child." She remembers family outings, seeing rock art and watching Indians from the Yakama tribe fish for salmon by Celilo Falls on the Columbia, as their ancestors had done for centuries--before 1957 when construction of the Dalles Dam ended the Indians' traditional way of life.
In 1972, after graduating from the University of Washington with a philosophy degree, Schalk worked as an aquatics instructor for the Seattle public schools and parks and recreation department. One afternoon, while wandering down the aisles of a local bookstore, she came upon Edward Abbey's memoir Desert Solitaire: A Season in the Wilderness, recounting his two summers as a ranger at Arches National Park, in southeastern Utah. The pictures on the cover attracted her attention--she had vacationed in Utah the previous summer and had fallen in love with the Four Corners region. Reading the book changed her life. "It motivated me to get a ranger job. I decided if Abbey could do it, so could I."
But Schalk faced nearly insurmountable obstacles. In the early 1970s, few women had managed to break into the National Park Service ranger program. The 54 applications she sent out produced only two replies, but neither was feasible. At Olympia National Park there was no housing for female rangers. At Petrified Forest National Park, officials wrote her that policy prohibited hiring women for the backcountry horse patrol. Undaunted, and inspired by Abbey's memoir, Schalk gave notice, packed her bags and set off in her 1972 Plymouth Scamp for the Four Corners region "with no job, no final destination, and just a little money in the bank." In March 1973, she arrived at Natural Bridges National Monument in southeastern Utah. There, the chief ranger offered her a temporary position "for $4 a day and a roof over my head." She worked as a seasonal ranger there, and then later in Arizona at Walnut Canyon National Monument and Navajo National Monument.
But the chief ranger at Navajo forbid Schalk from wearing the official gray ranger shirt with shoulder patches on the sleeves that the male rangers wore. With no explanation, he told her she had to wear a plain white blouse with a ranger patch--half the size of the official patch--in front. Visitors to the monument didn't recognize her as a ranger. Schalk felt marginalized, and this feeling was starkly reinforced by a later episode. Among her responsibilities was leading half-day tours to the Betatakin Ruin, an Ancestral Pueblo cliff-dwelling. One afternoon, she recalls, National Park Service dignitaries from Washington were scheduled to go on the tour. Schalk was bumped as guide after a fellow seasonal employee, a man, asked the chief ranger if he might lead it instead, so that he could be considered for permanent hire. "The attitude back then was 'take care of the men, women are going to get married and have babies,'" she says.
Schalk decided to accept a position at Grand Gulch Primitive Area in southeastern Utah. The district manager there recruited her for an opening in the backcountry horse patrol responsible for protecting archaeological sites. It meant switching from the National Park Service to the Bureau of Land Management, a federal agency that manages the bulk of the country's public lands. "I thought to myself, even though the BLM is considered a good-old-boy organization, my personal experience has been that they were a lot more open-minded than the National Parks Service," she recalls. "I left the Park Service and never looked back."
There was no housing in place for female rangers at Grand Gulch, so Schalk's living quarters had to be improvised. "They put me in a 16-foot trailer, with an outdoor chemical toilet and a 30-gallon water tank, that was 45-minutes to the nearest human being." The trailer had no telephone or television. In a remote spot two miles off the highway on a dirt road, Schalk relied on a maintenance man who came once every three days to re-charge the electric battery that powered the lighting in the trailer and refill the water tank.
At Grand Gulch, the rangers were told to "go out there and stop the looting." "Our main purpose was to get control of the problem in all of Cedar Mesa," Schalk says, a 185,000-acre plateau broken by nine major canyons including Grand Gulch. "It was a real crash course." The rangers pursued pothunters on horseback, on foot, by jeep, and in helicopters. "We flew almost every day," she remembers. But without law enforcement authority, the rangers could only notify local officers--based at least an hour away--when they caught violators. "You called the sheriff when you saw someone digging and he would come to the crime scene and make the arrest."

[LARGER IMAGE]

[LARGER IMAGE]
Left, Schalk (BLM special agent) on helicopter patrol on Cedar Mesa (Grand Gulch) during a special assigment in May 1984 to curtail archaeological looting. Right, Schalk (BLM law enforcement ranger) on patrol along the Mexican border in the California Desert (San Diego County) in 1978. (Courtesy Lynell Schalk)
The rangers at Grand Gulch went on patrol duty everyday. "With a four-wheel drive vehicle or horse patrol we would head down into Kane Gulch or across Cedar Mesa," Schalk says. "If we saw fresh tracks we would go see what people were doing. It was hot with temperatures climbing to 95-100 degrees. We had no air conditioning or power steering. You would bounce around in the jeep--it was a long hot dusty day." The four to six rangers on duty also switched off on three-to five-day backpacking and horse patrol trips into the backcountry.
Five days a week, the rangers went on overflights, in Bell Two helicopters at 7,000 feet. "It had a little bubble top, with seating for just the pilot and one passenger," Schalk recalls. The rangers would "spot" for illegal activities in the canyons or on the mesa tops. "Helicopter patrol was a routine part of the day. You rattled around, with loud helicoptor noise all day long. As a spotter you needed to maintain constant attention for two-three hours. It was completely exhausting." They would fly with the doors off, covering large areas in several hours that would take rangers on the ground several days, she says.
The rangers faced many hazards working in the harsh terrain of Grand Gulch--rattlesnakes not the least. With high ledges, cliffs, and deep canyons, the rugged landscape was difficult to navigate, and it was an hour or more to the nearest hospital. Soon after she arrived, a fellow ranger lost his leg hiking after it was pinned by a boulder fall. A year into the job, Schalk herself was injured. While saddling horses and mules for a V.I.P. trip, she was kicked in the back. "I was knocked clear across the corral," she recalls. "I lay in the horse manure in the corral for over an hour waiting for an ambulance to come from Monticello, 60 miles away." When it finally arrived, she was loaded onto a backboard and transported to the hospital. The doctor there had gone to lunch, so she was left lying on a steel table awaiting his return--all this time with no painkiller. She remembers vividly what happened next. "The doctor walked up to me and said, 'Well young lady, I hope that horse knocked some sense into you and you'll quit this job and get married!'" She spent the next nine days in excruciating pain, with a horseshoe imprinted on her back.
Aside from the perils of the job, the biggest obstacle the rangers had to contend with when apprehending pothunters was that under the 1906 Antiquities Act the looting of archaeological sites was only a petty offense, less than a misdemeanor. "You didn't have to serve time or be fined. It was a slap on the wrist," Schalk says. "With the passage of the Archaeological Resources Protection Act in 1979, the looting and trafficking of archaeological resources was given a felony provision." Before ARPA, the prevailing attitude was that it was acceptable to take artifacts from sites on public lands. The belief was held by many in local government. In fact, Schalk recalls a federal judge in Salt Lake City who refused to take archaeological cases involving only misdemeanor offenses.
Increasingly, the rangers became concerned about the safety of the overflight program at Grand Gulch. The weather, which alternated between extremes of intense heat and cold, made helicopter flights dangerous. Rangers were not given helmets or adequate radio equipment. On one of her days off, a helicopter had crashed in Butler Wash, east of Grand Gulch, with two rangers in it. One of them had hiked several miles with a broken back to get help. The other ranger, with a more severe back injury, was never able to return to the job. "You went up and flew over a 1,000-square-mile area and no one knew where you were or if you had crashed," Schalk says. "I decided it was time to leave." She transferred to the BLM ranger program in the California desert out of El Centro, on the Mexican border between Yuma, Arizona, and San Diego, where she worked from 1976 until 1980.
On national holidays thousands of off-road (ORV) and all-terrain vehicle (ATV) users would descend on the California desert, with crowds pouring in from San Diego and Los Angeles. "On President's Day weekend," Schalk says, "we would have 40-50,000 ORV users on the Imperial Sand Dunes [between Yuma and El Centro]. There were usually two to three fatalities and up to 40-50 injuries--a good percentage of them alcohol related. Broken bones were common. I got a lot of first-aid experience." It was Schalk's duty to keep motorcycle courses from crossing known ancient sites. "Motorcycles still went off-course, running over 1,000-year-old agave roasting pits and other archaeological sites," she says. "Up to 150 people at a time signed up to race in ATV-open areas, where archaeological sites were not recorded. The chance of catching these guys was minimal. You could only try to get the race organizers have the participants stay on the marked course." In one instance, the BLM had fenced off an area with intaglios--giant animals and other designs cut into the desert floor by prehistoric Indians. "Two motorcycles came in and tore up and destroyed 85 percent of the intaglios deliberately," Schalk recalls.

[LARGER IMAGE]

[LARGER IMAGE]
Left, Schalk (BLM law enforcement ranger) examining a potsherd at a site in the California Desert in 1978 while on patrol. Right, Schalk (BLM special agent) at petroglyph panel in Montezuma Creek, Utah during a special surveillance assignment in May 1984. (Courtesy Lynell Schalk)
The BLM rangers also had to contend with drug smugglers, gun-runners, and illegal aliens attempting to cross into the United States. Beginning in 1976, the agency began cycling its rangers through the Federal Law Enforcement Training Center in Glynco, Georgia. Schalk was the only female in the original group of 13 rangers sent for training. She and the others had the responsibility of covering an area encompassing more than 12 million acres of public land in the California desert (the entire desert is 25 million acres). "We didn't exactly have them surrounded," she says. At first, after stating he didn't like the public to have the image of BLM rangers carrying shotguns, the Secretary of the Interior took them away, leaving the newly minted law-enforcement rangers only one revolver and six rounds of ammunition apiece. "They wanted us to keep them in our gloveboxes and only use them when apprehending violators." The group boycotted the delegation of authority until the Secretary reconsidered and allowed them to wear their own firearms.
In January 1980, after completing additional training in criminal investigation with federal officers from the Secret Service, Border Patrol, and Drug Enforcement Agency, Schalk became a BLM special agent in Portland, Oregon, where she pursued criminal investigations, focusing on archaeological theft and trafficking. In 1987, she was chosen to manage the BLM law-enforcement program in Oregon and Washington, and during this period she participated in a number of undercover operations.
One important case Schalk investigated began back in 1984, when a curator from a museum in Los Angeles contacted her after a man offered to sell him artifacts. The curator had purchased some of the artifacts but he suspected they came from public lands. Because California was not in her jurisdiction, Schalk was unable to persuade BLM officials to provide her with "buy money" to purchase questionable artifacts in an investigation of their source. Five years later, while working undercover at a Native American antiquities show with an Oregon fish and game officer in Portland, Schalk recognized the artifacts displayed in a booth at the show. She now had jurisdiction, and could act.
Going undercover at an Indian artifact show in April 1989, Schalk contacted the seller and bought from him a collection of Ancestral Puebo artifacts for $2,500. He claimed the artifacts--which included two cotton fiber skirts woven with human hair, an insect necklace, and turquoise earrings--came from a burial cave in southeastern Utah. In a follow-up meeting several weeks later, Schalk negotiated a second purchase--captured on audiotape--for a carved burial piece made of animal bone that the man said came from Memaloose Island in the Columbia River Gorge. Schalk knew that the island--a traditional burial site for local tribes--was protected land. At the next meeting, in the suspect's motor home in a shopping mall parking lot, she purchased a number of items. At a final meeting, held in an Oregon motel room, the man was caught on videotape admitting that the artifacts had come from federal lands. During the meeting, the suspect claimed that since the artifacts had been dug up prior to the 1979 ARPA law, they were "grandfathered in." "His story didn't wash," Schalk says. "The Antiquities Act, which prohibits obtaining antiquities from public lands, has been in place since 1906." Furthermore, she says, even if the artifacts were stolen prior to 1979, the minute someone trades or exchanges them kicks in a new felony violation under ARPA law.
"He made enough admissions for us to get a search warrant," says Schalk. "He told us that all of these artifacts had come from a private ranch in southeastern Utah. We had gone down to the ranch and it doesn't have any caves, so there was no way everything came from there." Schalk, along with ten of her agents, Oregon State Police detectives, and a Los Angeles FBI agent, apprehended the suspect and his wife. The state police arrested him on a narcotics violation for marijuana cultivation. "He had a loaded rifle leaning against the garage and an unloaded sawed-off shotgun in his residence," Schalk recalls. "He was indicted and then pled guilty. While not imprisoned, he was ordered to give a videotaped debriefing. The last I heard, he was digging up dinosaur bones--he hasn't slowed down."
On the basis of the man's testimony, Schalk began interviewing pothunters in southeastern Utah, including Earl Shumway, a notorious looter who made national headlines in the so-called Basket Case in 1986. In that case, Shumway and allegedly two accomplices excavated a collection of Ancestral Puebloan baskets. Shumway, who escaped conviction by turning informant, had bragged to authorities about how he had been robbing caves and burial mounds since he was three-years old. He was later indicted on separate charges and spent prison time for looting archaeological sites. Shumway spent hours talking to Schalk about artifacts he had dug up in the 1970s that she had later recovered from the Oregon man. Shumway spoke freely, as did several other pothunters, unafraid of retribution since the statute of limitations on their crimes had run out. "Some talked while others wouldn't even open their doors," she says. "From their testimony we were able to identify several locations from where the artifacts came from to make our case." A subpoena was issued to the museum in Los Angeles for artifacts the curator had purchased that could now be identified as stolen from federal lands. Eventually, some of the artifacts were returned by the museum. In 1999, 150 artifacts recovered from the Oregon man were placed in the Edge of the Cedars State Museum in Blanding. A box of Native American Indian skeletal remains reportedly taken from a site on the California coast was repatriated to a California tribe and later reburied.
| | |
| --- | --- |
| | Artifacts from federal cases, including many recovered by Schalk, are now on display in an exhibition about pothunting. (Courtesy Edge of the Cedars State Park Museum) [LARGER IMAGE/MORE INFO] |
When working an undercover operation, Schalk emphasized the importance of going into any situation with a partner. "You were always very much aware that there was some risk. You wanted to be successful, to convince the suspect that you were who you told them you were," she says. "You had to watch your backside--you didn't want to be a cowboy. I had run-ins with people. We seized firearms and one time I had to mace a guy. I did have one informant who threatened to kill me." The individual, a potential witness, became enraged during a meeting. "He threatened me, 'I'm going to cut your goddamn liver out.' We got this all on tape. He had already assaulted a convicted pothunter in Blanding, Utah, and had shot a round. I had this man arrested."
In addition to her investigative work, Schalk was instrumental in developing the Archaeological Resources Protection Training Program (ARPTP) at the Federal Law Enforcement Training Center in the early 1980s. The first of its kind, the ARPT course was designed to instruct tribal, state, and local law-enforcement officers, archaeologists, cultural-heritage specialists, and museum curators around the country about ARPA. Schalk was one of three instructors (along with an attorney and an archaeologist) who taught the 40-hour course for it's first five years. It covered interpretation of ARPA, with practical training on how to put together a criminal case for prosecution, including the role of both law-enforcement and archaeological expert witnesses. She also initiated a law-enforcement intern program on college campuses, mentoring young women and showing them career opportunities in law and law enforcement, says Kris Olson, former United States Attorney in Oregon, who taught the ARPT course with Schalk.
"Her rise throughout the ranks in law enforcement during the 1980s was remarkable in a male-dominated agency and is a testament to her professionalism and tenacity," Olson says. "At that time everybody wanted to do drugs and guns, so archaeology cases were left up to her and her expertise. She was one of the most thorough, diligent professional investigators I ever worked with." The two women cooperated on cases in the late 1970s and early 1980s. "She would do the investigative work and I would prosecute cases. She had a background and obviously cared a great deal about the country's cultural resources. I didn't have a clue about it--she got me hooked."
One case on which they collaborated, United States v., Jacques, 1983--now part of the ARPT curriculum--illustrates attitudes towards looters at the time and the personality profile of many serial pothunters. The defendant, William Jaques, was caught digging on a wildlife refuge in eastern Oregon by a U.S. Fish and Wildlife Service agent. Instead of convicting him under ARPA, however, the jury convicted Jaques of destruction of government property. "They could not see how it was an archaeological crime," says Olson. Awaiting appeal of his 90-day jail sentence, the defendant was out digging again, this time in a rockshelter on public land in eastern Oregon--both a new offense and a violation of his probation. Incredibly, Olson had a hard time getting the judge to take the case seriously. The judge didn't sentence him to any additional time because, in her words "The defendant knows we are serious now." His conviction was upheld in 1984 by the 9th Circuit Court of Appeals. Fifteen years later, Olson says she received a call from the Assistant U.S. Attorney about the same defendant who this time, in addition to archaeological violations, was being held on a weapons charge. "The case illustrates a common thread in archaeological theft," she says. "Weapons or drugs are often associated with archaeology violations. The defendant was already a convicted felon for other crimes he committed. For a chronic pothunter of which there are so many in the West, the lure of the loot is so strong that they can't give it up."
That such attitude towards looters were comonplace in the early 1980s is also shown by the Bender & Barnes case, which Schalk investigated and Olson prosecuted. The two defendants, apprehended by Schalk while digging at a rockshelter on public lands in southern Oregon, were acquitted of felony violations of ARPA by a sympathetic jury. The defendants defended their right to surface collecting of arrowheads. One defense witness, who identified himself as a former Forest Service employee, brought a fishing-tackle box of ancient sandals, matting, and cordage that he admitted removing from the rockshelter while working for the Forest Service. The case illustrates how at that time the public was ignorant of ARPA and the importance of archaeological preservation.
In response to such outcomes, Schalk helped initiate Operation Save in 1987, a BLM-sponsored program to heighten public awareness, concern, and involvement in the preservation of archaeological resources and the enforcement of ARPA in the Pacific Northwest.
During her years investigating archaeological crime, Schalk came into contact with many notorious pothunters. She has no kind words for any of them. "They are greedy individuals looking for an easy buck," she says. "Many of them have not much more than a high school education. They were raised in a culture in which their fathers dug before they did and their grandfathers before them. It is a family tradition to go and dig up Indian burial sites for pots and other artifacts. I interviewed a lot of them. I can't say I liked any of them personally--I didn't find in them a lot of good qualities. They [the pothunters] felt it was their entitlement. They figured it was better for them to acquire the artifacts than for somebody else to have them."
In 2001, Schalk retired from the BLM. She now divides her time between homes in Portland and Bluff, in southeastern Utah. She has not slowed down, however, in her commitment to helping preserve cultural heritage. "Her priority was always protecting America's archaeological resources. Lecturing at universities and museums, she is now educating the public," Olson says. "She is still in the forefront of archaeological protection." After witnessing the unrestricted ORV destruction of archaeological sites on public land adjacent to the town of Bluff, Schalk organized a coalition of local citizens, The Bluff Landowner's Commission, petitioning the BLM field office in Monticello for an emergency closure of the 2.5-square-mile area in 2003. After administrative delays, the petition was granted this past spring. (See "Archaeology, Off-Road Vehicles, and the BLM," April 20, 2005).
Schalk is now collaborating with the curator at the Edge of the Cedars musuem on an upcoming exhibit commemorating the 100th anniversary of the 1906 Antiquities Act. Using artifacts recovered from federal cases involving archaeological theft that are now housed at the museum, the exhibit will show how federal law-enforcement efforts have furthered archaeology, by highlighting methods that agents like Schalk have utilized to recover an artifact's provenance. "The greatest damage as a result of archaeological theft," Schalk emphasizes, "is that artifacts are taken out of context, thereby reducing their archaeological value."
The fight to protect this country's Native American cultural legacy has by no means been won, Schalk says. For example, in Southeastern Utah, where there are now only two law-enforcement rangers covering 2.5 million acres of public land, there needs to be a larger law-enforcement presence she says. "San Juan County is one of the largest land-based counties with the highest archaeological sites there. These folks are still looting and the chances of their being caught are pretty slim."
Schalk's latest project is a book she is writing chronicling her experiences working in law enforcement, focusing on her investigations of archaeological resource crime in southeastern Utah. Looking back on the hardships she faced becoming a ranger, Schalk concludes that things are much easier for women today wanting to enter the field. "I couldn't get my foot in the door back then and nobody was handing me any benefits. Back then, as a woman I had to work twice as hard. I donated hundreds of hours a year in unpaid overtime to get the job done. There are a lot more women in the program now, though it is still a male-dominated field. Currently, out of 11 BLM special-agents-in-charge, two or three are women." However, they and the other female rangers have a tough act to follow, concedes Wright. "She rides for the brand," he says of Schalk, quoting an old Western expression for someone who remains loyal to their company.
| | |
| --- | --- |
| | Schalk (BLM special agent) on a marijuana eradication operation along the Rogue River in southern Oregon in 1985. (Courtesy Lynell Schalk) [LARGER IMAGE] |
On a wall in her home in Bluff is a framed letter dated March 10, 1978 from Edward Abbey, the Southwestern writer who inspired her so long ago and whom she befriended in later years. Composed on an old-fashioned manual typewriter the letter--addressed to former Secretary of the Interior Cecil Andrus with carbon copies to senators Orrin Hatch, Jake Garn, and the Salt Lake Tribune--states Abbey's support for the BLM ranger program and the need to preserve the cultural legacy of the Southwestern states. In a handwritten note to Schalk at the bottom of the letter, he acknowledges her with his wry sense of humor as "girl-ranger!"
Lisa Schiffman, a recent journalism graduate of New York University, is an intern with ARCHAEOLOGY.


© 2005 by the Archaeological Institute of America
archive.archaeology.org/online/features/schalk/
Share