This hourglass-shaped basket (upper left) and its contents were part of the Earl Shumway basket criminal case. The basket was reportedly one of a cache of as many as 35 baskets that Shumway illegally dug out of a Forest Service cave site in southeastern Utah in 1984. It was purchased by a subject in Oregon, later investigated by Schalk, and his partner. The Oregon subject then took it to a museum in Los Angeles and a curator there curator told Schalk about it. She recognized it as one that the Forest Service was trying to recover and notified the Forest Service special agent on the case who then recovered the basket from the museum. It is now on public display at the Edge of the Cedars Museum as part of a pothunting exhibit.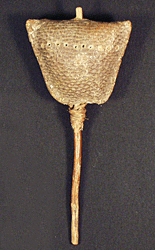 Schalk recovered approximately 150 artifacts from the Oregon subject either through undercover purchases or through a search warrant executed at his house, but could establish provenience of only some of them. The most crucial one turned out to be the beavertail rattle (right), which she traced to a pothunter who dug it up from BLM land. Because the statute of limitations had run on the illegal excavation and removal of the rattle, the digger became a witness, knowing that he was immune from prosecution. is what allowed me to obtain the evidence I needed to show provenience of the rattle.
The rattle was purchased from the Oregon subject (along with several other artifacts during an undercover buy for $3,500) and became the strongest evidence in Schalk's case of the artifacts having been looted from federal lands. This was a critical component in proving that the artifacts were illegally sold by the Oregon subject, who subsequently plead guilty to two felony counts of trafficking in stolen artifacts under the Archaeological Resources Protection Act.
Interviews with numerous pothunters from southeast Utah indicate that the other artifacts--awls, woven bag, basket, etc.--are from Federal or Indian lands, taken in violation of the law, but they have not been traced to particular sites.