Exploring the Inca Heartland: Introduction
September 1, 1999
Text And Photographs by Mark Rose
Illustrations by Huaman Poma De Ayala (Ca.1613)
Maps by Angela M.H. Schuster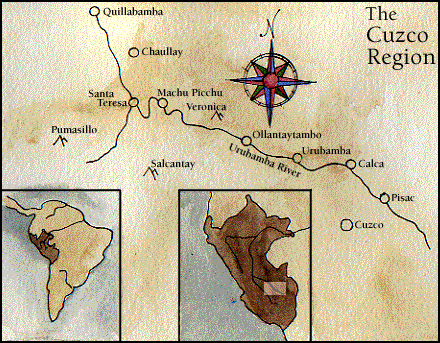 We came into Cusco by train, easing down a series of switchbacks after a 14-hour-long ride over the Pacific-Amazon divide having spent a few days at Lake Titicaca. There were about 15 of us: my wife Heather and I, a brace of Canadian dentists, a Danish couple, and eight Britons, ranging in occupation from physician, to Royal Forces, to professional bookie. Shepherding the lot of us was Chris Hooker of Explore, a travel company based in London that specializes in low-cost hiking adventures. It was the second of May and we were to see the Inca and colonial monuments in and around Cusco before heading up the Sacred Valley and embarking on a four-day hike along the Inca trail to Machu Picchu.
Click on the map to journey through the Inca realm, or use the links below.


© 1999 by the Archaeological Institute of America
archive.archaeology.org/online/features/peru/
Share