Headstones for Dummies, the New York Edition
September 29, 2006
by Sarah Pickman
Exploring three of Manhattan's colonial cemeteries
In 1967, historical archaeologists James Deetz and Edwin Dethlefsen published a seminal study of colonial New England headstones entitled Death's Head, Cherub, Urn and Willow, after the three most prevalent motifs found on seventeenth- and eighteenth-century grave markers in the New England colonies. In studying the popular forms of grave decoration from this place and time, Deetz and Dethlefsen connected the early dominance of the death's head skull on headstones with the harsh beliefs of Puritanism and its emphasis on mortality. The fall in popularity of the death's head and the subsequent prevalence of the cherub was a reflection of the Great Awakening and the belief in the immortality of the soul: "Cherubs reflect a stress on resurrection, while death's heads emphasize the mortality of man." Finally, the popularity of the urn and willow in the very late eighteenth and early nineteenth century was prompted by the Greek Revival.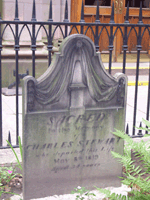 This dramatic headstone at Trinity Church dates to 1819. (Sarah Pickman)
Nearly 20 years later, Sherene Baugher and Frederick Winter, writing in ARCHAEOLOGY ("Early American Gravestones," September/October 1983) examined three early cemeteries in New York--a place that was arguably more ethnically and religiously diverse during the colonial period--to see if the pattern of the three motifs from Deetz and Dethlefsen's study held true for New York headstones, or if differences were noticeable based on the deceased's religion, ethnicity, sex, or age. After studying both English and Dutch headstones in two Anglican--including Trinity Church in Manhattan--and one non-sectarian cemetery, they found no significant difference in headstone decoration across ethnic or religious lines. Now, ARCHAEOLOGY again visits the early cemeteries of New York City, to give you an in-depth look at some of the grave decorations you'll find as you stop at the burial grounds of Shearith Israel congregation, Trinity Church, and St. Paul's Church on your tour. While white marble, a popular medium for headstones in the nineteenth century, erodes rather easily, the sedimentary brown sandstone used for most colonial headstones in New York weathers the elements well, leaving many inscriptions and designs visible to this day.
Shearith Israel cemetery is the earliest surviving cemetery of New York's first Jewish congregation. This cemetery was in use from 1682 until 1828. Though it is locked to outside visitors, a glance through the bars surrounding the small patch of land will reveal some interesting details of the headstones, which mark some of colonial America's earliest non-Christian burials.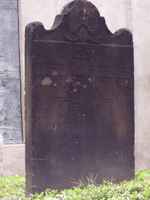 The earliest headstones in the cemetery are of the three-lobed shape that also dominated in Christian burials at the time, a shape that resembled a the headboard of a bed and was thus symbolic of man's final sleep. The death's head and cherub images are missing from the Shearith Israel headstones; in fact, images in general are largely absent. One remarkable exception, though, is a pair of hands on the tympanum (central lobe) of Josiah Ellis' eighteenth-century headstone; hands turned slightly toward each other, palms outward (see image). This image probably represents the prayer gesture of the Kohanim, the caste of priests in ancient Israel who were descendants of Aaron, Moses' brother. Even today, Jews believed to be descendants of the Kohanim have an elite status within more conservative branches of Judaism, and they often elect to have this ancient symbol engraved on their headstones. Josiah Ellis must have chosen this image to remind those who saw his headstone of his great ancestry.
The earliest brown stone markers are inscribed in Hebrew or Hebrew and English; inscriptions made only in English appear when marble is used for the headstones, which dates them to the nineteenth century.
| | |
| --- | --- |
| | Left, the landscape of Shearith Israel cemetery. Above, headstones inscribed in Hebrew, without decoration. (Sarah Pickman) |
Trinity Church was officially chartered in 1697, but the cemetery had already been in use for at least 16 years by then. Here, among the colonial headstones, the most common are stones that bear only inscriptions. Death's heads and cherubs are the most popular images, with urn and willow designs appearing on later--the first dates to 1816--and fewer stones. Particularly striking is the wide variety of cherubs that can be seen at Trinity: some are simple and ominous, bearing more resemblance to a death's head skull than a benevolent angel. Others are more intricate and appear kinder, if still somber.
| | | |
| --- | --- | --- |
| | Baugher and Winter found that there was no apparent correlation between the motif used and the sex or age of the deceased. Religious orientation, in connection to headstones, is difficult to determine at Trinity; though the church has always been Episcopalian, in the seventeenth and eighteenth centuries it permitted the burial of dead from a local Lutheran church, as well as any unaffiliated wards of the city. The only pattern appears to be chronological; as in New England, the death's head's prevalence waned in the eighteenth century and was replaced by the cherub, with both forms equally popular in the 1740s. Some other decorations from the time include Masonic symbols (see image) and an unusual triad of cannons on the grave of a carpenter (see image). | |
This unusual death's head is flanked by two flowers (Sarah Pickman)
A variety of Trinity death's heads (Sarah Pickman)
Anthoney Ackley's 1782 headstone features a cherub
surrounded by an unusual pattern of stars. (Sarah Pickman)
Cherubs, from the sad but kindly to the threatening (Sarah Pickman)
Left is the headstone of Mary Corrin. Typically, double headstones were intended for a husband and wife, or sometimes for a mother and daughter. However, the side reserved for Mary's husband is blank. What happened to him? (Sarah Pickman)

In addition to the traditional Masonic compass symbol, the headstone on the right has an hourglass and a chalice. (Sarah Pickman)
Trinity also has larger, more impressive grave markers for its later, more famous deceased, including Robert Fulton (left) and Alexander Hamilton (right). (Sarah Pickman)
Founded as a provincial branch church of Trinity parish in 1766, St. Paul's Church is home to a cemetery with hundreds of colonial and early nineteenth century headstones. At St. Paul's, cherubs reign as the most popular form of colonial decoration, though there are numerous stones free of images as well. Death's heads appear infrequently. Here, the first urn and willow design appears on a late eighteenth-century marker, pre-dating stones with similar designs at Trinity by more than 20 years.
Urn and willow headstones, including one dated to 1792 (Sarah Pickman)

Graves without decoration at St. Paul's (Sarah Pickman)

St. Paul's cherubs (Sarah Pickman)
This unusual headstone features a particularly detailed image of two peaceful cherubs. (Sarah Pickman)

A Masonic burial in St. Paul's Churchyard (Sarah Pickman)

The churchyard at St. Paul's, like that of its parent church, contains larger, more elaborate burial monuments for some of its prominent residents. This stone marker denotes the grave of George Frederick Cooke, the great Shakespearean actor. After his death in 1812, his head was allegedly severed and sold to pay his outstanding medical bills. Legend has it that his ghost wanders the cemetery looking for its head. (see image)

Another large monument stands over the remains of Etienne Marie Bechet, Sieur de Rochenfontaine, known as Stephen Rochenfontaine. Born near Reims, France, Rochenfontaine emigrated to America in 1778 and became an engineer in the Continental Army. Later, Washington appointed him Chief Engineer of the Army Corps of Engineers. Rochenfontaine originally came to the New World because he failed to gain employment in the French Royal Corps of Engineers. (see image)


© 2006 by the Archaeological Institute of America
archive.archaeology.org/online/features/nycolonial/graves.html

Share