In September 2008, the mummified remains of an Egyptian priestess named Meresamun (ca. 800 B.C.) were examined using a state-of-the-art CT scanner. Touted by manufacturer Philips Healthcare as so fast it can "complete a comprehensive cardiac study in two beats of the heart," the new machine dwarfs earlier generations of scanners in speed and power. The 256-slice Brilliance iCT—"i" for "intelligent"—uses a 120-kilowat generator to produce 100 cross sections per second. Some 30 billion individual measurements of Meresamun and her coffin were gleaned from the one-hour session.
Meresamun was the first patient to be scanned on the 256 and, to date, remains the only mummy ever subject to such advanced technology. The resulting images stunned even the most seasoned Egyptologists.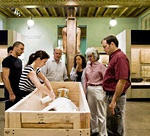 1. In an Egyptian art gallery at the Oriental Institute Museum, exhibition designers prepare Meresamun for her trip to the University of Chicago hospital's ER. Her coffin, made of linen and plaster, is extremely fragile. To transport her safely, a team of exhibition designers places the coffin into a wooden crate and secures it with foam wedges and linen straps. Egyptologist Emily Teeter looks on.
2. An exhibition designer wheels the crate to an awaiting truck. On the outside, the team had painted black wedjat eyes, protective symbols frequently depicted on ancient Egyptian coffins, which were believed to allow the mummy to see out.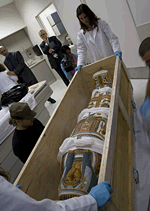 3. When Meresamun arrives at the hospital, the crate is placed on a gurney and wheeled into the CT (computed tomography) suite, where physicians routinely take X-ray cross sections of tissue to diagnose cancer, cardiovascular disease, and other medical conditions.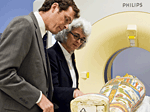 4. Geoff Emberling, director of the Oriental Institute Museum, and Emily Teeter make sure Meresamun is carefully placed on the examination table.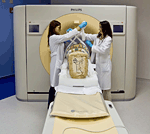 5. Exhibition designers secure Meresamun to the examination table with linen straps. Depicted on the bottom of the coffin is a calf, an ancient Egyptian symbol of regeneration, which was among numerous motifs intended to ensure Meresamun's successful journey to the afterlife.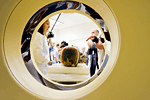 6. In a room that normally holds two people—the patient and the scanning technician—nearly 40 people cram into the hospital's CT suite to witness the historic event: sales reps from Philips, two film crews, radiologists, nurses, security guards, and museum specialists.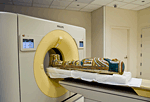 7. As the mummy glides though the gantry, a message automatically generated by the machine tells Meresamun, "Take a deep breath. Now hold it."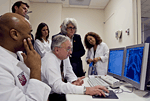 8. The scanner instantly starts producing hundreds of digital images. Radiologist Mike Vannier (center) explains the results.
Eti Bonn-Muller is managing editor at ARCHAEOLOGY.
Share