Field Notes 2000
"Brooklyn's Eighteenth-Century Lott House"
July 13, 2000
Summer 2000 Excavation: First Field Season Ends with Questions
Week three ended on a "hot" note. Gone was the cool rain that plagued us through weeks one and two. In turn, Mother Nature turned on the heat. The ground dried out just as quickly as the students begin to feel the heat.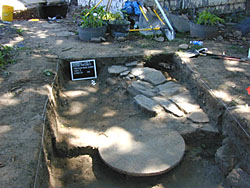 N44 E28.5/N42 E28.5 has become a real puzzle for us. We have completely uncovered the concrete "patch/cover" as well as several large fieldstones. However, on the last day of the June field school a large six-inch cast-iron pipe was uncovered. The pipe extends into the feature that the concrete is covering. However, we did not open the concrete lid up yet. This will have to wait for the next session. Team 2 finished up in the extension to N36 E28.5. In this trench the same cast-iron pipe found in the trench to the north was also uncovered. It is obviously an intrusion to this trench. We cannot be sure just what the pipe is for and what the concrete is covering. Arguments are being made that this could be a well, a cistern, or a cesspit.
This trench was also interesting in that the stratigraphy is once again puzzling. There is a double band of shells separated by material remains that appear to date between 1800 and the 1840s. An 1820 penny was recovered at the level of the bottom shell layer. This sets a terminus post quem date of the 1820s for the bottom shell layer; that is, the bottom layer must date sometime after the coin was minted.



This coin is dated 1820.
(Courtesy Brooklyn College)
What's odd about that is this trench is only about 1.5 meters from the house. If the 1800s ground surface was indeed this shell layer, why is it almost a meter below the modern ground surface? How did the landscape change so drastically in less than 100 years? We ask this because 1900-1915 photographs show the house at the current ground surface level. There was no indication of steps leading up into the lean-to's door.
We'll continue to explore three areas:
1) the perplexing stratigraphy near the house
2) the concrete patch/cast-iron pipe
3) the fieldstones to the west of the concrete patch
Lott House Main Page | Field Notes | Bulletin Board


© 2000 by the Archaeological Institute of America
archive.archaeology.org/online/features/lott/fieldnotes/11.html
Share