From Cyprus to Munich
April 20, 1998
by Mark Rose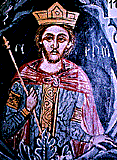 Fifteenth-century fresco from the Tree of Jesse stolen from Antiphonitis, Cyprus, and recently recovered in Germany (Courtesy Permanent Mission of Cyprus to the United Nations)
Following the occupation of northern Cyprus by Turkish forces in 1974, looters stripped the region's churches, removing an estimated 15,000 to 20,000 icons; several dozen major frescoes and mosaics dating from the sixth to the fifteenth century; and thousands of chalices, wooden carvings, crucifixes, and Bibles. Efforts by the Autocephalous Church of Cyprus and the Republic of Cyprus have resulted in the return of some of these objects, but the majority remain lost. A major breakthrough came this past October when Munich police arrested 60-year-old Aydin Dikman after he was videotaped selling stolen goods. The arrest was made possible by the cooperation of Dikman's former client, Dutch art dealer Michel van Rijn. In apartments rented by Dikman, police found frescoes, mosaics, and icons estimated to be worth more than $40 million. The artworks were taken to the Bavarian National Museum for evaluation, while Dikman was taken to prison. Criminal proceedings have begun against him for possessing and disposing of stolen goods, and, if convicted, Dikman faces up to 15 years in jail.
| | | |
| --- | --- | --- |
| | Many of the looted frescoes were badly damaged when cut up and removed from churches in northern Cyprus. (left) [LARGER IMAGE] Fragment of a sixth-century mosaic from Church of the Panagía Kanakariá, Cyprus, seized in Munich. (right) [LARGER IMAGE] (Courtesy Permanent Mission of Cyprus to the United Nations) | |
Dikman's participation in the depredation of Cypriot heritage in the occupied part of the island was suspected as early as 1982. He kept a low profile, however, working through dealers and seldom meeting directly with those who purchased items from him. Whether out of fear of retribution or unwillingness to jeopardize potential future acquisitions, those who knew that he was selling looted artworks from northern Cyprus did not reveal his identity to authorities. It was not until 1989 that the extent of his role became somewhat clearer through testimony in the Goldberg case, a legal battle in federal court in Indianapolis over Byzantine mosaics from Cyprus. That nearly nine years passed from Dikman's exposure in the Goldberg case to his arrest in 1997 is a troubling commentary on the lack of a concerted international effort to end the destruction and trafficking in Cyprus' heritage.
Speaking after Dikman's arrest, Athanassios Papageorgiou, an expert in Byzantine art who works for the Cypriot church, told Reuters, "We have managed to catch the mastermind of the whole smuggling operation." A chronology of what is known of Dikman's activities over the past two decades suggests that his role was a central one.

1982. In the Turkish Cypriot weekly magazine Olay for May 17, 1982, Mehmet Yasin reports that Dikman was detained by security officials in Kyrenia the preceding week and was on a list of antiquities smugglers sought by police.

1983-1984. The Menil Foundation of Houston, with approval of Cypriot government and church authorities, purchases from Dikman thirteenth-century frescoes of Christ Pantokrator ("All Sovereign") and the Virgin with archangels stolen from the Church of the Blessed Themonianos near the village of Lysi in northern Cyprus. In 1983 Dominique de Menil, Walters Hopps of the Menil Foundation, and Yanni Petsopoulos, a London dealer acting as an intermediary, examined the frescoes at a Munich apartment rented by Dikman. Funds for the acquisition were put in escrow and released only after the foundation took possession of the frescoes in 1984. (According to the deposition of Constantine Leventis, Cyprus' ambassador to UNESCO, taken in 1989 for the Goldberg trial, Petsopoulos offered the frescoes to the foundation for $850,000; the final price has not been disclosed.) Cut into 28 pieces when they were removed from the church, they required extensive conservation work. In November 1997, the restored frescoes, which will eventually be returned to Cyprus, were put on display in a specially constructed and consecrated Byzantine chapel in Houston.
| | |
| --- | --- |
| | Church of the Panagía Kanakariá, Cyprus (Courtesy Permanent Mission of Cyprus to the United Nations) [LARGER IMAGE] |

1984. While at Dikman's apartment during the 1983 trip to Munich, Hopps and Petsopoulos notice a mosaic rondel, which the latter subsequently identifies as from the Church of the Panagía Kanakariá at Lythrankomí. The Kanakariá mosaics, dated to 525-530, are among the few from the sixth century to have survived a subsequent iconoclastic period. The church, in northern Cyprus, was stripped between August of 1976, following the forced departure of the priest, and November 1979, when an English tourist reported to Cypriot authorities that it had been looted. According to Hopps' 1989 deposition for the Goldberg trial, Petsopoulos told him that later in 1983 he had made an impassioned plea that Dikman return the mosaic to Cyprus. Reportedly, Dikman let Petsopoulos have four rondels, some small pieces of mosaic, and a sack of loose tesserae, which he swore was all that he had from the church. The mosaics were returned to Cyprus on November 30, 1984. Two rondels proved to be modern, but the other mosaics--rondels depicting St. Bartholomew and St. Luke, and several fragments of the surrounding decorative frieze--were from Kanakariá. The mosaics, badly damaged, were placed in the Byzantine Museum of the Archbishop Makarios III Foundation in Nicosia after two years of conservation work. For transportation costs involved in the return, Petsopoulos was reimbursed $2,113.89 by the Menil Foundation.
Four sixth-century mosaics from Kankariá were recovered after a 1989 court case in Indianapolis. From left: the archangel Michael, Christ as a child, St. Matthew, and St. James (Click on images for larger versions.) (Courtesy Permanent Mission of Cyprus to the United Nations)

1988. Indianapolis art dealer Peg Goldberg buys four Kanakariá mosaics--the archangel Michael, the upper half of Christ as a child, and the apostles Matthew and James--from Dikman, Van Rijn, and American dealer Robert Fitzgerald for about $1 million. The following year, the Autocephalous Church of Cyprus and the Republic of Cyprus, alerted by J. Paul Getty Museum curator Marion True after Goldman attempted to resell the mosaics for $20 million, sued for the return of the mosaics in federal court in Indianapolis and won. The mosaics were returned to Cyprus in 1991 and were greeted by a crowd of nearly 50,000. They are now in the Byzantine Museum of the Archbishop Makarios III Foundation. Because they were badly damaged during their removal from the church, while being shipped, and in restoration work commissioned by Goldberg, it is unlikely the mosaics will ever be reinstalled in the church regardless of any changes in Cyprus' political situation.

February 1997. Michel van Rijn approaches Tasoula L. Georgiou-Hadjitofi, honorary consul of Cyprus in The Hague and representative of the Autocephalous Church of Cyprus for stolen art, offering to help buy back three mosaics and 44 frescoes and asking for protection for himself and his family as well as a license to operate a casino in Cyprus (his decision to assist the Cypriots effectively ended his career as an art dealer). Georgiou-Hadjitofi receives approval from the church and the attorney general of the Republic of Cyprus to proceed and raises the equivalent of about $500,000 from the Cypriot church to fund the operation.

September 5, 1997. Van Rijn brings the St. Thaddeus mosaic from Kanakariá to the Cypriot Consulate in Hague and is paid a first installment.
| | |
| --- | --- |
| | St. Thaddeus mosaic (Courtesy Permanent Mission of Cyprus to the United Nations) [LARGER IMAGE] |

September 6, 1997. Van Rijn goes to Munich and buys 25 frescoes from Dikman via intermediaries using $75,000 of his own money. Returning to The Hague in a chartered business jet, he meets with Georgiou-Hadjitofi and Papageorgiou at a bank, where Papageorgiou identifies the frescoes as from the Church of Christ Antiphonitis near village of Kalogrea in northern Cyprus. Built in the twelfth century as a monastic church, it was decorated in the fifteenth century with frescoes of the Tree of Jesse (a pictorial genealogy of the descendants of Jesse) and the Last Judgment. In 1976, an English reporter informed the church that the frescoes had been removed, and this was confirmed by an Anglican priest who visited Antiphonitis in 1979. That same year a diplomat brought to Cypriot authorities pieces of cloth from the church to which fresco fragments adhered, evidence of the failed removal of some of the paintings. (In a separate case, the Cypriot church has begun a legal battle in the Netherlands to recover four sixteenth-century icons from Antiphonitis.) Van Rijn receives $168,000, of which $98,000 are expenses.

| | | | | |
| --- | --- | --- | --- | --- |
| | | Above, fifteenth-century frescoes from Antiphonitis being inventoried after their recovery in 1997. They depict the Last Judgment, left, and Tree of Jesse, right. (Click on images for larger versions.) (Courtesy Permanent Mission of Cyprus to the United Nations) | | |

September 7, 1997. Van Rijn drives back to Munich and arranges to purchase seven larger frescoes for $49,000.

October 1997. Having recovered 32 frescoes and one mosaic, valued at $25 million, Georgiou-Hadjitofi decides to move on Dikman. Van Rijn and his intermediaries are granted immunity in the Netherlands, Cyprus, and Germany, and a sting is set up.

October 9-19, 1997. Georgiou-Hadjitofi, Van Rijn, and two Interpol officers travel to Munich on October 9. Local authorities working with them include art investigators of the Bavarian Criminal Office in Munich. At about 6:00 p.m. the following day, during an exchange of money for Cypriot artworks between Dikman and Van Rijn's intermediaries, the police strike, raiding two apartments and recovering 14 cases and packages in which were icons, two Antiphonitis frescoes, and the mosaic of St. Thomas from Kanakariá. A warrant is issued for Dikman's arrest, and he is taken into custody. During a second sweep, police find 20 more boxes and cases with icons, additional Antiphonitis frescoes, early Bibles, ancient pottery, statues, and coins in the basement of Dikman's residence, as well as $16,000 and 200,000 guilders ($100,000) in his apartment.
Among the documents, police find photographs of four fresco fragments from the Ayios Solomonis church. The actual fragments are not recovered, and are presumed to have been already sold. Near the village of Komi Tou Yalou in northern Cyprus, the church was built in the seventh or eighth century. Its ninth-century fresco of the Resurrection of Christ was preserved until 1984, when a foreign visitor informed the Department of Antiquities that paintings had been taken. The department later confirmed that the figure of an angel had been removed from the fresco.
Icons seized in Munich (Click on images for larger versions.)
(Courtesy Permanent Mission of Cyprus to the United Nations)

October 29, 1997. Cyprus begins extradition proceedings against Dikman.

November 8, 1997. "The Lost Treasures of Cyprus" exhibition opens at Haags Gemeentmuseum with 32 frescoes from Antiphonitis and the Kanakariá mosaic of St. Thaddeus.

November 26, 1997. Police learn from Dikman's documents of a third apartment rented by him under a false name. In the cellar they find an additional 30 to 40 crates with 130 icons, 25 frescoes, two mosaics, other artifacts, and an unauthenticated Picasso.
| | |
| --- | --- |
| | His Beatitude Chrysostomos I, center, Minister of Education Hadjinicolaou, and Michel and Frederique van Rijn view newly returned frescoes and mosaics at the Archiespiscopal Palace in December 1997. [LARGER IMAGE] |

December 22, 1997. The 32 Antiphonitis frescoes and the Kanakariá mosaic recovered by Georgiou-Hadjitofi and temporarily exhibited in The Hague return to Cyprus.

February 11, 1998. Police seize nine Byzantine icons from the Munich home of Greek dealer Seraphim Dritsoula. The icons, apparently from more than one church, had been purchased from Dikman.
ARCHAEOLOGY will follow the ongoing efforts of the Republic of Cyprus and the Autocephalous Church of Cyprus to recover antiquities and church treasures. It is clear from statements by Cypriot officials that the story is far from finished. According to Papageorgiou, Dikman collected "upon orders from people from Holland, the United States, Greece, and other countries with more knowledge than him." In the catalog accompanying The Hague exhibition, Georgiou-Hadjitofi wrote, "There are more dealers than [Van Rijn] who have touched our heritage. Some have provided limited information, some have kept quiet. What is clear is that we now have records and information about the initial deals that went on. For the record, the Dutch art dealer volunteered to co-operate for his own motives. Whatever they are, however, we still believe he has more information to offer. We will finish this jigsaw [puzzle] and there will be no more hiding behind a veil of indifference and half truths."
| | |
| --- | --- |
| | Negotiations are underway to recover the royal doors from the Peristerona church, now at the Kanazawa College of Art, Kanazawa, Japan. (Courtesy Permanent Mission of Cyprus to the United Nations) [LARGER IMAGE] |
Today, Michel Van Rijn, who has received death threats as a result of his cooperation with authorities, is now under the protection of Scotland Yard.
Mark Rose is the Managing Editor of ARCHAEOLOGY.
This report was compiled from a variety of sources including A. Papageorgiou and T. Georgiou-Hadjitofi, eds., The Stolen Treasures of Cyprus (catalog of the October 25-December 22, 1977, exhibition in The Hague); P. Watson, "Crooked art dealer...," The Observer, October 19, 1997, p. 14; M. Yasin, "Perishing Cyprus," published in four installments of the Turkish Cypriot weekly magazine Olay beginning on April 26, 1982; press releases from the Cyprus News Agency; accounts in The Cyprus Weekly and Cyprus Mail; and documents from the 1989 case in U.S. District Court in Indianapolis, Autocephalous Greek-Orthodox Church of Cyprus and the Republic of Cyprus v. Goldberg & Feldman Fine Arts, Inc., and Peg Goldberg.


© 1998 by the Archaeological Institute of America
archive.archaeology.org/online/features/cyprus/
Share