Base Camp
"Beneath the Black Sea"
Summer 2000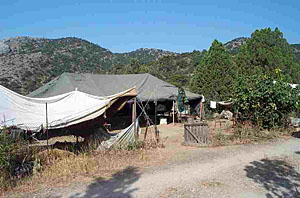 Our camp in Novy Svet is based up in the hills in a Ukrainian military installation.
My hosts in Kyiv had told me that the archaeological camp was in an old military base in Novy Svet. Considering how small the town was--and how few scuba divers there are in Crimea--I expected no problems in simply arriving in Novy Svet and making a few inquiries: "Where are the underwater archaeologists?"
The towering Mt. Sokol (Hawk) separates Sudak and Novy Svet, and my taxi driver took the hairpin turns like a Ukrainian Andretti, nearly taking out two backpackers, one tour bus, and three children in the process. When we arrived in the center of Novy Svet, he asked where we were going. "Archaeological camp. I don't know the address," I added sheepishly. So much for the swagger.
We started making the rounds of all the beer sellers, apartment vendors, and cigarette hawkers. Nobody had any idea that there were any archaeologists around. After heading down to the expedition's diving base on the shore and seeing no one, I paid my driver, settled down against my sack in the shade, and pulled out a dog-eared copy of the New Yorker that I had picked up at JFK. Someone would find me, I reasoned. Hell, compared to all of the scantily clad vacationers running around with boomboxes and dobermans, this pasty-faced American girl stuck out like a sore thumb.



View from camp toward Novy Svet Bay. Projecting out into the sea, to the right of Mt. Sokol (Hawk) and the trees, is Mis (Cape) Meganom, where two Italian ships wrecked in a storm on October 8, 1431.
Over three hours had passed and I had just begun reading a cerebral--yet enthusiastic--review of the new X-Men movie when a shadow fell across the pages. I looked up to see Sergei Bogdan, a member of Zelenko's team whom I worked with in 1997. "Kristina! Welcome!" We grabbed my bags and headed off to camp. It was then that I understood why nobody knew where the archaeologists lived. We passed through crowds of families heading towards the beach, past worn Brezhnev-era apartment complexes, up away from the sea through juniper scrub and throngs of excited dogs. It was 7 o'clock and the sun was still blazing when we arrived at camp--a military station high up in the hills. No wonder nobody knew where the archaeologists lived--we were on the edge of nowhere. But it was, at least, a magnificent view. [Next...]
Intro | Email Kristin | Map


© 2000 by the Archaeological Institute of America
archive.archaeology.org/online/features/crimea/camp.html
Share