Crimea: Present & Past
A crossroads of culture and trade for millennia, and once known as the "Soviet Riviera," Crimea is now an autonomous republic within Ukraine.
Adventures in Crimea: An ongoing chronicle
Return to Novy Svet
A village west of the Genoese fortress of Sudak, Novy Svet is where my team dived in 1997 on a thirteenth-century wreck in the harbor, which is flanked by twin peaks named Eagle and Hawk.
Base Camp
I expected no problems in simply arriving at Novy Svet and making a few inquiries: "Where are the underwater archaeologists?" Nobody had any idea....
First Dive
A dish of boiled buckwheat and a day of briefings and catching up with colleagues, then a dive on the Novy Svet shipwreck.
Search for the Venetian Wrecks
We begin our hunt for two Venetian ships that sank off nearby Mis (Cape) Meganom in 1431.
Connecting in Crimea
Once I connected to the server, I had to immediately cross the two wires, or I would be disconnected. I removed the phone, set up the laptop and crossed my fingers. Loscha watched me with amusement. "This is terribly James Bond-ish, yes?" he joked.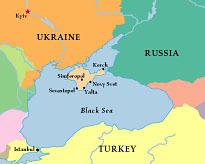 Following the Fishermen's Lead
We divert our attention from Meganom for a couple of days to follow up on fishermen's reports of old ceramics found in a bay west of Novy Svet.
Greek Colonists and Russian Sailors
My trip to Sevastopol would have been impossible only five years ago. As the base for the Soviet Black Sea fleet, Sevastopol was off-limits to all foreigners and most non-resident citizens, and the "closed city" was not opened to outsiders until 1996, when Russia and Ukraine finally reached an agreement that allowed Russia to maintain its fleet in the city's harbors.
Zelenko's Mountain Divers
I returned to Novy Svet to discover a new glitch in our plans. The owner of our boat was unexpectedly called back to Kiev, taking the boat with him.