Corinth Antiquities Returned
February 6, 2001
by Nikos Axarlis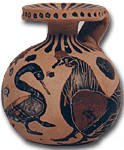 A Corinthian aryballos showing a swan between two roosters (Ministry of Culture, Hellenic Republic of Greece) [LARGER IMAGE]
At a press conference in Athens on January 22, Greek Minister of Culture Evangelos Venizelos announced the repatriation from the United States of 274 artifacts stolen from the Corinth Archaeological Museum on the night of April 12, 1990. While there are still 11 pieces missing, U.S. Ambassador Nicholas Burns stated that the FBI continues to investigate and hopes to recover the remaining antiquities. (Additional comments by Ambassador Burns can be found at www.usisathens.gr.)
Greek police say that the antiquities, 285 in total, were smuggled into the U.S. by the Karahalios gang, which is also accused of carrying out the robbery, beating the museum's night guard, Theophanis Kakouris, and stealing the payroll, about $3,000. Apparently the gang consisted of Tryfonas Karahalios, now 77, his two sons, Tryfonas, 36, and Anastasios, 44, plus Ioannis Loris, 37, all Greek nationals. On January 28, 2000, Greek police announced the arrest of Anastasios Karahalios and Ioannis Loris who are currently on trial, along with Thaleia Karahalios (Anastasios' mother). The two others, believed to be in South America, are being tried in absentia. Police found a number of antiquities (not from the Corinth Archaeological Museum), guns, and drugs in Anastasios' home.
| | |
| --- | --- |
| | An Attic lekythos showing a winged Nike in front of an altar (Ministry of Culture, Hellenic Republic of Greece) [LARGER IMAGE] |
In 1993, the Corinth antiquities were stored at times in the Miami, Florida, house of Wilma Sabala, a friend of Tryfonas Karahalios, Jr. In 1997, Sabala gave to Christie's in New York items stolen from the Corinth Archaeological Museum to be sold at auction. In December of that year and March 1998, Christie's sold five pieces for a total of $17,800. Three pieces were bought by Royal-Athena Galleries, the New York antiquities trading firm of Jerome Eisenberg, and the others by collectors. Eisenberg put the antiquities bought at Christie's on sale, publishing one of them in his firm's catalogue. Soon after he was contacted by Professor Thomas Mannack of Oxford University in Britain who told Eisenberg that that vase stolen from the Corinth Museum. Eisenberg contacted the FBI and the antiquities were eventually handed over to them.
The theft was widely publicized (see, for example, "The Looting of Corinth A.D. 1990," ARCHAEOLOGY July/August 1990, p. 22). Immediately following the Corinth Archaeological Museum break-in, the Greek Archaeological Service circulated photographs of the stolen items internationally. Many photographs of stolen Corinth antiquities (though not of those sold by Christie's) were printed by Eisenberg in the September 1990 issue of the magazine Minerva, which he edits and publishes. A photograph of a least one vessel purchased by Eisenberg appears to have been published in a special 1990 issue of IFARreports (volume 11, number 6) devoted to the Corinth theft.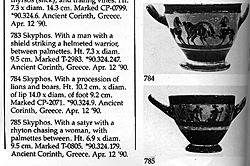 A 1990 issue of IFARreports devoted to the Corinth theft included a photograph of a skyphos designated no. 784, apparently one of those that appeared on the New York art market. [LARGER IMAGE]
On September 7, 1999, FBI agents working in collaboration with Greek police officials recovered approximately 265 of the Corinth antiquities sealed in 12 plastic boxes within crates of fresh fish in a Miami storage facility (see "Corinth Loot Found Under Fresh Fish," November/December 1999). The objects, taken to New York and kept by the FBI during the investigtaion, were identified by Zoe Aslamatzidou, director of the Corinth Archaeological Museum, on September 13, 1999. Wilma Sabala, arrested by the FBI on June 9, 2000, was sentenced in New York to one-year's imprisonment after pleading guilty to interstate transportation of stolen property.
The FBI was led to the artifacts by Christos Mavrikis, who had received information from the Karahalios gang. Mavrikis has been convicted and imprisoned for carrying out in the early 1980s illegal phone tappings on behalf of ex-Prime Minister Konstantinos Mitsotakis, who donated his huge collection of ancient Greek and Minoan antiquities to the Greek State after questions were raised about the origins of pieces in it. (For more on the Mavrikis-Mitsotakis connection see "Greek Antiquities Ring Broken Up," February 1, 2000.) At the Athens press conference, Mavrikis complained to the Minister of Culture for not thanking him for his part in recovering the Corinth antiquities. Mavrikis told ARCHAEOLOGY that he has filed a claim for a reward the Ministry of Culture had offered, which could be as high as $370,000. The Minister of Culture confirmed that a reward would be given, although he refused to acknowledge Mavrikis.
| | |
| --- | --- |
| A marble head of a woman, part of a relief dated to the Hellenistic era (320-30 B.C.) (Ministry of Culture, Hellenic Republic of Greece) [LARGER IMAGE] | |
Although the objects, which date from the Protogeometric to the Roman periods, are valued at over $2 million, their true worth is that they come from an excavation and have known findspots, making them irreplaceable evidence of the city's past and important examples for comparison with other artifacts. An inventory of them, posted on the website of Greece's Ministry of Culture (www.culture.gr), includes 271 objects: 15 marble sculptures (mostly Roman, such as a portrait of Julius Caesar, but also a head of a kouros), 2 bronze items, 6 terra-cotta sculptures (Archaic through fourth century B.C.), 50 terra-cotta figurines and reliefs (Archaic-Roman), 40 black-figured Attic vases (mostly lekythoi), 9 red-figured vases (mostly lekythoi), 25 black-glazed and black-figured vases (mostly lekythoi), 85 Corinthian vases (of a wide range of shapes), 11 Roman-Byzantine glass objects (mostly unguentaria), and 28 miscellaneous artifacts from Protogeometric pins and spindle whorls to Byzantine jewelry.
Nikos Axarlis is an Athens correspondent for ARCHAEOLOGY.
UPDATE
February 12, 2001: Karahalios Convicted
On January 29, 2001, Anastasios Karahalios was sentenced to life imprisonment after being found guilty of organizing and carrying out the robbery of the Corinth Archaeological Museum in 1990. (Karahalios has appealed the sentence.) It is the severest sentence ever meted out for an archaeologically related crime in Greece.
Two others being tried, Ioannis Loris and Thaleia Karahalios (Anastasios' mother), were acquitted, the court deeming the evidence against them to be insufficient. Loris, however, will stand trial on other charges in the next few months.


© 2001 by the Archaeological Institute of America
archive.archaeology.org/online/features/corinth/
Share