Reverend Doctor James Durham West
"Tales from a Civil War Prison"
August 30, 1999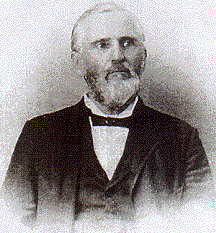 Reverend Doctor James Durham West
(Courtesy James Durham West II)
No Words
My great grandfather, Reverend Doctor James Durham West, as is not uncommon with soldiers having seen combat, was extremely reticent about his Confederate army service. In later life he devoted himself almost entirely to his ministerial duties.

James Durham West II, Springfield, MO
A Good Fighter and a Good Loser
The Reverend Doctor James Durham West joined the army in 1861. He was granted just an hour's leave to marry Mary Waddel, whose father was the Principal Chaplain of the Confederate States Armies. He returned to the army, but soon contracted typhoid fever and was discharged until spring. He re-enlisted in 1862 and brought his books with him--he was studying for the ministry. In 1864, he was captured and sent to Johnson's Island, where he was imprisoned until the following year, when the war ended and West signed an oath of allegiance to the Union.
Elizabeth West said her father,
passed his boyhood in pioneer conditions which went far toward developing in him the courage, the cleanness of life and thought, the stern almost acetic moral standards, the deep religious feeling the breadth of personal and social sympathy, the straight, independent, keenly logical habits of thought which always characterized him. He learned in the pioneer boy's inevitable conflict with nature--and with his schoolfellows--to be a good fighter and a good loser.
She also said of him,
It was characteristic of the man that when he did take the oath of allegiance to the United States Government, he did so without mental reservation and with a full determination to be a thoroughly good American. It was also characteristic of him that he always held in reverence the great men of both sides. It was as serious an offense in the West household to speak disrespectfully of Abraham Lincoln as to speak disrespectfully of Jefferson Davis.

It was hard to get him to talk about his war experiences, because he felt so keenly his obligation as a loyal American to forget the bitterness of the past, and he felt that dwelling overmuch on the War would tend to keep up feelings inconsistent with loyalty. It was of course, however, impossible to forget altogether. For instance, I recall that one day in the course of the Spanish-American War he said as we walked past the City Hall of Bryan, Texas, "It looks strange to me to see the United States flag flying yonder. I love my country, but I can never look at the flag without remembering how it looked crawling like a snake up Missionary Ridge." I think that the World War [I], however, blotted out even that memory; for, like many other old Confederates, he felt the deepest pride in the way our boys carried the flag on the battlefields of France.
The Capture
The following manuscript was found among Reverend West's papers after his death in 1921.
I was captured at Cheatham's Bend near Marietta, Georgia, [in the battle of Kennesaw Mountain] on the 27th day of June, 1864. I was Second Lieutenant and had charge of an outpost with a squad of four, and we had orders to hold that post at all hazards.

When the Yankees got ready to charge, they began to shell our lines and this post. I told my men to fire on the gunners. They fired on us and missed us on one side about a foot and then on the other side about a foot. About this time First Lieutenant Logan Anderson of my company came along and said to me, "Look here, Lieutenant, you had better get out of here," and I said, "Have we got orders to retreat?" He said he didn't know. I said, "Lieutenant, you rank me; you take charge of the post and I will go back to the line and find out." I ran back to the line, and when I found out, I started to run back to the post; as I started, an Irish officer said to me, "Where are you going? Where are you going?" I didn't have time to stop and tell him, so I ran on, and ran right into a squad of blue-clothed Yankees with their rifles turned on me; and they called me to surrender. The major, who was behind a tree, called to me and turned his pistol on me and told me to surrender; I said, "I surrender" and handed him my sword.

They ordered me to the rear of the line, and when I had gone a little way, Lieutenant Logan Anderson jumped out from behind a bush and asked me, "West, [have] they got you, too? I am so glad. Not glad you are captured, but glad you are going to be here with me." They took us back to the rear of the lines with some other men. One of these was Stit Matthews. We were standing around in a group talking with some Yankees, when one Yankee came up and made himself very, very agreeable, talking about things (especially about what good fighters we were); and finally he got to talking about the Confederate lines as they were established that day when we were captured. He asked Stit Matthews about these lines and said he couldn't understand them; and Stit Andrews squatted down on the ground and started to draw the lines. I said to him, "Stit, enemy lines are discovered by armed reconnaissance." With that Stit dropped his stick and looked kind of blank. Then the little Yankee officer got very angry and said that I was the smartest man he ever saw; and that certainly I should be mentioned to General Sherman, because it ought to be known that there was such a smart man among the prisoners. They took us to Johnson's Island, Lake Erie, where I stayed until the end of the war. After the surrender of Lee's and Johnson's army I was paroled. I studied about it some time before I made up my mind to be paroled and take the oath; but I considered that it was better to take the oath and live in the United States, the only country that I knew, where all my life had been spent and my wife and family were, than to go to some foreign country. So I took the oath and returned home to Mississippi.


© 1999 by the Archaeological Institute of America
archive.archaeology.org/online/features/civil/words/west.html
Share