Captain Elisha Miller Robinson
"Tales from a Civil War Prison"
August 30, 1999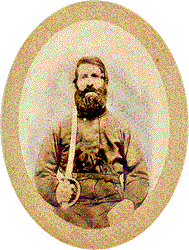 Captain Robinson (Couresty William B. Gresham, Jr.)
The Stories They Told
I descend from Elisha Miller Robinson (3rd Confederate Cavalry) who was imprisoned at Johnson's Island after his capture in Tennessee. He was from an Alabama village known as Arkadelphia. I grew up with stories of his "sufferings" in that POW camp.
Captain Robinson was a yeoman farmer, farming about 500 acres with his sons in what was then Blount County, Alabama, at the beginning of the war. The area where he lived was known as a hotbed of Union sympathizers, but the state of Alabama was able to raise his unit from the surrounding countryside. He joined the army on December 25, 1861, for a period of one year at the age of 37, leaving his 16-year-old son to care for his wife and younger children. Records indicate that he brought a horse valued at $130.00 when he enlisted (as a 1st Corporal). On May 6, 1862, he is listed as a 2nd Lieutenant in Captain McCaskill's Cavalry, which was incorporated into General Joe Wheeler's Cavalry in Tennessee. He was apparently promoted to Captain when McCaskill moved up, but those records are lost.
Around May 22, 1863, he was at a place recorded as Middleton, Tennessee, supposed to be half-way between Murphreesboro and Shelbyville, recovering from a sickness of some sort. Union records state that a Major General D.S. Stanley found that there were a number of Confederates at this place "enjoying a life and not keeping their guard posts too well." They swept in that day with a force of about 2,000 cavalry and took it with little fight. The prisoners, including Robinson, were transferred as follows:
First back to Murphreesboro, then To Nashville (arriving the next day), then To a POW camp in Louisville, KY (May 26), then To Ft. Delaware (May 28), then To Johnson's Island arriving on July 20.
He was there until close to the end of the war, though he appears on a parole list dated 24 Feb. 1865 (name crossed off).
On 9 May, 1863, 13 days before his capture, his youngest son, my great grandfather, Dr. Elisha Miller Robinson, Jr., was born. Captain Miller had no knowledge of this addition to his family until he arrived home. My great grandfather used to tell my father that Captain Robinson and the other Southerners suffered terribly. They were always cold and damp during the winter, being issued only threadbare blankets. I imagine that life on the Great Lakes would have been tough for a Southerner during even the best of circumstances. He also mentioned constant hunger...which they had a hard time understanding because they knew that provisions were plentiful in the North!
He appears on a parole list dated May 14, 1865, was transferred to Point Lookout, Maryland and then to Cox's Wharf on the James River, where the actual exchange took place. He walked home with an unnamed friend he met in prison, working odd jobs to purchase food along the way. Most of his travels at this time were up and down the east coast on steamers, until he was finally able to reach Mobile, Alabama, and walked north to his home near the village of Arkadelphia.
My aunts and cousins don't seem to remember much more. Unfortunately, any papers that may have existed were probably destroyed when my great great grandfather's home was burned in the late 1800s. His wife's loom is now in Ohio, which I find kind of amusing, considering his history in that state!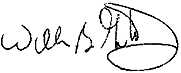 Dr. William B. Gresham, Jr., Birmingham, AL


© 1999 by the Archaeological Institute of America
archive.archaeology.org/online/features/civil/words/robinson.html
Share