Captain Charles Norvell
"Tales from a Civil War Prison"
August 30, 1999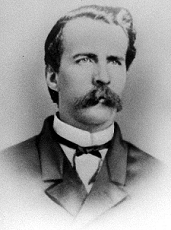 Captain Charles Norvell
(Courtesy Edward P. Norvell)
They Ate Rats and Horses
My great grandfather, Captain Charles Norvell of Lynchburg, Virginia, was a prisoner at Johnson's Island during the Civil War. Charles Norvell studied law at the University of Virginia and was an attorney, living most of his life in Lynchburg. He joined the 2nd Virginia Cavalry, serving under Charles Blackford as a private, was later appointed captain and served under General Stuart, taken prisoner at the second battle of Winchester, imprisoned first at Fort Delaware then at Johnson's Island for a period of two years. He was exchanged a short time before Lee surrendered at Appomatox. When he was exchanged he and several other prisoners were sent to Baltimore by train. My father recalls his grandmother telling him to eat everything on his plate because his grandfather had to eat horses and rats at Johnson's Island Prison. I have heard about it all my life. There is no mention in my great great grandmother's diary of my great grandfather being kept at Johnson's Island Prison, but there is a clear reference to George Bethell, my great grandmother's uncle, being taken to Johnson's Island. Given the garbling of history and remembrance, I would say my father may have heard his grandmother say her uncle ate horses and rats at Johnson's Island.


Edward P. Norvell, Salisbury, NC
A Mother Prays
From the diary of Mary Mildred Jeffries Bethell. The original of this diary is in the Southern Historical Collection, Hill Library, University of North Carolina-Chapel Hill.
July 29, 1863
There has been a battle at Gettysburg, Pennsylvania, great many killed on our side...my dear son George (Bethell) was taken prisoner. I thank my Saviour that he is no worse, I pray that God may save his life and grant that this trial may be the means of making him a Christian....
September 16, 1863
We have heard that our dear George was taken prisoner and carried to Johnson's Island, which is in Lake Erie on the state of Ohio. I thank the Lord 'tis no worse. I hope the Lord will watch over him, bless him and bring him back to his home and parents. We heard that our daughter and her husband Mr. Williamson were taken prisoner, (in Arkansas near Memphis, Tennessee) but we will still look to God and beg him to save them....
October 7, 1863
We have received a letter from our dear George, he is at Johnson's Island, he wrote that he was getting well. I do thank the Lord for taking care of George. No tidings from my dear Mary Virginia and Willie. I beg the Lord to bring me a letter from them very soon.
September 17, 1863
I have just received a letter from my dear George, he was well and doing well. I also heard from Mary Virginia and Willie, they were both well, she has another daughter. Oh! how thankful and happy I feel, what shall I render unto the Lord for all his benefits, to hear such good news from my children who are far away.
April 6, 1863
My dear George returned home safe two weeks ago, he is in fine health, this is another evidence of the goodness of God. I will praise him. I now consecrate myself to him, I am his, and he is mine, I want to do his will as it is done in heaven. I want to be a submissive child, and when I'm called to suffer to be patient, and resigned, my soul is happy, praise ye the Lord!
January 18, 1864
Since I last wrote in my diary what a comfortable time I have had. Mary Virginia and Willie have arrived safe home from Arkansas, also her three children, Dora, Willie and Mollie....
Baskets of Delicacies
Charles Norvell's son, on April 26, 1910, sent the following sketch of his father's Civil War days:
Charles Norvell joined the 2nd. Virginia Cavalry, as private, Capt. Charles Blackford Commanding, was later appointed Captain and served under General Stuart; taken prisoner at the second battle of Winchester, imprisoned at Fort Delaware and Johnson's Island for two years; exchanged a short while before the surrender of General Lee, at Appomattox. An amusing incident at the time of the exchange of prisoners is here related. Captain Norvell, with a dozen fellow prisoners from Johnson's Island left the train at the station in the northern part of the City of Baltimore, and, under guard, were marched down Charles Street, Baltimore, to the southern end of the City and placed in the guardhouse over night. The ladies, on the line of march, quickly recognized what was left of the stripes of the Confederate officers, and immediately sent down baskets of all kinds of delicacies, including a bountiful supply of champagne, with request that the Confederates be properly feasted. The Union officers, however, promptly confiscated the champagne for their own use, but were magnanimous enough to divide the spoils.


© 1999 by the Archaeological Institute of America
archive.archaeology.org/online/features/civil/words/hardy.html
Share