Lieutenant William B. Hardy, Private John Hardy, and Private Andrew Hardy
"Tales from a Civil War Prison"
August 30, 1999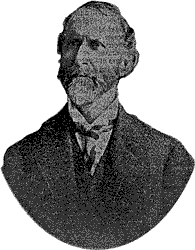 Lieutenant William B. Hardy, "Uncle Ben" (Couresty John W. Hardy)
War Stories
My great grandfather and his three brothers lived in Middlesex County, Virginia, at the time of the Civil War. Three of the brothers served in Middlesex Artillery and later Kirkpatrick's Artillery. These two units fought in nearly all of the major battles of the Army of Northern Virginia.
Three brothers were in the same unit, John (my great grandfather), Andrew, and William B. Hardy. My father, Carlton W. Hardy, is 101 years old and he will have lived in three centuries. As a boy about 1910 he remembers sitting with a group of Confederate veterans and listening to their stories about battles in the Civil War. I wish he had remembered more but he describes to me how his grandfather imitated the sound of minié balls as they zipped through the air in battle. He tells a story of his grandfather's quest for shoes. On the battlefield at Cold Harbor, John, shoeless, found a dead Union soldier about his size. John said he tried to pull the boots from the Union soldier and in doing so, a sound came from the throat of the soldier which scared him so he gave up his search and ran back to safety. Uncle Andrew told of the time on his march to Gettysburg he begged some food of a Pennsylvania lady who scolded him for being in Pennsylvania and his answer was he was there to "protect his rights." After that argument, the good lady gave him two eggs.
The brothers John and Andrew were enlisted men and they were captured in Winchester, Virginia, in 1864. They were imprisoned in the Union prison camp in the Delaware. When discharged, they were given passage on a steamer from Baltimore to Norfolk. The steamer was crowded with Confederate prisoners returning home. Andrew was able to purchase a few loaves of bread which he shared with his brother and comrades.
There is a diary account about John and Andrew in the Wilderness in the winter of 1863 on Christmas Eve. The diarist reported that the weather was miserable, cold, rainy, sleety, and freezing. He said that John and Andrew had sneaked out of camp and found some "applejack," which they consumed to give them some warmth and dull some of the misery of their condition. When told about this event years later, John's daughter declared, "Daddy would never have done a thing like that!" But he did, and could hardly be blamed for it, miserable as he must have been at that late time in the war and at Christmas far from home.
The third brother, William B., was known as "Uncle Ben" to members of our family after the Civil War. He left Virginia in 1868 and moved to California and did not return. My father relates the pleasure in his family when a letter from "Uncle Ben" was received. A great deal of information has been discovered about this man, and it is clear he was a very intelligent, interesting, even charismatic person.
Uncle Ben matriculated at the Virginia Military Institute August 4, 1859, at the age of 19 years showing his county of residence as Middlesex. His father is listed as John Hardy of Harmony Village, Virginia. He was in the class of 1863 and during the two years he was a student at VMI he made excellent academic records. When a call was made for volunteers in the Confederate army, he left VMI in 1861 immediately becoming a lieutenant in the 55th Virginia. He was elected Second Lieutenant by Company B of the 55th Virginia and was commissioned November 23, 1861.
At Cedar Mountain the Middlesex Artillery was one of only two batteries from Hill's Division that managed to force their way to the front through a jam of wagons and ambulances. It was posted in advance of the middle of the Confederate line and held its position for about an hour against enemy attack, before being withdrawn. An hour or two later it took part in the final advance of the Confederate army. The battalion commander, Lieutenant Colonel Walker, reported:
Captain Pegram and Lieutenant Hardy inflicted great loss on the enemy, and their conduct with that of the men under their command cannot be too highly commended.
The commander of the Second Corp Artillery and General A.P. Hill also appraised Hardy in their reports.
On August 24, 1862, Fleet's battery, under Hardy, and three other batteries of A.P. Hill's Division, were deployed to protect a bridge that had been constructed near Warrenton Springs the day before (the Waterloo Bridge). At 10:00 AM they had a ten minute duel with federal batteries but thereafter reserved their fire for the enemy's infantry, which made several unsuccessful attempts to seize the bridge from 10:00 AM to 6:00 PM but reported only light casualties.
Captured in May, 1865, the family story is Uncle Ben was napping on the back porch of his home, which at that time was on the Rappahannock River, and he was awakened at gun point by the Union Cavalry of then Lieutenant Custer, which took him prisoner. Before he was taken into custody, his sisters, it is said, gave him several gold coins which he might use when needed, Confederate currency being of no value in the north. Lieutenant Hardy was taken ultimately to Johnson's Island. While there, he became very ill and nearly died and his life was probably saved by the attention of his messmates in the prison.
William B. Hardy became City Attorney for the City of San Jose, California, and held that position for about nine years. He practiced law in San Jose until shortly before his death in 1913. In 1994, my wife and I traveled to San Francisco and took the occasion to drive to San Jose to find what information was available about my Uncle Ben. There is not evidence of his office nor was there time to search the records at the Courthouse for any litigation in which he was involved. However, we drove to Oak HIll Cemetery, which is a very well-kept public cemetery in San Jose, and there from the records found Uncle Ben's grave. On the stone is the very simple inscription William B. Hardy under which is A Virginian. At this graveside, the loving Elizabeth Hardy must have sat, as she writes in her letter, many times, reflecting on her beloved husband.


John W. Hardy, Greensboro, NC
The Enemy Comes to Dinner
The Virginia Military Institute (VMI) has in its archives files on most of its graduates who served in the Civil War. There is a lot of information in the file relating to W.B. Hardy. In the file are several letters written by people who knew him, including his wife, Elizabeth, and his brother, John. In one of Elizabeth's letters, dated March 30, 1918, she reveals her deep respect for Major Hardy and also reveals the grace and style of her dignified language sadly lost in our generation. In describing her husband and their relationship, she writes:
I confess myself a mental and moral coward to have deferred so long a matter that he, in like circumstances, would have attended to at once, no matter at what cost to his personal feelings. I tried many times (to write to VMI), but each time gave out in despair, overcome with anguish. Finally, I steeled myself to the act and wrote to General Nichols. When I tell you that I have never failed each week, unless ill, to go to beautiful Oak Grove Cemetery where he lies and place fresh flowers over him, and often to spend hours sitting near him, you will understand that it was no intentional neglect. I simply left undone things I ought to have done. I should have been the last one to fail to acknowledge and attest to his merit and worth. For through all the world's clamor, he prized first my praise, and continued to give me always the devotion of his youth. To the world at large, he was most genial, most friendly. One to whom people seemed to turn naturally for advice and sympathy. He always found time to have a few cordial words with the people he met on his way to and from his office, the children expected the usual caress, even the dogs wagged their tails in welcome. He was everybody's friend. That he held no especially high office in his profession was due not to any lack of ability to perform his duties of the office, but rather that being an old line democrat and in principal, conservative, though he was most liberal in politics in fact and being in a community overwhelmingly republican, he hesitated when importuned by others to aspire to those honors....
In this lengthy letter to VMI, Elizabeth Hardy relates her view of her husband's military career. She speaks of his capture and imprisonment at Johnson's Island and relates a marvelous coincidence:
I knew he had been captured, but did not know the circumstances until one day he came in in great glee, bringing with him an ex-Union soldier whom he introduced as Mr. George Middleton, the man who was responsible for his visit to Johnson's Island. I told him laughingly that I was glad he did not keep his prisoner as I would have missed all the joy of my life. He told merrily of his capture, who with a detail of four men commanded by Lieutenant Custer, afterwards General Custer, he had surprised the Confederate who was lying on the porch reading Shakespeare, too much interested in the well known soliloquy "to be or not to be'"to be aware of its approach until told he was a prisoner. He coolly replied, "I suffer so." His home, where he happened to be was near the Rappahannock shore but too shallow to admit of the landing of a small boat, so it was to wade. He told with such merriment how his Confederate prisoner had to be carried on the shoulders of the Union soldiers to prevent his beautiful new boots from being ruined. Mr. Middleton was at that time Private George Middleton, Company E, Third Regiment, Indiana Cavalry, but now of 1611 Milan Avenue, South Pasadena, California, where he has a beautiful home. It was in 1910 that Mr. Middleton, having just finished a tour of the world with a charming new wife, and by the way, a southerner, was motoring from San Francisco to Pasadena and passing through San Jose, by chance the name Hardy caught his eye on a window. He had an idea--upstairs he went and entering Mr. Hardy's office he propounded to him in rapid succession amazingly personal questions about his capture.
A Messmate Remembers
In the file of W.B. Hardy at VMI is this comment by Colonel William S. Christian, who wrote to the VMI directory on December 2, 1909, as follows:
Lieutenant W.B. Hardy was a most excellent and accomplished officer. He was elected first lieutenant of Fleet's Battery while he was a private in my company (Company C, 55th Virginia Infantry). He had the qualities to make a distinguished soldier, but unfortunately about the time of the second Manassas battle, Captain Fleet did something to displease General Stonewall Jackson (allowed a caisson to explode or something of the sort), while Jackson was making a secret move. For this act of supposed carelessness on the part of Captain Fleet, General Jackson disbanded this company and distributed the men in Johnson's artillery and Kirkpatrick's batteries. The officers were put in detached service. Hardy was made conscript officer and while at home in Middlesex County in May 1863 was captured by some of Custer's men, and I found him with E.P.Q. Jones at the Old Capital Prison when I was captured, and I went there in July of 1863. He was sent to Johnson's Island with me and was in my mess hut. He was a most excellent and intelligent man and I his friend always regretted that his life as a soldier was cut so short. He remained on Johnson's Island nearly a year after I got from that terrible place. I have understood he is a lawyer in California.
R.H. Archer, who was at Johnson's Island as either a prisoner or a guard, wrote of Colonel Christian,
Heroic officer of the 55th Virginia Infantry. He was a prisoner at Johnson's Island after having been captured at Falling Waters July 15, 1863, following the battle of Gettysburg. He was exchanged March 3, 1864, and resigned from military service of the Confederate states in March 1865, on account of wounds in the thigh.

On February 28, 1865, he was cited for service as a physician to prisoners at Johnson's Island, Ohio. Before his military service he had been a physician. He took over the hospital at Johnson's Island. On account of his energy and administrative talent, he deserves gratitude of officers who were imprisoned there.
Perhaps it was Christian's attention that saved Hardy's life.


© 1999 by the Archaeological Institute of America
archive.archaeology.org/online/features/civil/words/hardy.html
Share